Morbius, An Updated Cast List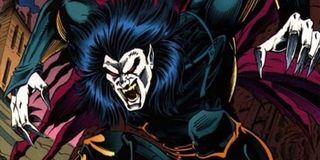 Along with lending Spider-Man to the Marvel Cinematic Universe and telling animated tales about the Web-Slinger, Sony Pictures has also kicked off its own shared film universe centered around Spidey's extensive cast of characters. Venom kicked things off last October and the next movie up is Morbius, which will follow, you guessed it, Morbius the Living Vampire. As was the case with Venom, it's weird at first imagining Morbius jumping to the silver screen and not clashing with Spider-Man, but writers Matt Sazama and Burk Sharpless have crafted a tale for the tragic vampire to shine on his own, one which director Daniel Espinosa is helming.
It's early into Morbius' production, but with cameras now rolling, more details are slowly coming out about the comic book movie, including who will comprise the main cast. Here are all the Morbius performers who've been announced to the public so far.
Jared Leto
Seven months after Sony announced that Morbius was on the way, Jared Leto was cast in the eponymous role. Although no specific details about Leto's version of Morbius the Living Vampire have been revealed yet, his origin story is expected to unfold similarly to his comic book counterpart's. In the Marvel Comics universe, Michael Morbius was a renowned biochemist who used a treatment of vampire bat DNA and electroshock therapy to cure his rare blood condition. He succeeded, but the cost was being turned into a pseudo-vampire who now had to ingest fresh blood on a daily basis to stay alive. If one unofficial plot description is to be believed, Leto's Morbius will use his new abilities to prey on criminals he deems are unworthy to live, thus putting him in the anti-hero mold like Venom. This will be Leto's second time appearing in a comic book movie, with his first go-around being as The Joker in Suicide Squad. His other acting credits include Requiem for a Dream, Lord of War, Dallas Buyers Club and Blade Runner 2049.
Adria Arjona
Moviegoers probably know Adria Arjona as Jules Reyes in last year's Pacific Rim Uprising, while TV viewers might remember her as Dorothy in the NBC miniseries Emerald City. The actress' other upcoming projects include Netflix's Triple Frontier and Amazon's Good Omens, but Morbius is arguably the biggest of the bunch. Arjona will be playing Martine Bancroft, who in the comics was Michael Morbius' fiancée. Michael's love for Martine is what drove him to take such drastic measures to cure his blood disorder, and like the man she intended to marry, she would also become a vampire years later. It's hard to say how much Arjona's version of Martine will have in common with the original character, including if she's even engaged with Jared Leto's Michael Morbius at the start of the movie, but expect her to be integral to the story.
Matt Smith
Most of you probably know Matt Smith best for playing the Eleventh Doctor on Doctor Who from 2010 to 2013, but he's collected a number of other notable projects for his resume, including Terminator Genisys, The Crown, Pride and Prejudice and Zombies and the upcoming Star Wars: Episode IX. Morbius marks Smith's first foray into the comic book genre, though given how much time he's spent in the sci-fi and fantasy realms, this shouldn't feel too different. It remains to be seen if Smith will be playing an ally or enemy to Morbius, though if he falls into the latter category, perhaps he'll be playing Loxias Crown, an adaptation of the super villain Crown (who both Spider-Man and Morbius have fought in the comics) who's rumored to be Morbius' main antagonist.
Jared Harris
From movies like Sherlock Holmes: A Game of Shadows and The Man from U.N.C.L.E. to TV shows like Fringe and Mad Men, Jared Harris has assembled a diverse amount of credits over his acting career, and Morbius is the latest project that's been added to the list. Like with Matt Smith, we have no clues yet as to who Harris is playing, although given his various villainous turns over the years, he could easily fill that main antagonist role as well. However, another possibility is that Harris will play Emil Nikos, a fellow biochemist who was best friends with Michael Morbius in the comics. Sadly, when Michael turned into a vampire, Emil was his first victim, so if events unfold similarly in the Morbius movie, then Harris might not have that much screen time, unless he's revived as a vampire later.
Tyrese Gibson
Like Jared Leto, Tyrese Gibson has built an acting career alongside his singing career, with his most prominent onscreen performances being as Roman Pierce in the Fast and the Furious movies and Robert Epps in the Transformers franchise. Now he's in talks to join Morbius, although as we've come to expect, no details have been provided about who he'll play. According to THR, Gibson would play "an FBI agent trying to hunt down the living vampire." So along with whatever supernatural trouble Morbius will be dealing with, he'll also have this government operative on his tail, although perhaps circumstances will result in the two having to join forces.
Morbius will sink its teeth into theaters on July 10, 2020. Keep checking back with CinemaBlend for updates on the project, and be sure to browse through our 2019 release schedule to learn what movies are hitting the silver screen later this year.
Connoisseur of Marvel, DC, Star Wars, John Wick, MonsterVerse and Doctor Who lore. He's aware he looks like Harry Potter and Clark Kent.
Your Daily Blend of Entertainment News
Thank you for signing up to CinemaBlend. You will receive a verification email shortly.
There was a problem. Please refresh the page and try again.