Why Spider-Man: Far From Home Didn't Bring Back Michael Keaton's Vulture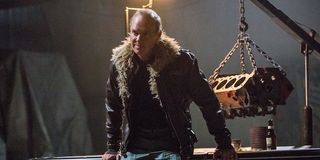 The Marvel Cinematic Universe (and comic book movies in general) has a habit of using super villains only once, usually because they're killed off in the movie they debuted in. But there are a handful of baddies still alive and kicking in the franchise, like Michael Keaton's Adrian Toomes, a.k.a. Vulture, who was imprisoned at the end of Spider-Man: Homecoming.
While it was initially reported that Michael Keaton would reprise Vulture for Spider-Man: Far From Home, that was later debunked. The reason being, according to director Jon Watts, was that there wasn't an organic way to fit him or Michael Mando's Mac Gargan, better known in the comics as Scorpion, into the story. In Watts' words:
In case you need a refresher, Spider-Man: Homecoming's mid-credits scene showed Mac Gargan crossing paths with Adrian Toomes in prison, asking if he knows Spider-Man's secret identity. Blaming Spidey for his face being scarred at the Staten Island Ferry incident, Gargan's eager to get revenge on the Web-Slinger and has found some like-minded individuals to help him out. However, because Peter Parker saved his life on Coney Island during the climactic conflict, Toomes informed Gargan that he didn't know who was under the mask.
With a set-up like that, naturally some folks wondered if Vulture would factor into Spider-Man: Far From Home somehow, despite the fact that he's still behind bars. Alas, that's not the case, as Peter Parker will be kept busy in the sequel dealing with The Elementals, not to mention that there's still the possibility that Mysterio will turn out to be a villain, just like his comic book counterpart.
Nevertheless, as Jon Watts told Digital Spy, just because Adrian Toomes and Mac Gargan aren't back for Spider-Man: Far From Home doesn't mean we won't see them in the MCU again. It's a good bet that there will be at least one more Spider-Man movie in this franchise, if not several, and if you keep enough villains alive, that paves the way for the Sinister Six to be formed.
That's something that the Amazing Spider-Man film series was building to, with the super villain team intended to lead their own movie. That was scrapped once Sony decided to collaborate with Marvel Studios, although Sinister Six could be revived at some point, with Drew Goddard, who wrote the script, sitting back in the director's chair.
It's possible, though, that even if Sinister Six were to still be made, that wouldn't necessarily prevent the MCU from putting together its own version of that team, even if the members don't necessarily call themselves that. This could be how we finally see Mac Gargan could become Scorpion, and perhaps something would push Vulture to wanting to target Peter again. Throw in Mysterio (assuming he is indeed nefarious) and some other Spidey villains we haven't seen in the MCU yet, like Kraven the Hunter, Chameleon, Doctor Octopus, etc, and you have yourself a solid lineup of antagonists working together.
For now, though, it's unclear what the MCU's plans for Spider-Man are post-Far From Home. As the final entry of Phase 3, the sequel will explore Peter Parker coping with the death of Tony Stark and learning about the multiverse. Should a third Spider-Man MCU film get the green light, it's possible it could be set during Peter's senior year of high school.
While Michael Keaton was the first actor to bring Vulture to life on the big screen, the character was supposed to be highlighted earlier in Spider-Man film history. Sam Raimi intended to use the winged menace as Spider-Man 4's main antagonist (amongst other villains), with John Malkovich being eyed for the role.
As for Scorpion, while we still await the day when Mac Gargan will start wreaking havoc with a cybernetic tail in the MCU, an unnamed Hispanic Scorpion was shown in Spider-Man: Into the Spider-Verse as one of Kingpin's goons. He was eventually defeated by Spider-Man Noir, Peni Parker and Spider-Ham, but perhaps he could return once he's recovered from that savage beating (more on that in a bit).
If you're looking for more Spider-Man villains to be spotlighted in a cinematic setting, don't forget that Sony also has its own live action universe running separately from the MCU. Venom kicked off that franchise last year, and both Morbius and Venom 2 will keep the momentum going next year. There are also Nightwatch, Kraven the Hunter, Black Cat and Silver Sable movies in development for this franchise.
We also aren't done with the animated side of the Spider-Man franchise just yet. Following Spider-Man: Into the Spider-Verse's critical and commercial success, not only is a sequel that will continue Miles Morales' story in development, a spinoff centered on Gwen Stacy and other Spider-heroines got the green light, and there are plans to extend the Into the Spider-Verse mythos to television.
Going back to Spider-Man: Far From Home, along with Tom Holland obviously reprising Peter Parker, the movie's other returning faces include Samuel L. Jackson's Nick Fury, Cobie Smulders' Maria Hill, Jon Favreau's Happy Hogan Marisa Tomei's May Parker, Jacob Batalon's Ned and Zendaya's MJ, among others. As for newcomers, the most notable of the bunch is Jake Gyllenhaal bringing Mysterio to life.
Spider-Man: Far From Home swings into theaters next Tuesday, July 2, so stay tuned to CinemaBlend for more coverage and any other updates concerning Peter Parker's future in the MCU. You can also find out what other Marvel movies are on the way in our comprehensive guide, or feel free to find out what other movies are coming out later this year in our 2019 release schedule.
Your Daily Blend of Entertainment News
Connoisseur of Marvel, DC, Star Wars, John Wick, MonsterVerse and Doctor Who lore. He's aware he looks like Harry Potter and Clark Kent.