The 7 Female Marvel Characters Who Need Solo Movies After Black Widow And Captain Marvel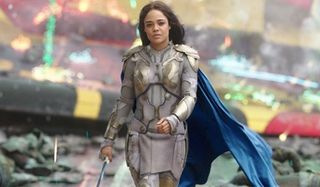 Let's face it, for years comic book superheroes and the movies made based on them were mostly for the boys. But oh, has the world changed! The MCU's Captain Marvel was a huge success this year, and Black Widow is on its way too. Those both have come on the heels of 2017's Wonder Woman, which almost single-handedly saved the DCEU from potential ruin. The female superheroes have arrived and they are here to stay.
Now that we're heading into a brand new phase of Marvel movies, it's time to take a look around the MCU and look at which female superheroes need movies. There are a lot of great potential additions for Phase Four and I think we've covered most of the bases, below.
Valkyrie
Aside from Captain Marvel and Black Widow, Valkyrie, portrayed brilliantly by Tessa Thompson in the MCU, is among the biggest female superheroes, and is definitely the biggest badass to not have her own flick. Valkyrie's backstory in the comics is more than enough to fill a movie and Tessa Thompson's portrayal could carry a film easily.
Valkyrie is an Asgardian warrior introduced in Thor: Ragnarok, and when we saw her earlier this year in Avengers: Endgame, she led her fellow Asgardians in their battle with Thanos. For her success in helping to defeat the powerful Thanos, Thor named her Queen Of Asgard, allowing him to hitch a ride with the Guardians Of The Galaxy in space. This is a fantastic jumping-off point and a great way to potentially keep telling the story of Asgard, but without relying on Thor or Loki.
Jessica Jones
With Marvel's deal with Netflix ending and the Jessica Jones TV show coming to a conclusion in the most recent season, now is the right time for a Jessica Jones movie. Krysten Ritter's portrayal of the angry, cynical, heavy-drinking private investigator anti-hero with super strength and the ability to fly is awesome. It's ripped straight from the pages of the comics and a lot of Netflix users would likely love to see more from her. (Yes, I know about the crossover issues.)
The MCU hasn't done much with the classic Marvel anti-heroes, mostly because the two best, Wolverine and Deadpool, were part of the X-Men deal with Fox. Now that it looks like those characters will be integrated into the MCU, Jessica Jones would be a wonderful character to be given her own movie too, especially if it means we get to see her use her powers more often, which she avoids doing on the show. She also went to high school with Peter Parker in the comics, and even though that's not possible in the MCU given the age difference, perhaps these two could still meet each other.
Spider-Woman
With the huge success of Spider-Man: Into the Spider-Verse, now is the perfect time to bring Spider-Woman – or Spider-Gwen more specifically - into the proper MCU. Her alter ego in Spider-Man: Into the Spider-Verse is Gwen Stacy, who has been introduced in various Spider-Man movies before Tom Holland's version of Spidey made its way into the MCU.
With the multi-verse being hinted at and rumored as part of Phase Four and teased in the latest Spider-Man movie, Spider-Man: Far From Home, could we have one of the Spider-People from another universe introduced? Could Gwen Stacey's Spider-Woman be that Spider-Person? She would be amazing.
Gamora
Guardians Of The Galaxy Vol. 3 has had its fits and starts because of behind-the-scene issues that appear to have been worked out, with filming scheduled for next year. While Gamora's fate is uncertain, at the least, it's still a good guess that Star-Lord will find her at some point.
In the comics, Gamora (played by Zoe Saldana in the MCU) is one of the most powerful warriors in Marvel. Her hand-to-hand skills are legendary and a whole movie with her on a kung fu-type hero's quest could be a completely different and epic way for her to go solo. Zoe Saldana's growing list of impressive credits would also lend serious credibility to a standalone film for Gamora.
Nakia And Okoye
Black Panther's Nakia and Okoye could form an incredibly powerful duo to do great things in expanding the Black Panther universe. There is no question the public loves the powerful Wakandans, and exploring that part of the universe with these two likable warriors as the heroes would be a fantastic way to do that.
Another cool possibility could be to take more from Nakia, played Lupita Nyong'o, and her story in the comics, where she is the villain Malice. Okoye, played by Danai Gurira, one of Black Panther's most trusted guards, could face off against the now-antagonistic Nakia in an epic battle of powerful Wakandans. There are too many possibilities not to explore them more! And that doesn't even touch on possible stories with Shuri!
Scarlet Witch
Of all the female heroes without a standalone movie, Elizabeth Olsen's version of Scarlet Witch seems like the most obvious one to make. As an X-Men character now back within Marvel's control, but having already appeared in a number of MCU films, this is a no-brainer.
The Scarlet Witch character is one of the oldest members of the Avengers, going back to the very earliest days of the X-Men comic book series in the mid-1960s. She has an extraordinary set of powers that could be used in many different ways and Elizabeth Olsen's casting is perfect. Plus it's going to take a while for Scarlet Witch to get over what happened with Thanos, and that could be an interesting journey for the character. It has to happen.
The Wasp
In 2018's Ant-Man And The Wasp, audiences are reunited with Evangeline Lilly's Hope van Dyne, who has now suited up as The Wasp. But there is another Wasp as well: Hope's mother, Janet van Dyne, played by Michelle Pfeiffer. Frankly, either one of these Wasps would be good contenders to lead a movie.
The second one, the Janet van Dyne story, with her stuck in the Quantum Realm for thirty years, could be especially amazing to explore. Again, with all the talk of multi-verses and alternate worlds, this could fit in perfectly with that idea. It could end up being the coolest of all these ideas because of the endless possibilities of where and in which decade the movie could be set.
The worldwide moviegoing audience has proven that not only can women carry an entire superhero film by themselves, audiences wants to see them do it. The MCU on film, TV, and in comics is filled with potentially amazing storylines as the brand has been writing strong women characters for decades. Now, it's looking like time to see more of them up on the silver screen!
Hugh Scott doesn't believe aliens are hidden at Area 51 or that Elvis is alive, but he does believe birds are real and Meghan Markle isn't treated fairly by the tabloids. He's been writing about music, movies, and celebrities for most of his adult life after realizing stocking shelves in a paper warehouse in college wasn't all it was cracked up to be.
Your Daily Blend of Entertainment News
Thank you for signing up to CinemaBlend. You will receive a verification email shortly.
There was a problem. Please refresh the page and try again.