How Long Do Chris Hemsworth, Tom Holland And Other Cast Members Have Left On Their Marvel Contract?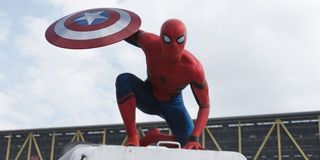 For moviegoers, one of the perks of the Marvel Cinematic Universe is seeing actors like Tom Holland and Chris Hemsworth playing the same characters again and again. Through the interconnected tissue of this expansive superhero movie-verse, we are reconnected with the same superheroes through a multitude of movies, and it certainly helps to keep these actors working in a consistent fashion. Still, nobody can play the same part forever. At some point, actors contracts expire and they have to decide whether or not to keep on. Avengers: Endgame was actually the finale for a number of actors, and other A-list actors have come up for renewal.
What happens when contracts are up? Well, it depends. Each actor and their agents have their own solutions to this problem. In many cases, the simple answer is that they will likely renew the contract, but that new contract could vary wildly from one movie to multiple. It's likely things will look a little different the next time an actor or actress signs on the dotted line. Money is, of course, a big matter of concern. You get the idea. Things start to change.
The more high-profile the actor, the more complicated the new contract deals can be. Plus, since a lot of these conversations are often happening behind closed doors, we can never know for 100 hundred percent certain this is exactly what has happened. Still, based on the information we have gathered throughout the months and years, here are a few estimations for how Marvel actors have renewed their contracts. Also, be forewarned that we are probably going to be talking spoilers for a lot of the big Marvel movies released up until this point -- just so you know!
Chris Hemsworth (Thor)
The God of Thunder himself, Thor is one of the primary Phase 1 Avengers. Besides The Hulk, he's one of the longest-standing superheroes still inside the Marvel system, and it's going to be interesting to see where things go next for the demi-god. Particularly since in Avengers: Endgame, he's still left to make peace with the loss of his own planet, many of his friends and loved ones and what little is left of Asgard on Earth. Thor even gave the leadership role to Valkyrie (Tessa Thompson), while he hits the solar system with the Guardians of the Galaxy at the end of the fourth Avengers flick.
We don't know how long that partnership will last, given the big Comic-Con Marvel panel announced that Thor would next be seen in his own movie (his fourth, to be exact), Thor: Love and Thunder, which is set to hit theaters on November 5th, 2021. While Avengers: Endgame did suggest that Guardians of the Galaxy Vol. 3 would feature the character, it seems like he'll headline his own movie first in the newly-announced Phase 4. (More on the timeline here.) According to an early statement from Chris Hemsworth around the release of Thor: Ragnarok, his contract was set to expire after both that standalone film and The Avengers films.
With this new announcement about the latest Thor movie, we're led to believe that Chris Hemsworth's contract is no longer the way it was before. It assumedly will be closer to a film-by-film basis, starting with this newest standalone Thor movie, directed once again by Taika Waititi. He could sign a new contract with the third Guardians of the Galaxy (assuming, once again, that he'll be involved in that forthcoming sequel) or another Marvel film, depending on what happens in Thor: Love and Thunder. There's good reason to believe, though, that Hemsworth's time playing the part might be winding down sooner opposed to later. Especially with Natalie Portman reportedly becoming Thor very soon.
Tom Holland (Peter Parker/Spider-Man)
In the first movie released after the climactic Avengers: Endgame, Spider-Man: Far From Home felt like an epilogue and the final conclusion to a 20-plus superhero movie series. It was not the end of Spider-Man, of course. We all knew that we would go on to swing another web, and the surprising mid-credit sequence from the latest film suggested that Peter Parker might return to the big screen sooner opposed to later than we first anticipated.
That made some people suspect that Tom Holland's version of the web-slinger might play a prominent role in the often-teased Phase 4. The Comic-Con panel didn't show a new Spider-Man movie on the horizon, so it's unclear when exactly we should expect to see the character again.
In an interview conducted three years earlier, though, Tom Holland suggested that he was contracted to play the part in "three Spider-Man movies and three solo movies contracted." Admittedly, that terminology is a bit confusing, so it's unclear what the different between a "Spider-Man movie" and a "solo movie" would be. The actor has appeared in Captain America: Civil War, Avengers: Infinity War and Avengers: Endgame, which would likely be the three "Spider-Man movies" that he's referring to. With Spider-Man: Homecoming and Far From Home, that should cover two standalone flicks.
That means that in his current contract, Tom Holland should be expected to make one more Spider-Man movie, and it will probably be coming out in the next phase. While the cliffhanger might make some fans eager to see what's next for the character, it makes sense to space it out. With The Avengers movies, the two standalone movies and Spider-Man: Into The Spider-Verse all coming out in a tight three-year window, general audiences and Marvel fans alike are probably a little burnt out on Spider-Man. They could use a breather to fully appreciate the newest web-slinging adventure.
Chris Pratt (Peter Quill/Star-Lord)
At the end of Avengers: Endgame, the Guardians of the Galaxy were downsized to one fewer when Gamora was killed in Avengers: Infinity War. They were later joined by Thor, but it was clear that Peter Quill, i.e. Star-Lord, was hoping to be re-acquainted with his love in some fashion or another. There was a compelling tease for the third (and presumably final) Guardians of the Galaxy movie ... at least, for now. While there is confirmation that a third movie is coming along once writer/director James Gunn finishes work on the new Suicide Squad, the timeline for that particular film is left unclear.
During the recent Comic-Con panel, Guardians of the Galaxy Vol. 3 was notably left out, which suggests that it will be part of the Phase Five instead of Phase Four of the MCU. That would make sense with James Gunn's tight schedule, though it leaves Chris Pratt's involvement unclear. He said during promotional rounds for the first Guardians that he is signed up for "two more Guardians plus another couple," which suggests that the Guardians of the Galaxy Vol. 3 will be the end of his current contract. With the status of that movie left a bit unclear at the moment, we'll have to wait until the next movie is done to speculate more. At least we know he'll be back for Vol. 3 though.
Brie Larson (Carol Danvers/Captain Marvel)
Captain Marvel helped to save the day in Avengers: Endgame, and the character made quite an impression at the box office with her own standalone movie earlier this year. So, we should expect to see Captain Marvel 2 soon. Although the specifics of Brie Larson's Marvel contract are left unclear, at least to the public. Most Marvel actors get a five-film contract, and she has currently fulfilled two of her expected films (maybe three, if that end credits tease in Infinity War counts). That means we should probably expect a trilogy from Captain Marvel to be arriving inside theaters between Phase Five and Six.
Paul Rudd (Scott Lang/Ant-Man)
Things looked pretty dire for Scott Lang during the mid-credits sequence in Ant-Man and The Wasp, but thankfully, the insect-sized superhero was doing well at the end of Avengers: Endgame. So, where does he go next? That's not determined, but he said in an interview that his contact is a "three-plus-plus" deal, which means that in addition to these recent Avengers movies, he will probably make another Ant-Man movie in the future. When that will be coming out has been left unclear so far. If not in Phase Five, then it will probably happen at some point in the near future. We'll keep you posted.
Chadwick Boseman (T'Challa/Black Panther)
Considering the monumental success of Black Panther, it would be foolish to not see Chadwick Boseman reprise his role as T'Challa in a sure-to-be announced Black Panther 2, which allegedly Ryan Coogler has started work on. Outside of Avengers: Endgame, the standalone film is the company's most profitable film, and it became a cultural phenomenon in a way that few Marvel films have become. Yet, at this time we have heard no official announcement regarding when we'll get this sequel.
While we don't know when Black Panther 2 is set to come out, there are reports that Chadwick Boseman is signed on for five films with the studio. If the Avengers movie count as two of those movies, we should expect to see at least another Black Panther movie on that contract. Probably even a trilogy.
There are, of course, several other actors inside the Marvel Cinematic Universe. And we should expect to see a lot of them again soon in the future, especially under their respective contracts. While Robert Downey Jr. and Chris Evans have fulfilled their obligations and called it quits, Scarlett Johansson will be seen in Black Widow, which is the next movie from Marvel hitting theaters. We also know that Jeremy Renner, Elizabeth Olsen, and Tom Hiddleston are expected to reprise their roles through the forthcoming Disney-Plus series, Hawkeye, Falcon and the Winter Soldier, WandaVision and Loki, respectively. There are tons of people involved with the MCU, and they all have contracts. When it comes to some of the big names, though, this is what we know.
Your Daily Blend of Entertainment News
Will is an entertainment writer based in Pittsburgh, PA. His writing can also be found in The Playlist, Cut Print Film, We Got This Covered, The Young Folks, Slate and other outlets. He also co-hosts the weekly film/TV podcast Cinemaholics with Jon Negroni and he likes to think he's a professional Garfield enthusiast.