Godzilla: King Of The Monsters Director Reveals Surprising Celebrity Cameos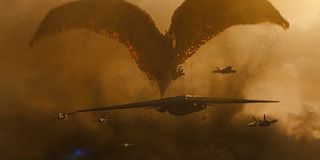 Warning: SPOILERS for Godzilla: King of the Monsters are ahead!
Upon being awakened in Godzilla: King of the Monsters, Rodan didn't waste anytime wreaking havoc on the world. Monarch did its best to neutralize the Titan, even calling in a squadron of fighter pilots to take him down, but they were no match for Rodan. Nearly three full months since King of the Monsters came out, director Michael Dougherty has revealed that those pilots were played by some notable individuals.
Michael Dougherty, co-writer Zach Shields, Dougherty's college roommate Jermaine Turner, Seth Green, Clare Grant, Eli Roth and Stephen Moyer all cameoed in Godzilla: King of the Monsters through this sequence, but you wouldn't know it on the first watch given that their faces are obscured. Here's what Dougherty said about how this gathering came together:
It would have been easy enough to get some extras to fill out the pilot roles, but Michael Dougherty instead decided to use this Godzilla: King of the Monsters action sequence as an opportunity for him and some friends to collaborate. Can you blame him? It'd be one thing if Dougherty had shoehorned in all these appearances in a way that felt convoluted or too obvious, but since their roles are minor and you can't even make out who they are, they serve as cool easter eggs.
That being said, it did take some finagling and careful planning to pull off these Godzilla: King of the Monsters cameos. Michael Dougherty said later in his interview with Fresh Fiction:
Given that Godzilla: King of the Monsters had its main shoot in Atlanta, Georgia, it sounds Michael Dougherty was able to arrange for most, if not all of these folks to actually come on set, rather than have them simply record their lines from other locations. Dougherty added that he likes when he's able to include friends in his projects, comparing it to playing Where's Waldo. Dougherty previously had James Marsden vocally cameo in 2007's Trick 'r Treat.
Picking up five years after the events of the 2014 Godzilla movie, Godzilla: King of the Monsters saw the eponymous Titan clashing with Rodan and King Ghidorah, with Mothra providing some much needed assistance. At the end of the movie, after Godzilla finally killed Ghidroah, Rodan and the other nearby Titans bowed down to the reptile, cementing him (for now) as the true king of the monsters.
It's unclear when or even if we'll see Rodan again in the MonsterVerse, but Godzilla isn't going anywhere. He'll be back next year to fight a certain giant gorilla in Godzilla vs. Kong. With nearly five decades having passed in this franchise since the events of Kong: Skull Island, Kong is much larger and rugged now, so it will be interesting to see how this brawl plays out compared to Godzilla's previous fights.
Godzilla: King of the Monsters has wrapped up its time in theaters, but you can purchase the movie on Digital HD starting tomorrow, August 6, and the Blu-ray and DVD copies will hit shelves on Tuesday, August 27. You can also find out what's hitting the big screen later this year in our 2019 release schedule.
Connoisseur of Marvel, DC, Star Wars, John Wick, MonsterVerse and Doctor Who lore. He's aware he looks like Harry Potter and Clark Kent.
Your Daily Blend of Entertainment News
Thank you for signing up to CinemaBlend. You will receive a verification email shortly.
There was a problem. Please refresh the page and try again.