Did Dark Phoenix's Box Office Bomb Contribute To Sony And Disney's Spider-Man Split?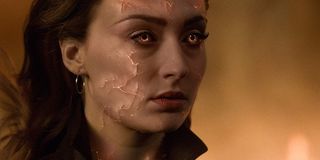 It's been three days since the bombshell news dropped that Marvel and Sony were dissolving their Spider-Man partnership, and this shocking development is still the talk of the entertainment town. While Tom Holland's version of the Web-Slinger was a major player in the Marvel Cinematic Universe in five movies over three years, thanks to what's happened, now he can't take part in the franchise and can only appear in Sony movies from this point forward.
When the Spider-Man news first hit, it was reported that the main reason for the split between Disney/Marvel and Sony boiled down to money. However, now it's being claimed that Dark Phoenix, the last entry of Fox's X-Men film series (excluding spinoff The New Mutants, and who knows it we'll ever actually see that) bombing hard at the box office also played a role in the two sides going their separate ways.
According to a source who spoke with Variety, Disney was "partly motivated" to walk away from its negotiations with Sony because it wanted Marvel Studios president Kevin Feige's full attention on the newly acquired Marvel properties from the Disney/Fox merger, i.e. the X-Men and Fantastic Four. Supposedly after Dark Phoenix failed to impress either critically or commercially, Walt Disney Studios co-chairman Alan Bergman "insisted talks with Sony end."
What's interesting about this claim is that it isn't the first time we've indirectly heard it, or at least part of it. In its official statement on the Spider-Man debacle, Sony stated that while it was "disappointed" in the turn of events, it understood that Kevin Feige couldn't continue being a lead producer on the live action Spider-Man movies because of all his responsibilities, including working on all the new properties Marvel acquired (like the X-Men) rather than IP it doesn't own.
However, another source Variety spoke with disputed that Dark Phoenix factored into the Spider-Man decision on Disney's end, though they did confirm that Alan Bergman "led the charge" on that deal. It was also noted by the outlet that some individuals who've worked with Sony Pictures head Tom Rothman noted that he's a "hard-driving negotiator" and may be using this "public-breakup" as a way to get Disney to compromise on the matter.
One thing is certain: Dark Phoenix was a disappointment across the board. Not only was it met with mostly negative reception, it made only $252.4 million worldwide off a $250 million budget, resulting in a huge loss for Disney. Dark Phoenix did so badly that it left a lot of theaters just three weeks into its run. Ultimately, it was an anticlimactic and disappointing conclusion to the series of mutant-led films that kicked off in 2000 and helped popularize the superhero movie genre.
With the finalization of the Disney/Fox merger back in March, the X-Men, Fantastic Four and all the other Marvel properties Fox bought way back when now rest under the Marvel Studios banner. While there are obviously plans to incorporate the mutants and Marvel's First Family into the MCU, that's not going to happen for a while. Phase 4 is already filled up on both the theatrical and Disney+ front, leaving Phase 5 as the earliest something could happen with these particular properties.
As for the Spider-Man shakeup, it still sounds like money played a major role here, as most things in Hollywood do. Apparently Disney, which until now had received 5% of first dollar gross on the MCU-set Spider-Man movies and retained all the Spidey merchandising rights, wanted a 50/50 co-financing arrangement. Sony wasn't having it, wanting to keep the same arrangement as before, thus resulting in the current impasse.
This status quo change comes right after Spider-Man: Far From Home, which was released at the beginning of July, has crossed the billion dollar mark and become Sony's highest-grossing movie of all time, knocking 2012's Skyfall to 2nd place. Far From Home is headed back to theaters over Labor Day weekend, with this version of the movie containing an extra four minute-long action sequence.
As things stand now, Sony reportedly has two more live action Spider-Man movies in the works with Tom Holland attached to reprise Peter Parker. Jon Watts, director of Homecoming and Far From Home, however, reportedly isn't signed for anymore Spider-Man movies though, and it remains to be seen if this new status quo will affect his decision about whether or not to return for a third outing.
Given how closely connected Tom Holland's Peter Parker is to the rest of the MCU, from Tony Stark being his mentor to Nick Fury and Maria Hill (well, sort of) recruiting him to fight the Elementals, it's unclear how future movies starring this version of the Web-Slinger can work without being able to reference so many of these important events. Assuming this situation can't be fixed, maybe at least something could be worked out where a namedrop or two can be included that remind moviegoers of these MCU ties.
Of course, what's the MCU's loss could be the gain of Sony's own Marvel universe. It kicked off last year with the commercial powerhouse Venom, and along with the anti-hero getting a sequel, Morbius is on the way and projects centered around Kraven the Hunter, Sinister Six, Black Cat, Silver Sable and more are in the works. Now that Spider-Man is a Sony-only player, and this particular franchise wouldn't exist if Spidey hadn't been created, maybe he can become a major character in this continuity. It's only fitting.
Besides Venom and Spider-Man: Far From Home's success, Sony's also had a great year Spider-Man-wise with the animated Spider-Man: Into the Spider-Verse, which was met with critical acclaim and earned a Golden Globe and Academy Award as part of its many accolades. That particular franchise will continue with a sequel, spinoff and various television shows, and who knows, maybe even Tom Holland could cameo in it like he was originally supposed to do.
Rest assured, we here at CinemaBlend will let you know about any updates concerning Marvel and Sony's Spider-Man disagreement. In the meantime, keep up to date on what the MCU has coming up in our handy Marvel movies guide.
Connoisseur of Marvel, DC, Star Wars, John Wick, MonsterVerse and Doctor Who lore. He's aware he looks like Harry Potter and Clark Kent.
Your Daily Blend of Entertainment News
Thank you for signing up to CinemaBlend. You will receive a verification email shortly.
There was a problem. Please refresh the page and try again.