Jennifer Aniston Said She Quit The Big Screen For TV Because Of Marvel-Type Movies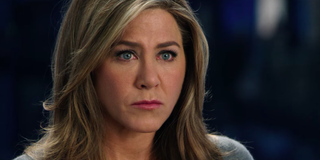 (Image credit: Screenshot)
Jennifer Aniston hasn't appeared in a television series since 2012, but she's getting ready to return to her small screen roots. She has a new AppleTV+ series, The Morning Show, which is earning buzz both for its timely plot, about a TV anchor embroiled in a Me Too-like scandal, and for its hefty production costs. And she reminded us all that she's a television legend when she shared a Friends cast selfie as her inaugural Instagram post. However, she's also making headlines for comments she made about why she left big screen projects behind - and the reason has a lot to do with Marvel.
When Variety asked why she was returning to television, the actress didn't mince words. As far as she's concerned, she's seen big changes in the types of content on big and small screens alike. She said about Marvel-type movies taking over:
Before leaving the big screen behind (at least for now), Aniston enjoyed a successful film career, thanks to roles in decidedly green-screen free films like Marley and Me, We're the Millers, Horrible Bosses, and Bruce Almighty. Earlier this year, she co-starred with Adam Sandler in Netflix's Murder Mystery - her first big foray into the streaming space. She also obviously isn't the only A-lister who's started throwing their weight behind small screen endeavors. Her co-stars on The Morning Show include Wild's Reese Witherspoon and Beautiful Boy's Steve Carell.
Jennifer Aniston's comments may raise a few eyebrows, but other Hollywood A-listers share her sentiments. While promoting The Irishman, director Martin Scorsese argued that MCU films "aren't cinema," and said that seeing them in a movie theater is like going to a theme park. Robert De Niro also seemed to take a dig at Marvel films during that press junket. Iron Man himself, Robert Downey Jr., defended the franchise against Scorsese's criticism, and Guardians of the Galaxy director James Gunn took to Twitter to share his disappointment. Marvel fans weren't particularly thrilled with Aniston, either.
Given her firm anti-superhero movie stance, it's safe to say Marvel probably won't come calling any time soon. But Jennifer Aniston will have enough on her plate: AppleTV+ has already ordered two ten-episode seasons of The Morning Show. The series premieres on the new streaming platform on Nov. 1, 2019.
Your Daily Blend of Entertainment News
Thank you for signing up to CinemaBlend. You will receive a verification email shortly.
There was a problem. Please refresh the page and try again.