Jennifer Aniston Shares Pic With Entire Friends Cast, So Bring On The Revival Rumors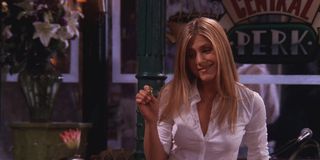 It's the one with the reunion! Fans have long wondered whether Friends, arguably NBC's most famous sitcom, would ever go down the revival route. Will and Grace got a revival a few years ago and Saved by the Bell is next on the list, with Mario Lopez and Elizabeth Berkley already signed on to star. While the answer is usually no, Jennifer Aniston recently shared a reunion picture of the entire cast, sparking rumors about a revival series and fueling hope for fans.
Prior to today, Jennifer Aniston had avoided Instagram at all costs. Outside of interviews and press tours, the actress managed to stay away from all forms of social media. However, that changed when she created an account and the first picture she posted to Instagram was that of the entire cast of Friends, including Courtney Cox, David Schwimmer, Matt LeBlanc, Lisa Kudrow, and Matthew Perry.
You can check out the image below!
Alongside the post, the Friends star included a caption that read "And now we're Instagram FRIENDS too. HI INSTAGRAM."
That, of course, sent fans into a frenzy and everyone wondered if it meant the cast was reuniting because a Friends revival was in the works or if they were simply hanging out as, y'know, friends. While Jennifer Aniston doesn't confirm a revival is in the works or anything, it's hard not to speculate considering that her new Instagram account appeared out of the blue. However, it's best to keep in mind that Friends' co-creators said they're not interested in doing a revival or reboot of the show.
The NBC sitcom has been a staple on Netflix for many years, but they announced in July that Friends would no longer be available to stream come January 2020. That news came soon after the announcement that WarnerMedia, Friends' parent company, would be moving the series exclusively to HBO Max (think HBO plus Warner Bros. content) as part of a streaming deal.
The streaming issues are a bit confusing when breaking it down. After all, several other NBC comedies, like The Office and Parks and Recreation are moving from Netflix to the network's new streaming service, aptly called Peacock, when it launches in 2021 while others, like Friends, will be available only on HBO Max. Meanwhile, Seinfeld fans are rejoicing because the series will be available to stream on Netflix for the foreseeable future.
Recently, The Office showrunner Greg Daniels was asked if he would consider reviving the beloved comedy and he was hesitant about it, because it's "such a perfect thing" and he didn't want to disappoint fans.
Despite fueling the rumors of a Friends revival, Jennifer Aniston remains booked and busy. She'll be starring in the upcoming AppleTV+ series, The Morning Show, alongside Reese Witherspoon and Steve Carell. The series has already been picked up for two seasons prior to airing a single episode, so it's best not to expect a Friends reunion outside of social media anytime soon.
You can still enjoy Friends while it's still on Netflix. And if you're looking for any new comedies to watch, be sure to check out our complete guide to every new and returning show this fall.
Your Daily Blend of Entertainment News
Thank you for signing up to CinemaBlend. You will receive a verification email shortly.
There was a problem. Please refresh the page and try again.