9 Best Family Movies On Netflix To Watch This Thanksgiving Holiday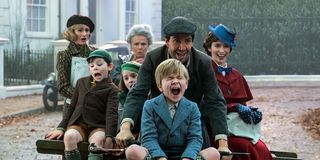 Thanksgiving is just around the corner, which means many families will come together in gratitude to celebrate another year's successes. The Thanksgiving holiday is the perfect time to reunite with loved ones and enjoy some family-friendly entertainment. After everyone has eaten a hearty helping of turkey (or your favorite turkey alternative), side dishes, and desserts, Netflix provides much inspiration to gather the family around to enjoy some family movies.
The streaming service offers a wide selection of family movies and entertainment, which makes Netflix the perfect companion for your Thanksgiving celebration. At the moment, parents, millennials, and children are buzzing about Disney+ for its family friendly content, and nostalgic appeal, but Netflix has for years offered a large selection of family friendly content, including Netflix-exclusive family movies and popular licensed fare from other studios.
Let Netflix help you get into the holiday spirit with these family movies to watch on Thanksgiving. The movies on this list feature films that appeal to all ages, help celebrate the season, and are entertaining for the whole family. Some might even get you geared up for Christmas, too.
Coco (2017)
Coco, the Academy Award-winning Pixar film, is a star-studded feature that has won families over everywhere. The animated film follows the 12-year old Miguel (Anthony Gonzalez) as he visits the Land of the Dead on the Day of the Dead. He goes on a quest to find famous dead singer Ernesto de la Cruz (Benjamin Bratt), whom he believes is his shunned great grandfather. Miguel wants to meet his idol to restore the love of music back to his family, and to allow his great grandfather to reunite with his descendants in the Land of the Dead, so he enlists Hector (Gael Garcia Bernal) to help with this mission.
Coco teaches families the importance of remembering those we lose. It helps teach children about the Mexican Day of the Dead tradition while giving them an entertaining story about music, family, and endless love. This Pixar film is heartwarming and visually stunning, and the Academy Award winning Best Original Song "Remember Me" will have everyone in tears by the end of the night. Coco is just the family movie that you need around the holidays to remind you of how much you love your family.
Mary Poppins Returns (2018)
Emily Blunt takes on the timeless Mary Poppins in this sequel to the 1964 original. In Mary Poppins Returns, the beloved magical nanny returns 25 years after the events of Mary Poppins. This time, the former children that she cared for, Jane (Emily Mortimer) and Michael (Ben Whishaw) Banks, are now adults, so Mary returns for more musical fun with new sidekick Jack (Lin-Manuel Miranda), a former apprentice of Mary Poppins' Bert (Dick Van Dyke).
In Mary Poppins Returns, Mary tries to help Michael while he's mourning his recently deceased wife and trying to take care of his three children. Like with the original film, this movie highlights the joy of being young and free while also emphasizing the importance of family, imagination, and hope. Lin-Manuel Miranda and Emily Blunt had major Julie Andrew and Dick Van Dyke-sized shoes to fill, and they both rose to the challenge by giving joyful performances. Mary Poppins Returns reminds families that a little optimism and singing can be the best medicine for viewers.
How The Grinch Stole Christmas (2000)
Jim Carrey brings Dr. Seuss' iconic character to life in this live-action version of the animated classic How the Grinch Stole Christmas. The Ron Howard-directed feature centers on the titular a green creature who hates Christmas and tires of the Whos and their holiday celebration. The Grinch devises a plan to steal Christmas once and for all, but with the help of Cindy Lou Who, he sees the error of his ways and his heart grows.
Even though it's more of a post-Thanksgiving feature, a great way to get invested in the holiday season is turning on the revised classic How the Grinch Stole Christmas. Children enjoy this film for the comedy, and adults can appreciate it for Jim Carrey's incredible ability to bring wacky characters to life. Along with the familiar story of Dr. Seuss' Grinch, the film digs a little deeper into the backstory of the green villain, and explains why he's such a grumpy character. The film also includes a powerful original Christmas song sung by Faith Hill, "Where Are You, Christmas?" The music and story of the Grinch shows families the true meaning of the holiday, which makes it an ideal film to kick off the festive season.
Miracle (2004)
In 2004, the always great Kurt Russell stared in Miracle, a heartwarming movie about the U.S. men's ice hockey team. Miracle is an underdog sports story about the group of Americans who overcame the odds and beat the Soviet team in the 1980 Winter Olympics. Kurt Russell heads up the cast as head coach Herb Brooks, and the film also includes performances from Patricia Clarkson as Patti Brooks, and Noah Emmerich as Craig Patrick.
Miracle is an inspiring true story that reminds families how unexpected moments can bring a nation together and instill a sense of hope. Gavin O'Connor's film received rave reviews upon release, and the American Film Institute (AFI) named Miracle as one of the Top 10 Sports Films. Miracle earned much of its praise through Kurt Russell's performance, Miracle gives families the dose of inspiration and athleticism that they might need to recover from their Thanksgiving feast.
The Christmas Chronicles (2018)
Needing more Kurt Russell immediately? Look no further. Russell plays Santa Claus in the direct-to-Netflix film The Christmas Chronicles. In it, two children Teddy (Judah Lewis) and Kate (Darby Camp) go on an adventure to help save Christmas, with Santa Claus rounding out the trio.
Kurt Russell gives a fun spin on the traditional portrayal of Santa Claus in The Christmas Chronicles, which is one of the films major selling points. It's a Christmas adventure tale that helps restore the magic and belief in Christmas to two children who really need it, and it's bold enough to give holiday movie fans a different spin on the usual Santa tale, but still tame enough to appeal to the whole family. Plus, again, Kurt Russell, amirite?
The Little Prince (2015)
Antoine de Saint-Exupery's classic story The Little Prince comes to life in this 2015 3D-animated film from director Mark Osborne. Jeff Bridges, Rachel McAdams, Paul Rudd, Marion Cotillard, and others lend their voices to bring The Little Prince's timeless tale to Netflix.
The Little Prince is a family movie that emphasizes the importance of adding even just a little adventure to your life, especially as a child. The beautifully designed film creates a dynamic viewing experience that reminds everyone to retain as much magic of being young and curious as possible. The Little Prince offers up just the right world to visit during such a sentimental season.
The Incredibles 2 (2018)
Mr. Incredible (Craig T. Nelson), Elastigirl (Holly Hunter), Violet (Sarah Vowell), Dash (Huckleberry Milner), Jack-Jack (Eli Fucile), Edna (Brad Bird), and Frozone (Samuel L. Jackson) return for this high-octane sequel to Pixar's smash hit The Incredibles. Coming 14 years after the original film, The Incredibles 2 continues the story of the Parr superhero family, and their quest to repair superheroes' tarnished public image.
The Incredibles 2 shows families that everyone has a special job and duty as part of a cohesive unit that needs all of its parts to function. The Incredibles 2 has the same charisma, adventure, and heart as the original Incredibles, but with a few more characters voiced by the likes of Bob Odenkirk and Catherine Keener. The Incredibles 2 ensures that families remember how special each member is, with or without superpowers.
An American Tail (1986)
Fievel Mousekewitz (Philip Glasser) and his Russian-Jewish family migrate to the United States to find freedom, but during the journey, a thunderstorm separates Fievel from his family. The rest of An American Tail is about the journeys that Fievel and his family make to find each other, with a cast of other animal characters introduced along the way.
While it may not be the most obvious plotline for a beloved Disney filme, An American Tail is a sweet animated movie with all the sugary goodness that viewers should expect from family movies: songs, talking animals, adventure, and a bold heart. The Mousekewitz's journey shines a light on how easily bonds can be broken and things can separate a family, so cherish them. (Plus, the sequel is great, too.)
Spider-Man: Into The Spider-Verse (2018)
A radioactive spider bites Miles Morales (Shameik Moore), turning him into New York's friendly neighborhood web-slinger, Spider-Man. He then discovers the existence of many different spider superheroes from multiple universes, including Peter Parker (Jake Johnson) and Gwen Stacy (Hailee Steinfeld). All the various different Spider-Man characters must work together to save Brooklyn and the entire New York from supervillain Kingpin.
Of all the Marvel Universe movies on Netflix, Spider-Man: Into the Spider-Verse is the most family friendly. The film is an action-packed animated adventure that keeps viewers of all ages laughing, cheering, and rooting for the high-flying, wise-cracking characters. Spider-Man: Into the Spider-Verse brings a little bit of adrenaline and excitement to the post-Thanksgiving activities, and is easily one of the most gorgeous animated movies you'll see this year.
These nine Thanksgiving family movies are the perfect finisher (or beginner) for an exciting day of family cheer. If these films don't appeal to you, Netflix has a long list of other kid and family friendly films. The possibilities of family movies to watch on Netflix this Thanksgiving expand far and wide, but you just have to step away from the table long enough to go searching for them.
Spent most of my life in various parts of Illinois, including attending college in Evanston. I have been a life long lover of pop culture, especially television, turned that passion into writing about all things entertainment related. When I'm not writing about pop culture, I can be found channeling Gordon Ramsay by kicking people out the kitchen.