Why The Irishman Needed To Be A Movie Instead Of A TV Series, According To Martin Scorsese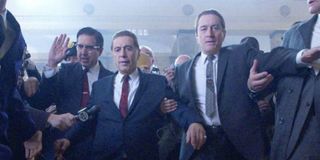 Though it may be hard to believe in the year of Joker, The Irishman has quickly become one of the most divisive films of 2019. Whether it's the use of anti-aging technology, director Martin Scorsese's decision to release the movie via Netflix, or if it's really a masterpiece, there are plenty of opinions floating around. Now that The Irishman is finally available to stream, the conversation has turned toward its epic runtime -- and some are arguing it would have worked better as a TV series. Martin Scorsese disagrees.
At three and a half hours long, The Irishman requires a better-than-average attention span. But in an interview with Entertainment Weekly, the iconic director was quick to dismiss any idea that The Irishman should not have been a movie. He told the magazine:
It's hard to argue with the man -- especially since he and star Robert De Niro spent more than a decade trying to get The Irishman made. Martin Scorsese credits Netflix with producing the film, and believes they took a big risk in letting him have the final say in what ended up on screen. He told Entertainment Weekly that traditional studios are mostly concerned with profit, and he's sure they would have balked at the film's ending.
Martin Scorsese's defense of Netflix comes at a time when the studio has faced some serious backlash. Fans and industry insiders were frustrated with the decision to offer only a limited number of screenings in theaters around the country before it debuted on the streaming platform. And The Irishman is just the latest in a string of Netflix releases that have caused a huge debate about the rise in streaming and how it affects Hollywood's many traditions.
Even if The Irishman was a gamble for Netflix, it has already paid off. The movie is one of the most critically acclaimed of the year. Despite controversy over how Netflix distributed the film, it seems to be a sure bet for Oscar nominations. And for Martin Scorsese, it's a win too. Not only did he finally get to work with Al Pacino, but he was able to fully realize his vision for a story he's wanted to tell for years.
Keep up with everything still headed to the big screen this year with our 2019 movie release date schedule.
Your Daily Blend of Entertainment News
Thank you for signing up to CinemaBlend. You will receive a verification email shortly.
There was a problem. Please refresh the page and try again.