John Boyega Shoots Down Star Wars: The Rise Of Skywalker Theory About Finn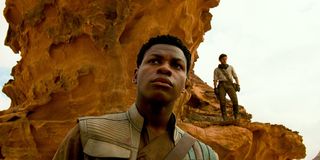 Warning: SPOILERS for Star Wars: The Rise Of Skywalker ahead!
Although Star Wars: The Rise of Skywalker answered many of the Skywalker Saga's big questions, the film did leave a few loose ends for fans to speculate about. Among them is what Finn was going to tell Rey. Throughout the film, John Boyega's character kept trying to tell Daisy Ridley's Rey something, but the credits roll before we ever find out what that something was. Many have theorized that Finn was going to confess his love to Rey, but John Boyega has now shot down that theory. Take a look:
Here John Boyega is referencing the moment in Star Wars: The Rise of Skywalker where the heroes are all trapped in a quicksand like substance. And as they are sinking to what they can only assume may be their deaths, Finn attempts to tell Rey something. Fans theorized that he was going to say, "I love you" to Rey, but according to John Boyega that was not the case.
Finn was not going to confess his love to Rey when they were sinking. John Boyega seems pretty adamant about it too on Twitter, shooting down the Rise of Skywalker theory with an exclamatory denial (the ex-stormtrooper doth protest too much?). Although Finn wasn't going to make a romantic confession to Rey, it's certainly easy to see why many Star Wars fans drew this conclusion.
First off, if you consider the situation the characters were in, Finn and Rey were potentially both about to die and this could be the very last thing he ever says to her. Telling someone how you really feel in a life or death moment seems pretty natural. Finn attempting to talk to Rey is also a recurring thing throughout the film, like he's got something he just has to get off his chest.
Furthermore, the scenes of Finn's failed attempts to talk to Rey are acted and directed in a way that makes audiences think an "I love you" could be coming. Poe even ribs Finn about it, like friends would about each other's crushes. Plus there's the history between Finn and Rey, like how when not long after the two met in Star Wars: The Force Awakens, Finn inquired about Rey's relationship status while the two were aboard the Millennium Falcon.
Yet despite all of those signs pointing in the direction of a romantic confession, that is not in fact what Finn was trying to tell Rey. So what was he trying to tell her? Well, we don't get to find out in Star Wars: The Rise of Skywalker itself (Maybe we'll get it in a deleted scene?), but we may now know.
At a screening of the film, J.J. Abrams apparently revealed that Finn was trying to tell Rey that he's Force sensitive. Many fans have speculated that this is the case in the past and it seems that in a way, Star Wars: The Rise of Skywalker has confirmed it. Will we get an Episode X with Rey building a new Jedi Order with Finn as her first student? Doubtful, but anything is possible.
Star Wars: The Rise of Skywalker is now playing. Check out our 2020 Release Schedule to see what movies you can look forward to next year and stay tuned to CinemaBlend for all your movie news.
Nick grew up in Maryland has degrees in Film Studies and Communications. His life goal is to walk the earth, meet people and get into adventures. He's also still looking for The Adventures of Pete and Pete season 3 on DVD if anyone has a lead.
Your Daily Blend of Entertainment News
Thank you for signing up to CinemaBlend. You will receive a verification email shortly.
There was a problem. Please refresh the page and try again.