2020 Academy Award Nominations Ballot, Who Do You Think Will Win?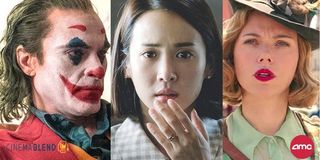 Awards season is upon us. The 2020 Academy Award Nominations have been announced! This year the field is competitive with plenty of surprises and snubs. So, we decided to partner with AMC to give readers a chance to show off their ballots. We want to know who you think will take home the coveted awards. Just let us know who you think will win in each category below! One ballot will be randomly selected to receive two $40 gift cards courtesy of AMC on Monday, February 10th.
And if you haven't been able to check out all the movies yet, please consider heading over to AMC theaters. Many of the nominees are still playing, and there's no experience quite like seeing a great movie in a crowded theater. You can grab tickets here.
As for the ballot below, it's simple. Just go through each category and choose who you think is going to win, not necessarily who you think should win. Then give us an email address so we can contact you if you're the winner. You may also receive other content-related emails from us. They're great, but if you have bad taste or just don't like a cluttered inbox, you can opt out at anytime. Good luck!
Official Rules: Just fill out the above ballot and leave your email address so we can copy you. The giveaway ends at 5 p.m. CT on Sunday, February 9th. The winner is chosen at random and will be notified via email and given 3 days to respond. Only U.S. residents over the age of 18 may apply. Prize packs will be emailed directly to the winner. No purchase necessary. Participants can be disqualified for any reason. Failure to comply with the rules will result in disqualification and subsequent mockery. Any shipping issues are not the responsibility of CinemaBlend. Good luck!
Into tracksuits by Paulie Walnuts, the Criterion Channel and Robert Eggers.
Your Daily Blend of Entertainment News
Thank you for signing up to CinemaBlend. You will receive a verification email shortly.
There was a problem. Please refresh the page and try again.