Every Superhero Movie To Win An Oscar, Ranked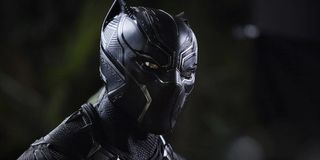 The nominations for the 2020 Academy Awards have been announced and leading the pack is Joker, which also now holds the records of most Oscar nominations for a comic book movie with 11, including Best Picture. With Golden Globe-winner Joaquin Phoenix looking to be the frontrunner, Todd Phillips' supervillain origin story has a good chance of taking home a few Oscars, but, of course, would not be the first "superhero movie" to do so.
While it seems they do not get much love at awards shows or from certain award-winning filmmakers, a handful of superhero movies have received the recognition they (arguably) deserved, whether it was achievement in makeup, visual effects, or even in the acting categories. However, it makes one wonder which Oscar-winning comic book movie was most deserving of the Academy's praise.
At this time, only 9 superhero movies have managed to take home wins on the most prestigious night in cinematic achievement and we have taken the liberty of ranking those films in descending order of overall quality, regardless of their levels of Oscar glory. Which of these Oscar-winners is the most super?
9. Suicide Squad (2016)
Awards won: Best Makeup and Hairstyling
In 2017, David Ayer's supervillain-centered action film received one nomination for Makeup and Hairstyling. Despite competition from Swedish drama A Man Called Ove and the sci-fi spectacle Star Trek Beyond, Suicide Squad took home the Oscar for its work turning Jared Leto into Joker, Margot Robbie into Harley Quinn, and, especially, Adewale Akinnuoye-Agbaje into Killer Croc, but not without inciting countless snorts of mockery at the Academy's expense.
Considering that many critics and most fans have actually come to agree that this is the weakest film of the DCEU, it was no challenge deciding to rank this at the bottom. With all do respect to the clearly talented makeup team of Alessandro Bertolazzi, Giorgio Gregorini, and Christopher Allen Nelson, I would personally consider Suicide Squad to be the worst superhero movie to win an Oscar. But, hey, good for them, right?
8. Big Hero 6 (2014)
Awards won: Best Animated Feature
As further entries on this list may prove, the Academy seems to have a special soft spot for superhero movies when they are animated. Of all the the Marvel films produced by Disney, the biggest honor at the Oscars has been given to its animated feature, Big Hero 6.
The charming animated family film about a teenager who develops a team of high-tech vigilantes with his robot friend, Baymax, was up against the likes of How to Train Your Dragon 2 and The Boxtrolls for Best Animated Feature in 2015. Yet, Big Hero 6 came out as the big winner.
7. Superman (1978)
Awards won: Achievement in Visual Effects
It claimed to be the film that would make audiences believe a man could fly. Well, director Richard Donner's big screen adaptation of the Jerry Siegel and Joe Shuster's DC hero certainly had the Academy believing.
The highly influential smash hit Superman was nominated for four Academy Awards in 1979, among them Sound, Film Editing, and John Williams' rousing score. But the sole Oscar it took home, for giving Chrisopher Reeve's Man of Steel the timeless illusion of flight, was for Visual Effects.
6. Spider-Man 2 (2004)
Awards won: Achievement in Visual Effects
The first film of Sam Raimi's Spider-Man trilogy lost both of its Oscar nominations in Sound and Visual Effects to Chicago and The Lord of the Rings: The Two Towers, and Spider-Man 3 failed to even get a nomination. The one that did make a connection with the Academy was the second installment, also a major hit among critics and audiences.
The enthralling sequel sees Tobey Maguire reprising his role as the webslinger, this time taking a deeper analysis of Peter Parker's personal struggles as he takes on Alfred Molina's Doctor Octopus, was nominated for three Academy Awards in 2005. While it lost Sound Mixing to music biopic Ray and Sound Editing to fellow superhero movie The Incredibles, Spider-Man 2 took home the much-deserved Oscar for Best Visual Effects.
5. Batman (1989)
Awards won: Achievement in Art Direction - Set Direction
Gotham's Caped Crusader has a length history with the Academy, with two nominations Batman Returns, three for Joel Schumacher's Batman Forever, one in cinematography for Christopher Nolan's Batman Begins, The LEGO Movie's Best Animated Feature nomination, and one more that we will touch on later. That relationship began with the first time Tim Burton brought the Dark Knight to the big screen.
In 1990, Batman, starring Michael Keaton as orphaned billionaire-turned-masked vigilante Bruce Wayne and Jack Nicholson as his archnemesis the Joker, was nominated for one Oscar in Art Direction. The highly influential superhero movie that redefined the comic book icon for mainstream audiences whose only exposure to the character was Adam West's lighter portrayal in the 1960s, took home the gold for Anton Furst and Peter Young's pitch-perfect design of Gotham City's dismal backdrop.
4. Black Panther (2018)
Awards won: Achievement in Music Written for Motion Pictures, Achievement in Costume Design, Achievement in Production Design
Kevin Feige's weaving of multiple comic book-inspired storylines in the MCU has already cemented its place in cinematic history. No film in that now 12-year-old series is as historical, however, as the shining cinematic moment for Marvel's first black superhero, Black Panther.
Ryan Coogler's story of a newly crowned African king (Chadwick Boseman) striving to protect his people as the reemergence of a vengeful long-lost relative (Michael B. Jordan) makes him question his country's traditions of leadership was nominated for seven Oscars in 2019, including Best Picture, making it the first superhero movie to receive such consideration. While Black Panther did not take home the top prize, it won three for Best Original Score, Costume Design, and Production Design, which is more than any other MCU movie can say… for now.
3. The Incredibles (2004)
Awards won: Best Animated Feature, Achievement in Sound Editing
I would argue that Brad Bird has done for animated films what Christopher Nolan has done for comic book films by portraying them in a tone that never relies on childish tropes and appeals to adults just as effortlessly. Just look at what the Iron Giant helmer did for Pixar with the sophisticated espionage thriller disguised as a family-friendly superhero movie, The Incredibles.
Two Oscars were given to Brad Bird's tale of a family forced to hide their extraordinary abilities in a world in which superheroes are outlawed in 2005, including Sound Editing and, the top prize for animated films, Best Animated Feature, and it has since earned acclaim from many as Pixar's best film. Fourteen years later, the sequel, Incredibles 2, received the Best Animated Feature nomination as well, but lost to another animated superhero movie that, let's just say, weaved a far more complex web.
2. Spider-Man: Into the Spider-Verse (2018)
Awards won: Best Animated Feature
Spider-Man has gone through several iterations on the big screen over the years, but who knew that the one that would earn the most acclaim would be one that ditches the traditional Peter Parker for colorful assortment of web slingers of differing alternate realities. Such is the concept for the Phil Lord and Christopher Miller-produced Spider-Man: Into the Spider-Verse.
Sony's animated superhero movie not only incorporates a plethora of obscure variations of Spider-Man, including teenage Miles Morales (Shameik Moore), farm animal Spider-Ham (John Mulaney), and fedora-wearing detective Spider-Man Noir (Nicolas Cage), but a myriad of unique animation styles for each character all splashed on the screen together. It is no wonder how its clever storytelling and stunning, kaleidoscopic visuals earned Spider-Man: Into the Spider-Verse the Oscar for Best Animated Feature in 2018 and acclaim from many as the best film inspired by Marvel's webslinger.
1. The Dark Knight (2008)
Awards won: Best Supporting Actor (Heath Ledger), Achievement in Sound Editing
As I mentioned earlier, Christopher Nolan changed comic book movies, or perhaps movies in general, forever with this sequel to Batman Begins that reimagines the DC hero in a gritty, grounded crime thriller that blew the minds of every critic and moviegoer alive. Among those forced to put the scattered remains of their minds back together were Academy voters.
Before Joker's 11 nominations, The Dark Knight held the record of most Oscar nominations for a superhero movie, despite its controversial snub in the Best Picture category, which led to the Academy's expansion from 5 nominees to a maximum of 10. The film took home two awards in 2009, including Sound Editing and, in one of the most simultaneously inspiring and heartbreaking moments in Oscar history, the posthumously awarded prize of Best Supporting Actor to Heath Ledger for his legendary performance as the Joker, accepted onstage by the actor's own family in front of a full house of teary-eyed onlookers.
Joker's reputation as a comic book film may, at first, sound like it hurts its chances on Oscar night, but as these 9 films show, even superhero movies get a taste of the gold. Until we see if it will become the 10th film of its kind take home a trophy on Oscar night (February 9, 2020), be sure to check back for more updates on the race here at CinemaBlend.
Your Daily Blend of Entertainment News
Jason has been writing since he was able to pick up a washable marker, with which he wrote his debut illustrated children's story, later transitioning to a short-lived comic book series and (very) amateur filmmaking before finally settling on pursuing a career in writing about movies in lieu of making them. Look for his name in just about any article related to Batman.