Justice League Dark Is Back On Track, But In A Different Way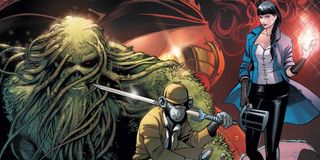 Among the many DC Comics movies that have been in development over the years is Justice League Dark, centered on the team of magical and supernatural heroes from the DC universe. There hasn't been any word on Justice League Dark for years, but now news has come in that these characters could not only still appear on the big screen, but in multiple movies.
You'll recall that last September, J.J. Abrams' production company, Bad Robot Productions, signed a five-year deal with WarnerMedia, immediately promoting speculation about if Abrams and his team would tackle any DC Comics properties. Fast forward to today, Deadline reports that Bad Robot is exclusively developing film and TV ideas centered on the Justice League Dark characters.
As of right now, there aren't any specific characters or projects in development. The outlet mentioned that Bad Robot's Head of Motion Pictures, Hannah Minghella, and Head of Television, Ben Stephenson, will be meeting with prospective writers and their agents soon about which characters will be spotlighted.
It's safe to say that there isn't any shortage of Justice League Dark members to choose from. Introduced to the comics in 2011 at the start of the New 52 reboot, the team's lineup has included John Constantine, Zatanna, Deadman, Swamp Thing, Black Orchid, Madame Xanadu, Doctor Mist and many more. Outside of the printed page, a Justice League Dark animated movie was released in 2017, and there were plans to feature members of the team in the TV shows Constantine and Swamp Thing, but both were cancelled after their first seasons.
What's unclear from this update is if this means the original Justice League Dark movie could still see the light of day. First announced in late 2012, originally the plan was for Guillermo del Toro to direct what had the working title of Dark Universe, and towards the end of 2014, he handed a script in to Warner Bros. However, by summer 2015, del Toro departed the project, and while Doug Liman was tapped as his successor the following year, he exited by May 2017 because the story never got to a place where he felt comfortable pursuing it
If you pay attention to superhero movie news, you know that the DC Extended Universe landscape has changed significantly following Justice League's underwhelming critical and commercial performance. Some movies are still moving forward as planned, while others have deprioritzed, adjusted or outright shelved. This is pure guesswork, but I suspect that Bad Robot tackling the Justice League Dark characters means that the original movie concept has been tabled in favor of going in a new direction.
Of course, then two questions remain. First, which Justice League Dark characters will be presented on the big screen and which will be presented on the small screen? Given Swamp Thing's streaming troubles and John Constantine having already gotten a lot of time in the Arrow-verse, I'm guessing those two will get their own movies, but for everyone else, it's hard to say. As for the second, will we ever see a fully-formed Justice League Dark team in either the movies or television? You can be sure there are plenty of fans who are still hoping that it happens.
It also remains to be seen if Bad Robot will focus exclusively on the Justice League Dark realm or if they'll get to work in other corners of the DC universe. I've often seen it suggested that J.J. Abrams would be a good fit for a Superman movie (he nearly had the chance to work on one), but at the point, we don't know even know if Abrams will helm any of these Justice League Dark projects.
We here at CinemaBlend will keep you apprised of what's happening with the Justice League Dark characters on both the big and small screens. For now, check out our DC movies guide to learn what else is coming down the creative pipeline.
Connoisseur of Marvel, DC, Star Wars, John Wick, MonsterVerse and Doctor Who lore. He's aware he looks like Harry Potter and Clark Kent.
Your Daily Blend of Entertainment News
Thank you for signing up to CinemaBlend. You will receive a verification email shortly.
There was a problem. Please refresh the page and try again.