Ghostbuster: Afterlife vs. Jurassic World 3: Which Original Cast Reunion Will Have The Bigger Payoff?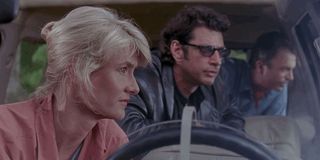 It's no secret that Hollywood loves a good return to the familiar these days, and audiences often come in large numbers to return to the franchises they grew up with. Just look at the success of Bad Boys For Life this month – it's already making box office history. One trend that has been proven to put smiles on fans' faces is the return of the original cast to a property. Soon, it'll happen two summers in a row with the release of Ghostbusters: Afterlife and the not-yet-titled Jurassic World 3.
Closing Thoughts On Ghostbusters: Afterlife vs. Jurassic World 3
There's a certain sweet spot when it comes to the original characters of a franchise becoming part of a story again after decades away from the big screen. Sometimes it can feel like the aging actors are there just for the paycheck, while other times a character's return feels completely warranted. As Ghostbusters: Afterlife and Jurassic World 3 get closer everyday, it's time to ask this question: which original cast reunion will have the bigger payoff? Let's talk things through…
The Ghostbusters: Afterlife Original Cast Reunion
This summer, the Ghostbusters franchise is coming back after some negative fan reactions to Paul Feig's female-led reboot back in 2016. Unlike the recent film's attempt to assemble a new team away from the original movies, Ghostbusters: Afterlife is a return to form. The July release is a direct sequel to 1989's Ghostbusters II and nearly all the main characters are returning to the franchise.
Yes, that means Bill Murray's Dr. Peter Venkman, Dan Aykroyd's Ray Stantz, Ernie Hudson's Winston Zeddermore, Annie Pott's Janine Melnitz and Sigourney Weaver's Dana Barrett. And regarding Harold Ramis' notable 2014 death, the movie will reportedly touch on how his character of Egon Spengler is no longer with the crew as well. From what we've seen from Ghostbusters: Afterlife, it will center on new characters, but it looks super connected to the original.
The film will follow a single mother (played by Carrie Coon) and her two children, Trevor and Phoebe (played by Stranger Things' Finn Wolfhard and Captain Marvel's McKenna Grace, respectively). There's a hint or two that these kids may be related to Egon Spengler, and Dan Aykroyd has said the movie will follow the "descendants" of the original Ghostbusters.
The title of "afterlife" certainly raises an eyebrow regarding how the main characters will return, and the trailer certainly doesn't reveal their roles in the sequel. Are they trapped in the hereafter? Word is they will not have main roles here, but "meaningful" ones nonetheless. Ghostbusters: Afterlife is being made by Jason Reitman, the son of Ivan Reitman, the original director of the Ghostbusters movies, and he calls this latest entry a love letter to them.
The Jurassic World 3 Original Cast Reunion
Almost one year after Ghostbusters: Afterlife hits theaters, another franchise embedded in pop culture will return and feature the main players from the originals: Jurassic World 3. Back in September it was announced that Laura Dern, Jeff Goldblum and Sam Neill would officially be returning to their iconic roles of Dr. Ellie Sattler, Ian Malcolm and Alan Grant.
Jurassic World: Fallen Kingdom closed out with a major cliffhanger when Chris Pratt and Bryce Dallas Howard's characters were faced with a massive problem. Dinosaurs are running free around the literal world instead of being confined to a theme park on a remote island. It makes sense that these characters would naturally come out of the woodwork as the trilogy moves forward – especially considering their own experiences and ties with dinos.
After Colin Trevorrow sat out directing Fallen Kingdom, he'll be back for the final Jurassic World installment in the director's chair. He has described the coming movie as a "celebration of everything that has existed in the franchise up until now." The original Jurassic Park trilogy will apparently have major roles in their return. For Fallen Kingdom, many fans were certainly disappointed with how small Jeff Goldblum's much-hyped return turned out to be.
Jurassic World 3 does have the luxury of having two other films before it to build up the newly established characters and situations for the original characters to come back. Instead of these iconic Jurassic Park heroes just being plopped into the Jurassic World movies from the beginning, the franchise has been able to find success without relying heavily on legacy. So when we meet up with these characters again, it may feel organic and compelling.
Life Finds A (Hopefully Refreshing) Way
Just before we move on to closing thoughts on the predicted "biggest payoff" between the two, let's step back for a moment. In recent years, fans have gone down a rollercoaster ride of going back to franchises they love. And more often than not, this "legacy character" formula has permeated through them. This is when an older character's identity is passed down to a younger character to assume.
Just last year, Terminator fans got to see Arnold Schwarzenegger and Linda Hamilton back in action together in James Cameron's famous franchise. And then, of course, there's Star Wars: The Rise of Skywalker! Whether those movies touched you and did justice to those franchises is up to interpretation. But, it's worth noting that there's this whole "time repeating itself" idea which keeps initiating these original cast returns, and at this point, it might be getting repetitive for fans of franchises.
Closing Thoughts On Ghostbusters: Afterlife vs. Jurassic World 3
So even though Ghostbusters: Afterlife is closer than Jurassic World 3, we don't yet know what the twist is that will unite the original characters with the new. but, it looks like the movie is following a storyline where the descendants of the original Ghostbusters take on the mantle. This would be following a more predictable structure than Jurassic World 3. The latter feels more warranted, because while no official plot details have been revealed yet, with dinosaurs now running rampant, the entire world could be in danger. Should that be the case, one would imagine the two generations of characters will have to work together to face this impossible mission.
Plus, Star Wars may have tired out the whole "lineage" concept as being the connective tissue between the old and new for a while. So my guess is the reunion of Laura Dern, Jeff Goldblum and Sam Neill in Jurassic World 3 will have the bigger payoff! It's up to the filmmakers and actors to create an environment worth returning to for fans and making it worthwhile.
Now I want to hear your thoughts. Which original cast reunion are you more excited for? Ghostbusters: Afterlife or Jurassic World 3? Sure, they're different franchises, but a little friendly competition never hurt. Pick one in the comment section and poll below.
This poll is no longer available.
YA genre tribute. Horror May Queen. Word webslinger. All her writing should be read in Sarah Connor's Terminator 2 voice over.
Your Daily Blend of Entertainment News
Thank you for signing up to CinemaBlend. You will receive a verification email shortly.
There was a problem. Please refresh the page and try again.