Ford V Ferrari: How To Stream The Oscar Nominated Movie, Starring Matt Damon And Christian Bale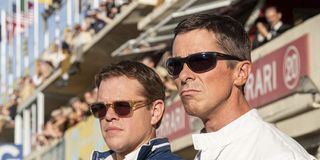 James Mangold creates a bittersweet sports movie with Ford V Ferrari. It gives viewers the same excitement, anticipation, and triumph that we expect with sports movies. Matt Damon and Christian Bale give two of their best performances as men on a mission to accomplish the impossible, while working under the constraints of a major corporation. The Academy Awards nominated Ford V Ferrari for four Oscars, including Best Picture. The fate of Ford V Ferrari 's Oscar chances have yet to be determined, but the film definitely leaves an impression.
Ford V Ferrari recounts Carroll Shelby (Matt Damon) and Ken Miles (Christian Bale)'s journey as they improve the Ford GT40. Shelby and Miles hope to use the car to defeat reigning champion Enzo Ferrari (Remo Girone) and his team at the 1966 24 Hours of Le Mans race. James Mangold may take some creative liberties with the true story of the 1966 Le Mans, but he succeeds in capturing the spirit of Ken Miles, his family, and Carrol Shelby.
Many people may consider skipping Ford V. Ferrari because it's not getting as much media attention as some of the other Academy Award nominated films, but it's definitely worth a watch, especially for the acting, surprise ending, and the film's spirit.
So where exactly can you watch Ford V Ferrari?
Is Ford V Ferrari Available To Stream Yet?
Ford V Ferrari is available to purchase to stream as of January 28, 2020. It can be purchased on most major digital movie platforms, such as Amazon Prime Video, Vudu, and iTunes. Ford V. Ferrari has a set price of $19.99 across all streaming services. The video quality options are SD, HDX, HD, and UHD. Ford V Ferrari is also still available to view in theaters and will be part of AMC and other theaters' Oscars Best Picture showcase. These showcases are happening nationwide on Feb 1 and Feb 8.
When Will Ford V Ferrari Be Available On DVD And Blu-ray?
Ford V Ferrari is available on Blu-ray and DVD on February 11. The prices of Ford V Ferrari range between about $19 and $34. As previously stated, those who want to purchase the digital version of the film before the physical copies are available can stream it on various sites like FandangoNow and Google Play. Pre-order Ford V Ferrari on Blu-ray and DVD HERE.
When Will Ford V Ferrari Be Available To Rent On VOD?
Ford V Ferrari is available to rent on Feb 11. Ford V Ferrari's renting prices and options will then be available on various streaming services, including Amazon Prime Video, Vudu, and iTunes.
Are Any Of James Mangold's Other Movies Available To Stream?
James Mangold has been in the film industry since 1985. He co-wrote his first major Hollywood screenplay in 1988 and directed his first film in 1995. James Mangold has directed and written some of the most well known movies of the last 30 years, including Girl, Interrupted and Walk the Line. Here are some of James Mangold's films that are currently available to stream.
Oliver & Company
Oliver & Company is Disney's animated adaptation of Oliver Twist. Oliver & Company follows an orphaned kitten named Oliver and the street animals that help him survive. James Mangold is credited with co-writing the screenplay for this Disney classic. Oliver & Company is available to stream on Disney+. Stream it HERE.
Cop Land
James Mangold wrote and directed Cop Land. It stars Harvey Keitel, Ray Liotta, Robert De Niro, and Sylvester Stallone. Cop Land is about corrupt NYPD police officers and the New Jersey sheriff (Sylvester Stallone) that decides to fight their corruption. Cop Land is available through a Starz cable subscription. It's also available for rent or purchase on multiple streaming services like Amazon Prime Video. Buy or rent Cop Land HERE.
Girl, Interrupted
Mangold directs Angelina Jolie, Winona Ryder, and Whoopi Goldberg in Girl, Interrupted. The film is based on Susanna Kaysen's memoir of the same name. The movie, and book, is about her stay at a mental institution. Girl, Interrupted won Angelina Jolie the Academy Award for Best Supporting Actress in 2000. Girl, Interrupted is available as part of a Showtime cable subscription. Those without Showtime can rent or purchase the film on various VOD services. Buy or rent Girl, Interrupted HERE.
Kate & Leopold
Hugh Jackman and Meg Ryan star as star-crossed lovers in Kate & Leopold. He's from 1876 and she's from modern-day New York, so this is a complicated romance. James Mangold co-wrote and directed this romantic comedy. Kate & Leopold is available to stream on Netflix. Stream it HERE.
Identity
John Cusack leads an ensemble cast in Identity, a psychological thriller where things are not as they seen. Ten strangers meet at a hotel, and then they begin to die one by one. Mangold directs Identity, and it is available to stream for free on Crackle. Stream Identity HERE.
Walk The Line
Walk the Line is a Johnny Cash biopic that features Joaquin Phoenix and Reese Witherspoon as Johnny Cash and June Carter. James Mangold co-wrote and directed Walk the Line. It was another one of his Academy successes, receiving five nominations, and Reese Witherspoon won Best Lead Actress for her role in this movie. Walk the Line is available to purchase or rent on Amazon Prime Video and other streaming services. Buy or rent Walk the Line HERE.
3:10 To Yuma
3:10 to Yuma is an American western film starring Russell Crowe and Christian Bale. Dan Evans (Christian Bale) is a rancher who agrees to escort a dangerous outlaw, Ben Wade (Russell Crowe). Dan must travel on train to bring Wade to his trial. James Mangold directs 3:10 to Yuma. The film is available to purchase or rent on multiple streaming platforms. Buy or rent 3:10 to Yuma HERE.
Knight And Day
Mangold directed Knight and Day, an action comedy starring Cameron Diaz and Tom Cruise. She plays a car restorer who's dragged into a secret agent's (Tom Cruise) escape from the CIA. Knight and Day is available to buy on various streaming services like iTunes and Vudu. Buy or rent Knight and Day HERE.
The Wolverine
The Wolverine is the second installment of Wolverine's film series. It follows the events after X-Men: The Last Stand. Logan (Hugh Jackman) travels to Japan to cope with the death of Jean Grey (Famke Janssen). This is the first of two Wolverine films that James Mangold directs. The Wolverine is available to purchase or rent on Amazon Prime Video, iTunes, Vudu, and other streaming platforms. Buy or rent The Wolverine HERE.
Logan
Logan is James Mangold's second Wolverine related film, and his third collaboration with Hugh Jackman. Logan marks Hugh Jackman and Patrick Stewart's curtain calls as Logan and Charles Xavier. Logan is a dark look at the future for X-Men and a conclusion to Logan's film journey. Logan is available to rent or purchase on most major streaming services. Buy or rent Logan HERE.
James Mangold and Matt Damon plan to team up again for a crime drama. Mangold also has a few other high profile pictures in the works. Catch the Academy Awards on Sunday February 9 to see if Ford V Ferrari takes home any Oscars.
Your Daily Blend of Entertainment News
Spent most of my life in various parts of Illinois, including attending college in Evanston. I have been a life long lover of pop culture, especially television, turned that passion into writing about all things entertainment related. When I'm not writing about pop culture, I can be found channeling Gordon Ramsay by kicking people out the kitchen.