5 Things That Prove Danny Trejo Is A Real-Life Badass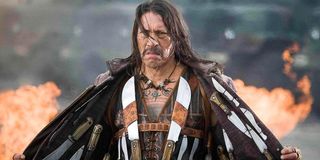 After he has wiped out countless enemies as Machete, taken on extraterrestrial warriors in Predators, and had his head attached to a tortoise rigged with explosives in Breaking Bad, you cannot deny that Danny Trejo is a badass. I mean, he is the central character of a movie that is literally called Bad Ass, in which he plays an elderly war veteran turned vigilante - a role that was practically written for him.
Of course, that is just how he seems in the movies, right? There is no way that a big softie like Danny Trejo is or has never been anything like the tough, intimidating forces to be reckoned with in his filmography… Wrong.
The Mexican-American grew up in some of the roughest parts of Los Angeles and lived the kind of life your mother wouldn't approve of. It was by self-proclaimed accident that Danny Trejo became one of the most beloved actors in Hollywood after changing his life for the better. He is one of few celebrities who can justifiably be called a badass, and the story of how he achieved that honor is one to behold.
Danny Trejo Is No Stranger To The Criminal Lifestyle
Danny Trejo is known for playing some pretty bad mofos throughout his career, from a professional thief in Michael Mann's Heat to rapist Johnny 23 in Con Air. Playing a criminal may have come effortlessly to the actor because, at one time, he was one.
While he never did anything quite as despicable as what Johnny 23 was known for, Danny Trejo's criminal record reads like a greatest hits compilation of increasingly hair-raising offenses in LA, from the assault and battery that first got him arrested at just 10, to grand theft auto in his teens, robbing liquor stores with hand grenades, and shootouts against rival gangs. He spent 11 years of his early life in an out of prison, but did find a silver lining to life behind bars, and not just his world famous tattoos.
Danny Trejo Has Fought In The Ring
While serving time in San Quentin in the 1960s, Danny Trejo made a name for himself as one of the California prison's toughest boxing champions. While the sport has been banned in prisons for years, at the time, even professional boxers would come to practice with the inmates. Trejo proved to be their fiercest competition.
It was actually his experience in the ring that got Danny Trejo his first big break in front of the camera. While on the set of the 1985 action thriller Runaway Train to help perfect star Eric Roberts' onscreen boxing skills, director Andrey Konchalovskiy caught a glimpse of the body art and decided to cast him as… a prison boxer, which would also lead to several more roles as thugs, inmates, or other unnamed tough guys before becoming a household name. How Trejo found himself on the set of said film is an even darker story.
Trejo Has Also Fought Addiction
One aspect of Danny Trejo's criminal life that I purposefully saved until now to mention is his history with drugs, as a dealer and an abuser. He smoked his first joint at 8 with his uncle, had his first taste of alcohol at 12, and started shooting up heroin just a few years later. All of that would change in 1968 when, with the threat of the gas chamber looming over him following a prison riot in Soledad, he made a promise to God that he would get sober.
Instead of getting the gas chamber, he was released the following year in his mid-20s, which would mark the end of his life behind bars and the beginning of a new life free from drugs, alcohol, and all other crimes. Danny Trejo became the sponsor for a fellow narcotics anonymous member, who was a production assistant on the set of Runaway Train, which led to him being hired as Eric Roberts' trainer and on screen competition in the ring.
Danny Trejo Plays A Great Bad Guy, But Saves Lives In Real Life
Acting in film and television may be the occupation that Danny Trejo is best known for, but, to this day, he also continues to serve his society as, what he insists is still his true job, a drug counselor, helping children at risk of addiction, visiting high schools, or whatever else he can do to use his celebrity status to set a positive example. In addition to the lives he saved since getting clean and sober, including his own, he has channeled his cinematic badass persona when coming to rescue as well.
In April 2019, Danny Trejo used his "super powers" to rescue a special needs child and his grandmother after he witnessed her flip her Ford SUV in Los Angeles. ABC7 reported that the actor and another stranger jumped to the scene and managed to free the child from his car seat and helped comfort him in the aftermath of the accident. Trejo has a longer record of playing villains onscreen, but when not on camera, he is a hero to the bone.
All Of This, And The Man Is 75 Years Old
From his impromptu child rescue mission, his countless action roles (and many currently in production), and just by looking at him, you would never guess that Danny Trejo will be turning 76 in mid-2020. It is a miracle we still have him with us in spite of everything he has survived, including drug addiction, prison, and low budget movie sets. Admittedly, though, he is smart to leave stunt work to the professionals.
While it may be a surprise to see this living legend can stay so young, Danny Trejo sees it a different way, believing that his life truly began just around 50 years when he get sober. Now, those are the words of an undisputed, real-life badass.
While most action movie stars just appear to be badass, it is nice to know that we have celebrities like Danny Trejo, whose art imitates his life. For more information and updates on the actor, be sure to check back here on CinemaBlend.
Your Daily Blend of Entertainment News
Jason has been writing since he was able to pick up a washable marker, with which he wrote his debut illustrated children's story, later transitioning to a short-lived comic book series and (very) amateur filmmaking before finally settling on pursuing a career in writing about movies in lieu of making them. Look for his name in just about any article related to Batman.
Your Daily Blend of Entertainment News
Thank you for signing up to CinemaBlend. You will receive a verification email shortly.
There was a problem. Please refresh the page and try again.