What To Watch On Amazon Prime If You Love Whodunnits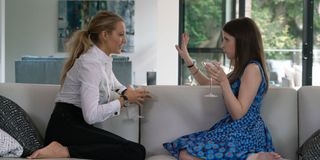 CinemaBlend participates in affiliate programs with various companies. We may earn a commission when you click on or make purchases via links.
Never has the whodunnit been as alluring in the last decade or so, to my recollection, as after Knives Out. In fact, few mystery movies of its kind are as rewatchable as Rian Johnson's subversive crowdpleaser, but, unfortunately, it's not available on Amazon Prime. On the bright side, subscribers can treat themselves to more than enough suspenseful films and mystery TV shows alike included on the streaming service.
From Agatha Christie classics to modern-day sitcoms with a noirish edge, stories that require audience participation in piecing together the how, what, and why of a crime are all over Amazon Prime's extensive library, allowing viewers to treat themselves to hours of puzzling content. Of course, with a selection as large as this, one is bound to run into a few stories that may feel a little too familiar to each other which, if intentional, can be fun, but also a bit more exhausting than truly thrilling as one would hope.
With that in mind, the biggest mystery on whodunnit fans' minds is what movies and series from Amazon Prime are the best to choose from. Consider that case closed with these 12 great brainteasers of film and television.
Murder On The Orient Express (1974)
In 1935, renowned Belgian detective Hercule Poirot (Albert Finney) hitches an impromptu trip to London on a luxurious commercial train, only for it to become the site of his latest investigation when a passenger meets a grisly end.
Why It's A Good Option If You Love A Good Whodunnit: Agatha Christie's novel is one of the most celebrated whodunnits of all time, if its multiple screen adaptations as recent as 2017 are any indication, but this Sidney Lumet directed Oscar-winner, featuring an all-star supporting cast including Lauren Bacall and Sean Connery, is arguably the most essential.
Stream it on Amazon Prime here
Fortitude (2015-2018)
An idyllic community located in the Arctic with a squeaky clean criminal record is suddenly upended by the discovery of a brutal murder, but what begins as an episodic crime thriller evolves into something far more sinister and much stranger soon enough.
Why It's A Good Option If You Love A Good Whodunnit: By the second season of this three-season series, Dennis Quaid led the cast of this British import, picked up by Amazon Prime in 2016, which its ceaselessly foreboding atmosphere and dubious ensemble of unforgettable characters will keep you frozen in an obsessive binging addiction.
Stream it on Amazon Prime here
Clue (1985)
When suspicious socialite Mr. Boddy (Lee Ving) is killed under unusual circumstances at his own dinner party, his six colorful guests, his shady maid, and his astute butler (the always irresistibly charming Tim Curry) must take it upon their bumbling selves to figure out who among them is the culprit.
Why It's A Good Option If You Love A Good Whodunnit: The makers of this hilarious send-up of mystery classics wanted to honor the concept of how the board game that inspired it ends with a conviction every time you would play it, which is why the conclusion of the film would vary by where your theater was located during its initial 1985 run. Fortunately, you can see all three endings by streaming it from home.
Stream it on Amazon Prime here
Luther (2010-2019)
DCI John Luther is one of London's most brilliant criminal investigators, if not for his questionable methods and antagonistic personality, which prove to be a recurring roadblock in, not only his work but also, his everyday life.
Why It's A Good Option If You Love A Good Whodunnit: Idris Elba won multiple awards for playing the self-destructive central character of this British crime series, which ended officially in 2019, that proves any mystery, no matter how complex, is only as interesting as the complexity of its detective.
Stream it on Amazon Prime here
A Simple Favor (2018)
Stephanie (Anna Kendrick), an average single mother and parenting vlogger, takes a little vacation from her comfort zone to investigate the sudden disappearance of abrasive socialite Emily Nelson (Blake Lively), learning more about her new "friend" than she would have expected in the process.
Why It's A Good Option If You Love A Good Whodunnit: Paul Feig, director of Bridesmaids, the all-female Ghostbusters reboot, and Last Christmas, takes a much-welcome stroll outside his comfort zone as well with this fun, stylish, and sexy adaptation of Darcey Bell's novel that, while it is plenty funny, its dark nature is not to be underestimated either.
Stream it on Amazon Prime here
Psych (2006-2014)
The slacker son of a retired cop (James Roday) convinces the Santa Barbara Police Department that his photographic memory is actually ESP and ropes his lifelong best friend Burton "Gus" Guster (Dulé Hill) into solving crimes with him through their own private investigative business, while continuing posing as a medium.
Why It's A Good Option If You Love A Good Whodunnit: This long-running, cleverly titled dramedy from USA is not without its intriguing mysteries, but what most effectively keeps viewers in suspense is the question of how long its crime chasing duo can maintain their clairvoyant façade.
Stream it on Amazon Prime here
Deep Red (1975)
Speaking of clairvoyance, after a mindreader falls prey to the killer whose thoughts she heard at a jazz pianist's concert, said musician teams up with a reporter to investigate the crime, only to be mysteriously outsmarted by the culprit every step of the way in this Italian thriller.
Why It's A Good Option If You Love A Good Whodunnit: All you really need to know about this shockingly macabre, yet visually stunning, mystery is the name of its director: giallo pioneer Dario Argento, whom horror fans should also know from his kaleidoscopic 1977 supernatural classic Suspiria.
Stream it on Amazon Prime here
Murder Rooms: Mysteries Of The Real Sherlock Holmes (2000-2001)
Medical student Arthur Conan Doyle (Charles Edwards) observes unconventional methods and impeccable knack for observation of his teacher and mentor Dr. Joseph Bell (Ian Richardson) as he accompanies him on a collection of cases in London.
Why It's A Good Option If You Love A Good Whodunnit: Any fan of a mystery is sure to have read their fair share of Sherlock Holmes stories (or seen any adaptations), so why not change it up with this five-episode dramatization of the real-life detective who inspired the long enduring character?
Stream it on Amazon Prime here
The Lady Vanishes (1979)
A young heiress (Cybill Shepherd) and a photographer (Elliot Gould) search for an elderly woman (Angela Lansbury) who has gone inexplicably missing on a train traveling through World War II-era Germany, despite no other passengers claiming to have seen her on board.
Why It's A Good Option If You Love A Good Whodunnit: This is yet another essential adaptation of a celebrated suspense novel set on a train and featuring top-notch cast, especially Lansbury, who would eventually make a living out of solving mysteries on the popular series Murder, She Wrote.
Stream it on Amazon Prime here
House (2004-2012)
Arrogant medical diagnostics specialist Gregory House (two-time Golden Globe-winner Hugh Laurie) is relentless in identifying the rare afflictions of his patients, without letting his rocky (to put it lightly) relationship with his team of doctors and his addiction to pain pills get in the way.
Why It's A Good Option If You Love A Good Whodunnit: As I said before, the stories of Sherlock Holmes are old news for mystery fans, so why not try this iconic, long-running medical drama heavily inspired by the brilliant, yet troubled, investigator instead?
Stream it on Amazon Prime here
Ordeal By Innocence (2018)
During Christmas in 1954, young Jack Argyll (Anthony Boyle) tries to prove his innocence when his adoptive mother, philanthropic heiress Rachel (Anna Chancellor), is found murdered at her English estate.
Why It's A Good Option If You Love A Good Whodunnit: This twisted family drama from the puzzling mind of Agatha Christie, and starring an amazing cast featuring Bill Nighy, is broken up into three chilling chapters of this Amazon Prime exclusive miniseries.
Stream it on Amazon Prime here
Friday The 13th (1980)
A group of fresh counselors setting up for a new season at the recently re-opened Camp Crystal Lake find their luck has run out when, one by one, they meet a grisly fate at the hands of an unseen assailant.
Why It's A Good Option If You Love A Good Whodunnit: While this iconic slasher series would eventually come to be defined by watching the hockey-masked immortal Jason Voorhees slash morally questionable youths, I would recommend virgins of the franchise to at least check out the film that started it all, in which the killer remains a mystery until its astonishing conclusion.
Stream it on Amazon Prime here
What do you think, Prime members? Are these mysterious movies and suspenseful series just what a whodunnit loving Amazon subscriber's heart desires, or do you think my selections are the real crime here? Let us know in the comments and be sure to check back for recommendations from the aforementioned streaming service and elsewhere here on CinemaBlend.
Your Daily Blend of Entertainment News
Jason has been writing since he was able to pick up a washable marker, with which he wrote his debut illustrated children's story, later transitioning to a short-lived comic book series and (very) amateur filmmaking before finally settling on pursuing a career in writing about movies in lieu of making them. Look for his name in just about any article related to Batman.