Rami Malek: 5 Fascinating Things To Know About The Bohemian Rhapsody Star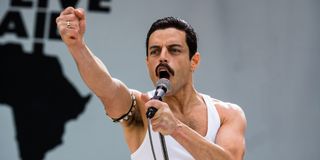 CinemaBlend is partnering with PIA VPN to bring you fresh content to stay in and stream with each day. We're also offering a special 76% discounted rate for a limited time only. You can sign up for the package with PIA here. (opens in new tab)
Since winning the 2019 Academy Award for Best Actor, Bohemian Rhapsody star Rami Malek has been on the up and up as one of Hollywood's most reliable performers, yet, despite his steady rise in popularity, there is still much to be learned about the man. For instance, did you know that he was in a Twilight movie? Totally took me by surprise to learn that.
All joking aside, there truly are plenty of fascinating things to learn about 39-year-old Los Angeles native in his life off screen. For instance, what inspired the ominous scarring of his Bond villain in the upcoming No Time to Die, did he do his own stunts in the mobile gas tank filling scene from Need for Speed, and just how far did he go in order to so convincingly play a morphine addict on Mr. Robot?
To be honest, we are not going to answer any of those questions here. However, I have five other facts about Rami Malek that I assure you are just as informative and intriguing.
Rami Malek Pretended To Be His Identical Twin Brother, Per His Request
Like his debut film role as Ahkmerah in Night at the Museum and his vampiric character, Benjamin, in The Twilight Saga: Breaking Dawn - Part 2, Rami Malek is of Egyptian descent. His father, Cairo tour guide and travel agent turned insurance salesman Said, and mother, accountant Nelly, immigrated to the United States in the late 1970s. Soon, they would give birth to their eldest daughter Yasmine and, in 1981, twins Rami and Sami, who would use their identical appearance to start trouble, even into adulthood.
In 2015, while promoting Mr. Robot, Rami Malek appeared on Jimmy Kimmel Live, where he told a story in which Sami asked him to perform a Greek monologue for his college acting class... as him. The recent Evansville Theatre grad agreed to it and the performance he gave was almost too impressive to his brother's professor to get away with it. Fortunately, Sami got the points he needed to graduate, all thanks to Rami.
Rami Malek Went To High School With Other Future Stars
Speaking of education, while attending high school at Notre Dame in Sherman Oaks, California, Rami Malek already got to have a taste of what it is like to have famous friends prior to landing a career in acting. However, not all of them had been touched by fame yet.
As she proved by a throwback Instagram post, Rachel Bilson, star of the The OC and Hart of Dixie, was a classmate and good buddy of the future star of film and television. Just one grade below Rami Malek at Notre Dame, but already a Golden Globe-nominated child actress, was future Spider-Man star Kirsten Dunst, whom Malek revealed that he used to have a crush on when speaking to E! on the red carpet for the 2016 Golden Globes. However, his Hollywood connections in high school do not stop there...
Rami Malek Had A Previous Connection To Mr. Robot Co-star Christian Slater
Prior to leading the Queen biopic as Freddie freaking Mercury, Rami Malek's biggest role to date was on the monstrously acclaimed USA series Mr. Robot, for which he won an Emmy playing a morphine-addicted vigilante computer hacker mentored by the mysterious titular character, played by Golden Globe-winning '80s hero Christian Slater. However, when the actors were first cast on the show, which ended after four years in 2019, they were not exactly strangers.
On an interview with Chris Hardwick on his podcast Id1ot, Rami Malek recalled back in high school when he went on a date with a classmate named Emily, who just happened to be his future Mr. Robot co-star's stepsister. In retrospect, it actually makes the eventual reveal of Christian Slater's true identity on the show much creepier than it already was...
Rami Malek Has Voiced Many Video Game Characters
Speaking of creepy, Rami Malek starred in the cinematic adaptation of popular video game series Need for Speed, in which he plays mechanic turned office worker Finn, who, when he learns his motorhead buddies are reuniting, quits his job by publicly stripping naked in majestic defiance of the corporate hell scape he has been suffering. Needless to say, that was not the performance that led him to Oscar-winning glory, but, the 2013 racing film was not his first experience lending his talents to gaming either.
In the same year that he made his screen debut on Gilmore Girls, Rami Malek had an uncredited gig voicing various characters in the 2004 sequel to the blockbuster Xbox exclusive Halo. A decade later, he reprised his role as Tahno from the Avatar: The Last Airbender spin-off The Legend of Korra in the video game adaptation of the popular animated series and voiced a central character of the single-player horror thriller for Playstation 4, Until Dawn, the following year.
How False Teeth Helped Rami Malek Transform Into Freddie Mercury
At first, Rami Malek never expected that he would never have what it takes to play Queen frontman Freddie Mercury in the 2018 blockbuster biopic Bohemian Rhapsody. Fortunately, all it took was a some rigorous physical training and some very big teeth.
Before the singer-songwriter became Freddie Mercury, he had a more cruel nickname: Bucky, due to his distinct chompers that British tooth-making company Fangs FX re-created for Rami Malek to wear on set. During an interview with Jimmy Kimmel, the actor revealed that he kept the teeth for himself after shooting wrapped up. By managing to perfect the musician's accent whilst wearing them, Malek's performance led him to become only the second person of Arab ancestry to win the Oscar for Best Actor, second to F. Murray Abraham.
So, do you believe these facts have efficiently given you a deeper perspective into the life of Rami Malek, or does it still feel like fantasy? Let us know in the comments and be sure to check back for more information and updates on the highly talented actor here on CinemaBlend.