Goodfellas And Other Great Movies Leaving Netflix Soon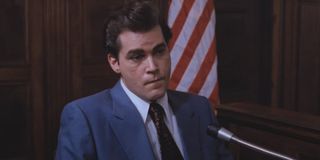 Netflix giveth and Netflix taketh away. At least, that's how it seems at the end of every month when the streaming giant gets rid of slew of titles just days before it refills its library with dozens of other new films and longtime favorites. This month is no different as Netflix will be getting rid of movies like Goodfellas, The Shawshank Redemption, and dozens others before the calendar flips once again.
With so much leaving at the end of each month it can sometimes be difficult or next to impossible to see what movies added to your queue months ago will soon disappear in the blink of an eye. Fear not, as I have put together a list of great movies that will soon cease to exist, at least in the labyrinthine user interface of Netflix. All of these titles, with the exception of National Treasure, will be leaving Netflix as of April 30. National Treasure's expiration date on Netflix is April 29.
Goodfellas (1990)
Martin Scorsese's 1990 organized crime masterpiece Goodfellas still stands up, 30 years after it was first released. This crime epic follows mobster Henry Hill (Ray Liotta) as he goes from made man to federal witness after turning against his former partners in crime. Hurry up before you have to settle for the "edited for television" version, and nobody wants that.
Watch it on Netflix while you still can here.
The Shawshank Redemption (1994)
Probably one of the best Stephen King adaptations, The Shawshank Redemption is just as beloved now as it was when it was first released more than 25 years ago. From the casting of Tim Robbins as Andy Dufresne to the narration by Morgan Freeman's character Red Redding to the direction of Frank Darabont, there are plenty of reasons to dive back into Shawshank State Penitentiary.
Watch it on Netflix while you still can here.
National Treasure (2004)
National Treasure is one of those movies with a plot that sounds like it could either be an Indiana Jones movie or a made up movie on an episode of The Simpsons. Add Nicolas Cage halfway between being sane and Vampire's Kiss, and this movie about a historian attempting to steal the Declaration of Independence gets even better. If you want to find out how this one ends, make sure to be quick as time is running out.
Watch it on Netflix while you still can here.
A Cinderella Story (2004)
Who knows when we'll finally get to see the continuation of Lizzie McGuire on Disney+, but for everyone who wants to see star Hilary Duff in peak form, check out the 2004 modern day fairy tale A Cinderella Story on Netflix before the clock strikes midnight. Just make sure you have your flip phone handy to properly get in the mood for this absurdly fun reimagining.
Watch it on Netflix while you still can here.
A Nightmare On Elm Street (2010)
Although it doesn't live up to the original A Nightmare On Elm Street, the 2010 remake packs quite a punch thanks to Jackie Earle Haley's new take on the classic dream killer Freddy Krueger. Also, if you want to watch a movie with Rooney Mara where she doesn't spend 10 minutes eating a pie on the kitchen floor, this remake will hold you over.
Watch it on Netflix while you still can here.
Blade Runner: The Final Cut (1982)
It's easy to lose count of all the different versions of Ridley Scott's 1982 techno-noir thriller Blade Runner, but The Final Cut is about as close to the director's vision as it gets thanks to the removal of Harrison Ford's tired and uninterested narration and other elements that hold the original back. But just like tears in rain, this sci-fi classic will soon be gone.
Watch it on Netflix while you still can here.
The Craft (1996)
The coven of witches in The Craft might be teenagers, but they're anything but the friendly witches that became popular in the mid-90s. When Sarah Bailey (Robin Tunney) starts at a new Catholic school, she forms a bond with a group witches who are beyond sinister. This ultra-90s thriller is everything you would want and more from a horror movie of the era.
Watch it on Netflix while you still can here.
Driving Miss Daisy (1989)
The Academy Award-winning 1989 drama Driving Miss Daisy follows the unlikely friendship that forms between Daisy Werthan (Jessica Tandy) and her chauffeur Hoke Colburn (Morgan Freeman) after the independent widow gets in a wreck and is no longer able to drive. This sentimental and funny movie will bring a smile to your face, but not for long.
Watch it on Netflix while you still can here.
Friday The 13th (2009)
Another horror reimagining that didn't really get a fair shake, the 2009 version of Friday The 13th features a lot of the scares, deaths, and teenage romance as the original series. More of a reboot than a traditional remake, the 2009 edition does an okay job of combining elements of previous films in the series while also treading new ground.
Watch it on Netflix while you still can here.
Good Burger (1997)
Did you know there's a Nickelodeon movie featuring screen legend Abe Vigoda, Basketball Hall of Famer Shaquille O'Neal, and funk superstar George Clinton? Well, act now before it's too late to catch Good Burger, the 1997 film adaptation of Kel Mitchell and Kenan Thompson's iconic All That skit that puts the two teenagers up against the evil Mondo Burger restaurant.
Watch it on Netflix while you still can here.
The Hangover (2009)
Ten years before Todd Phillips broke all kinds of records with 2019's Joker, the writer-director had another box office hit with the 2009 comedy The Hangover. With a cast that includes Bradley Cooper, Ed Helms, Zach Galifianakis, and Mike Tyson of all people, this movie absolutely killed people of a certain age. Why not relive your college memories and watch The Hangover before they both fade away again.
Watch it on Netflix while you still can here.
The Police Academy Franchise (1984-1994)
See where it all began for Steve Guttenberg, Michael Winslow, Kim Cattrall, and the rest of the Police Academy cast by watching the original 1984 slapstick cop comedy that spawned a franchise totaling in seven movies. And why stop at the first movie? All seven of the Police Academy films are available to stream on Netflix, at least for the time being.
Watch it on Netflix while you still can here.
Rosemary's Baby (1968)
Rosemary Woodhouse becomes frantic as she explores the idea that an evil cult wants to abduct her unborn child for a series of rituals in Roman Polanski's psychological thriller Rosemary's Baby. This classic horror movie remains just as popular as it was upon its release in 1968, so why not sit down with the family and watch it before it's gone from Netflix.
Watch it on Netflix while you still can here.
Rounders (1998)
When two friends get in more than a little over their head in an underground high-stakes poker game, they must quickly come up with a large sum of cash before things get even worse for the pair. Starring Matt Damon and Edward Norton as two longtime friends, Rounders shows just how far gambling addicts will go. But just like the characters in the movie, you don't have long to see how things shape up.
Watch it on Netflix while you still can here.
Scream 2 And Scream 3 (1997, 2000)
There have been a total of four Scream movies since the franchise first got off its feet in 1996, and two of the films in the franchise will soon be gone from the library of Netflix. Both films are largely continuations of the stories of the key characters first introduced in Wes Craven's '90s slasher classic, so why not see how it ends (for some of them) before it's too late.
Watch Scream 2 and Scream 3 on Netflix while you still can.
Space Jam (1996)
Michael Jordan and Looney Tunes were both in high demand by the time Space Jam hit theaters in 1996. This live-action-animation crossover film was perhaps one of the most ambitious film projects at the time of its release, and the animation surprisingly still holds up nearly 25 years later. Just like the NBA players who lost their ability in the movie, this title will soon be gone.
Watch it on Netflix while you still can here.
Step Brothers (2008)
The comedy pairing of Will Ferrell and John C. Reilly has given audiences some of the greatest laughs in the past 20 years, and while Step Brothers isn't the best of those movies, it's certainly not the worst either. Watch as two man-children Brennan Huff (Ferrell) and Dale Doback (Reilly) drive their recently married parents to their breaking point before they're gone for good.
Watch it on Netflix while you still can here.
Strictly Ballroom (1992)
Australian visionary filmmaker Baz Luhrmann is responsible for some of the most eye-catching movies the world has seen over the past 30 years, and now is a perfect time to see where it all began with his 1992 romantic comedy Strictly Ballroom. Luhrmann's directorial debut follows Scott Hastings (Paul Mercurio) as he is forced to train a new dance partner played by Tara Morice on the eve of a major competition.
Watch it on Netflix while you still can here.
The Talented Mr. Ripley (1999)
A couple of years after Matt Damon warmed his way into audiences' hearts with Good Will Hunting, the young actor proved that he could take on more sinister roles in the Anthony Minghella's 1999 thriller The Talented Mr. Ripley. In the film, Damon plays Tom Ripley, a young sociopath who will stop at nothing to live the life of Dickie Greenleaf (Jude Law).
Watch it on Netflix while you still can here.
True Grit (1969)
You have most likely seen the Coen Brothers 2010 remake of the same name, but there's never been a better time to watch the 1969 original True Grit starring John Wayne in an Oscar-winning performance as lawman Rooster Cogburn. Don't waste too much time as this western will soon be gone.
Watch it on Netflix while you still can here.
Those are just some of the movies that will soon be leaving the confines of Netflix's vast streaming library. If you miss the boat on these titles and want to know what new and exciting movies are coming to the platform and many other streaming options, make sure to check back here at CinemaBlend.
Your Daily Blend of Entertainment News
Philip grew up in Louisiana (not New Orleans) before moving to St. Louis after graduating from Louisiana State University-Shreveport. When he's not writing about movies or television, Philip can be found being chased by his three kids, telling his dogs to stop barking at the mailman, or yelling about professional wrestling to his wife. If the stars properly align, he will talk about For Love Of The Game being the best baseball movie of all time.