Godzilla: King Of The Monsters Director Explains One Titan's Design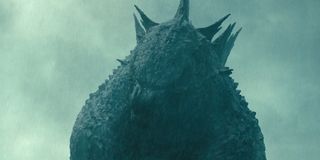 As the MonsterVerse continues to expand, more Titans are gradually being added to the franchise's ferocious roster. Viewers got enough thrills just from seeing Godzilla and King Kong on the big screen again, but other veteran characters like Mothra and King Ghidorah have also added to the excitement. The series has also introduced a number of new monsters that either have or will play big roles. One of these is Titanus Behemoth, and he just happens to be Godzilla: King of the Monsters director Mike Dougherty's favorite.
Mike Dougherty has been sharing various behind-the-scenes details from Godzilla: King of the Monsters lately, and he most recently opened up about what went into creating Titanus Behemoth. In an Instagram post, Dougherty explained that the monster was crafted as a hybrid of wooly mammoths, apes and giant sloths. The post also included concept art and a digital rendering of the massive creature. Check it out:
Additionally, Dougherty explained that he and his creative team wanted to flesh out the Titans by providing them with complex abilities and backstories. In Titanus Behemoth's case, it sounds as though the relatively peaceful creature was supposed to have some dangerous abilities and a rough history:
In Godzilla: King of the Monsters, Titanus Behemoth is depicted as being a less destructive force than most of its fellow Titans, which makes Dougherty's comments a bit surprising. Abilities like those could make Titanus a match for the likes of Godzilla or Kong. Additionally, the fact that such a peaceful creature was almost given such a rough background is interesting.
Warner Bros. and Legendary Pictures don't seem to have had any probably with making brand new kaiju for the MonsterVerse. This was established fairly quickly with the introduction of the MUTOs in 2014's Godzilla. And at this point, it doesn't look like these original creations are going to stop. For instance, merchandise for the upcoming Godzilla vs. Kong seemingly revealed that another new monster will appear in that film.
Fans hoping to see the classic monsters shouldn't be too disappointed though, as more of them could be on the way as well. Not too long ago, another piece of merchandise may have confirmed that fan favorite Mechagodzilla could also be showing up in Godzilla vs. Kong.
With the MonsterVerse steadily finding its way, let's hope that the creatives can find a balance when using the old and new characters. Godzilla vs. Kong, the next installment in the series, is set to hit theaters on November 20.
Covering superheroes, sci-fi, comedy, and almost anything else in film and TV. I eat more pizza than the Teenage Mutant Ninja Turtles.
Your Daily Blend of Entertainment News
Thank you for signing up to CinemaBlend. You will receive a verification email shortly.
There was a problem. Please refresh the page and try again.