We Finally Know Who Falcon Was Talking To Right After His Fight With Ant-Man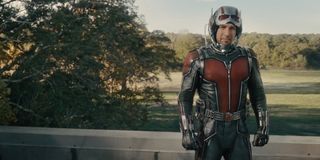 It seems like forever ago when Ant-Man was first released in July of 2015. So much has happened since then in the MCU. If you recall, it received favorable reviews and set the microscopic superhero on track to appear in several other MCU movies, like Captain America: Civil War. We all have questions about the future of the MCU, but one question has been around for a while: who in the world was Falcon talking to after his fight with Ant-Man?
In the original Ant-Man, the first Avenger that the title character reveals himself to is Falcon at Avengers headquarters. During their tiny bout, Falcon repeatedly speaks into his intercom but we never hear who is on the other end. Well, recently, a fan asked the question to director Peyton Reed on social media. Here is his response:
There you have it. Falcon was speaking to Natasha Romanoff, aka. Black Widow. Mystery solved. I suppose we should just assume Natasha never told Captain America about Falcon getting his butt kicked by Ant-Man.
Of course, Falcon and Ant-Man's relationship only grows from that first encounter. Falcon eventually becomes the bridge for Ant-Man to be a part of Team Cap in Captain America: Civil War. And in that movie, Falcon doesn't seem to have any hard feelings, playfully calling Ant-Man "tic tac."
With Avengers: Endgame a year behind us, one thing we know is that we'll be seeing more of Falcon and Ant-Man. For Falcon's part, he'll be returning in The Falcon and the Winter Soldier on Disney+. Originally, the six episode show was set to premiere in August 2020, but that has been put into question recently due to production delays.
There are a ton of questions we hope The Falcon and the Winter Solider will answer. One of the biggest being who the Avengers next big threat will be, but also, will Anthony Mackie's Falcon transform into Captain America or will he eventually pass on the baton to someone else? It's really anyone's guess at this point.
Ant-Man, of course, isn't going anywhere either. It's been announced that Ant-Man 3 is already underway with Peyton Reed directing and Paul Rudd set to return as the titular star. Unfortunately, like The Falcon and Winter Soldier, production delays could set the movie back. Earlier this year, Michael Peña claimed they could be about a year out from filming.
As you can tell, the MCU is in a state of flux right now, with many stars saying goodbye, new streaming TV shows in the works, and a whole lot of unanswered questions about its future. Phase 4 feels like walking into a totally new arena. Hopefully, the transition can lay a foundation for another great era of the MCU.
Your Daily Blend of Entertainment News
Your Daily Blend of Entertainment News
Thank you for signing up to CinemaBlend. You will receive a verification email shortly.
There was a problem. Please refresh the page and try again.