Watch Jason Momoa Shirtless Throwing Axes Without Looking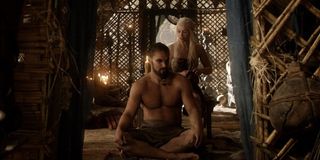 Jason Momoa has been a busy man of late, working on a number of projects, including Dune, rumors of a role in a remake of Cliffhanger, and eventually tackling the Aquaman sequel. But amidst a busy Hollywood action star schedule, he still makes time for the important things in life, like throwing axes at a target without looking while shirtless.
It's true. We have a record of authenticity. Recently, a humorous video of Jason Momoa trying to throw axes at a target without looking was posted on the Bleacher Report's social media. And, well, you just have to see it for yourself:
Jason Momoa hasn't played the role of Khal Drogo in many years, but, as you can see, it seems like he revisits the role on his own time. But don't let the beginning of the video fool you, as the blooper reel showed later, he missed the target more than he actually hit it in another take. So, be sure to stay around for the blooper, it makes the video much more funny.
This isn't the first, nor I'd wager will it be the last, time Jason Momoa has been shirtless. He's practically built a brand on it. While these roles require an impressive physique, that doesn't mean he's always in tip-top shape. Last year, a photo release of him shirtless and fans criticized him for not being in Aquaman shape. Although if you see the photo and you'll realize it was a harsh and unfair critique.
Other than his standout role in Game of Thrones as Khal Drogo, Jason Momoa is best known for his role as Aquaman in Aquaman and Justice League. With the success of Aquaman, Jason Momoa was all but assured a sequel and a promising future as the hero. Sure enough, Aquaman 2 is in motion, withi an intended release date December 22, 2022.
Aquaman 2 story details are sparse, but in a recent interview with co-writer David Leslie Johnson-McGoldrick, he said it won't follow one particular comic but will be heavily influenced by any Silver Age story featuring Black Manta. That's exciting news for Aquaman fans that want more of Black Manta.
But, Jason Momoa's most recent project is Dune, directed by Denis Villeneuve and starring Timothée Chalamet. Jason Momoa plays Duncan Idaho, who he describes as a Han Solo type that is the right hand man to Oscar Isaac's Duke Leto. When photos surfaced of Dune, Jason Momoa was just as excited as fans to see them. Dune is expected to release on December 18.
Well, now we all know Jason Momoa has a hidden talent for throwing axes without looking. I could totally see this skill coming in handy in a future role. It's not that much of a stretch to see Aquaman throwing axes, is it?
Your Daily Blend of Entertainment News