Star Wars' Anthony Daniels Changed His Mind About His Favorite Movie In The Franchise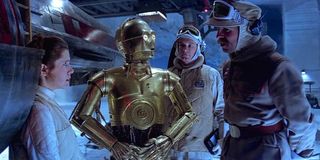 Every Star Wars fan has their own personal rankings of which Star Wars movie is best. These rankings are all over the internet, from Amazon to Rotten Tomatoes; people love to review and rank these movies. Heck, even we have our own rankings that includes Star Wars: The Rise of Skywalker. It's just what we do.
Well, this habit to rank the franchise hasn't eluded Star Wars acting veteran and gold protocol droid, Anthony Daniels aka C-3PO. He recently went on social media to announce that he's always had a favorite Star Wars, but that he's suddenly changed his mind after all this time. Here's what he said:
Star Wars: A New Hope has been a fan favorite since the very beginning. So, it shouldn't be much of a surprise that it made the top spot in Anthony Daniels's ranking all this time. However, Anthony Daniels picking Star Wars: The Empire Strikes Back is also a fine choice.
Star Wars: The Empire Strikes Back has become the gold standard of Star Wars movies, but it wasn't always so. When released, many critics gave it mixed and lukewarm reviews. Even Star Wars: The Last Jedi director Rian Johnson remembers feeling disappointed by The Empire Strikes Back when he went to see it in the theater.
In the sequel trilogy, original characters like Han Solo, Leia Organa, and Luke Skywalker all got considerable screen time, but not so much for Anthony Daniels. He barely appeared in Star Wars: The Force Awakens and Star Wars: The Last Jedi, something Anthony Daniels particularly regretted, saying he became no more than a table decoration
Of course, all that changed in Star Wars: The Rise of Skywalker. His character became integral to the story. And, as it turns out, we could have gotten even more of the Threepio, but a lot was left on the cutting room floor.
Over the years, Anthony Daniels has been particularly active in Star Wars fandom, taking considerable responsibility over his character C-3PO. He loves to make appearances at Star Wars events and frequently sheds his wisdom. In one particular case, he warned fans about Baby Yoda toys, saying it's not just a cute toy, it's a responsibility.
Anthony Daniels made his final run as C-3PO with Star Wars: The Rise of Skywalker. During the D23 Expo, he spoke a bit about the emotional farewell on set, saying it was difficult and that he shed a few tears. Now he gets to walk slowly off into the sunset and retire from those stuffy, gold costume days. But, I doubt this is the last we'll see of the character C-3PO
Your Daily Blend of Entertainment News