Spider-Man: Into The Spider-Verse 2 Has Taken A Very Exciting Step Forward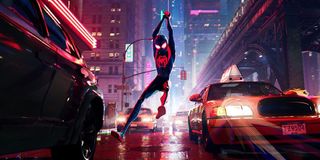 Up to this point, the Spidey universe has seen a few unfortunate setbacks in its schedule. Not only were Morbius and Venom: Let There Be Carnage's releases delayed, but Tom Holland's Spider-Man 3 and Spider-Man: Into the Spider-Verse 2 were also pushed back. Updates on the latter have been mostly sparse, but today marks a big milestone, as the sequel has taken an exciting step forward.
Animator Nick Kondo has offered updates in the past about his work on Spider-Man: Into the Spider-Verse. Now he's taken to social media to announce that today is his first day on the job for Spider-Man: Into the Spider-Verse 2. Check it out:
That's right, Spider-Man: Into the Spider-Verse 2 is starting production, which is a huge step right now. With so many delays and shutdowns, things have been fairly bleak, so anytime production of a movie gets back into gear, it's exciting news.
Originally Spider-Man: Into the Spider-Verse 2 was slated to come out on April 8, 2022, but its release date was moved to October 7, 2022 back in April. Fingers crossed nothing bumps it into 2023.
After the explosive debut of Spider-Man: Into the Spider-Verse, it was only a matter of time before Sony quickly got to work on a sequel. According to Sony CEO Amy Pascal, Spider-Man: Into the Spider-Verse 2 will center around Miles Morales and Gwen Stacy's romance in between two universes. This romance was originally in Phil Lord's original script, but it was cut so the other Spider characters could get equal treatment.
As for the villain and other details, those haven't been confirmed just yet. However, co-director Rodney Rotham has indicated in the past that Olivia Octavius, a.k.a. Doctor Octopus, may not be done and could have a future in the Spider-Verse.
Spidey fans, for their part, are already dreaming up who Miles Morales could face off against in the interdimensional sequel. One fan posted fan art online of Miles Morales where he's wearing the symbiote costume, indicating they're hoping Venom makes an appearance.
In addition to a direct Spider-Man: Into the Spider-Verse sequel, there are also plans in place by Sony to deliver a female-led spinoff, potentially with Spider-Gwen, voiced by Hailee Steinfeld, as the lead. Steinfeld was asked about an update on this spinoff, but she said there hasn't been much that she's heard lately. Hopefully we'll hear something soon.
Spider-Man: Into the Spider-Verse 2 will be directed by Joaquim Dos Santos (making this his first feature-length directorial movie) and written by David Callaham, who wrote The Expendables and Zombieland: Double Tap. However, Spidey fans may also take solace knowing that he also had a hand in helping with Wonder Woman 1984 and the MCU's Shang-Chi and the Legend of the Ten Rings.
Your Daily Blend of Entertainment News
Thank you for signing up to CinemaBlend. You will receive a verification email shortly.
There was a problem. Please refresh the page and try again.