Black Panther: 12 Behind-The-Scenes Facts About The Marvel Superhero Drama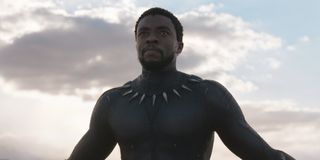 It may be one of the most astonishingly successful and culturally important films in recent memory, but there is still plenty that even the biggest fans of Black Panther may have yet to learn. What went on behind the scenes of the 18th installment in the MCU is arguably just as fascinating as what happened on screen.
Director Ryan Coogler's groundbreaking 2018 film, which earned more than $1 billion worldwide and became the first superhero movie to be nominated for a Best Picture Oscar, stars Chadwick Boseman in the title role, Wakanda's royal leader and protector T'Challa. However, do you know which famous actor had previously sought out to play the lead of Black Panther?
You can learn the answer very soon, but that is not all. The following is a collection of 12 interesting facts about Black Panther that might change the way you look at this cinematic milestone forever.
Wesley Snipes Wanted To Play The Lead In Black Panther
Among those considered to play T'Challa before Chadwick Boseman's casting were Adewale Akinnuoye-Agbaje, Anthony Mackie, and Djimon Honsou (who actually did voice the role in a 2010 animated miniseries). However, long before any of them were considered and even before the dawn of the MCU, Wesley Snipes was gunning to star in a 1990s Black Panther adaptation pitched by John Singleton that was eventually scrapped. On the bright side, Snipes went on to receive Marvel glory as the first actor play vampire hunter Blade, and has vocally expressed his approval of Ryan Coogler's film.
Black Panther's Lupita Nyong'o And Winston Duke Previously Bonded Over Marvel Movies
Academy Award-winner Lupita Nyong'o and Winston Duke actually knew each other years before playing Wakandan natives Nakia and M'Baku, having met while studying theatre at Yale. Coincidentally, as Duke recalled in a 2018 interview with Esquire, the young aspiring actors saw The Avengers together in 2012, inciting them to fantasize about, one day, starring in a film just as popular Joss Whedon's once groundbreaking MCU crossover event. Of course, Black Panther eventually became just one of several blockbusters they are each known for today, such as Jordan Peele's 2019 thriller Us, in which the longtime friends played spouses and their respective doppelgängers.
Danai Gurira Already Knew Many Of Her Black Panther Co-Stars
Winston Duke and Lupita Nyong'o are not the only previously associated Black Panther stars, and that's not even counting director Ryan Coogler and Michael B. Jordan's frequent collaborations. In fact, you might win the longest streak in a game of "Six Degrees" with Okoye actress Danai Gurira, who, during a 2019 appearance on The Tonight Show, recounted living with Sterling K. Brown in grad school and seeing Nyong'o lead a 2016 production of her play, Eclipsed, not realizing either of them had been cast in the Marvel movie at the time until Coogler attended a performance. What's even crazier than that is Letita Wright (Shuri) starred in Nyong'o's role in the same play a year earlier.
Black Panther's Production Designer Wrote A "Bible" Of Wakandan History
In 2019, Hannah Beachler became the first black nominee and winner of the Academy Award for Production Design on Black Panther, an honor she shared with her co-designer Jay Hart. The creation of Wakanda's authentic and strikingly lived-in appearance stemmed from her drawing up a 515-page book of historical anecdotes and visual concepts which she referred to, in an interview with NPR, as her "bible." Beachler used this same method when previously working with Ryan Coogler on the production design for the brutal biopic Fruitvale Station and boxing film Creed.
Black Panther Composer Ludwig Göransson Traveled To South Africa For Inspiration
Also one to strive for authenticity is Ludwig Göransson, another frequent collaborator of Ryan Coogler's and winner of the 2019 Academy Award for Best Original Score for Black Panther. In an effort to capture the essential sound of Wakanda, an African country that only exists in the Marvel universe, the Swedish composer traveled to South Africa to study its traditional stylings of music to better reflect that in the film's score. He recounts the experience in an interview with Pitchfork, during which he also talks about observing Kendrick Lamar's work on Black Panther's original tracks, including the Oscar-nominated "All the Stars," and co-producing with Childish Gambino, otherwise known as fellow Marvel star Donald Glover.
Three Out Of Five Wakandans Are Deliberately Barefoot in Black Panther
Ruth E. Carter also earned an Academy Award for her work as the costume designer for Black Panther, making her the first black person to win the category. In addition to T'Challa's sleeker suit design, Carter received praised especially for Wakanda's fashion sense, which possesses an almost futuristic feel while still honoring styles traditional to Africa (such as choosing certain color schemes associated with real tribes), as she explained to Collider. This same attention to authentic detail informed the decision to make three out of every five Wakandan natives appear barefoot, considering the fictional country's climate.
T'Chaka Actor John Kani's Real Son Plays His Young Self In Black Panther
Filming Black Panther got to be a true family affair for John Kani, who plays T'Challa's late father and former Wakandan king, T'Chaka. To play his younger self in the film's prologue, set in 1992 Oakland, Kani's actual son, Atandwa Kani, was enlisted to star opposite Sterling K. Brown and a young Zuri, played by Denzel Whitaker. Who, ironically, is not related to Forest Whitaker, who plays the older, modern day version of the character.
Wakandans Speak An Actual Language In Black Panther
Speaking of John Kani, the actor was actually instrumental in Marvel Studios' decision that Xhosa, a true African language, would be adopted as the official language of Wakanda in Black Panther, as MTV reports. In fact, the decision dates back to the filming of 2016 Captain America: Civil War, in which Kani first appeared as T'Chaka. The actor taught the language to his onscreen son, Chadwick Boseman, for a scene in which they exchange words in their native tongue.
Denzel Washington Inspired Killmonger's Scarring In Black Panther
Another veteran actor who was influential to one of the more memorable elements of Black Panther is Denzel Washington, but his inspiration was more indirect. In 2019, at an AFI Life Achievement Gala honoring Washington, Michael B. Jordan presented a story in which he learned that the actor wore scars on his back while filming Civil War drama Glory for the entirety of the shoot, even when they weren't visible, to better inform his Oscar-winning performance. Jordan added that he adopted the same method with Erik Killmonger's self-inflicted scarring to maintain the character's raw, emotional intensity throughout his stunning portrayal of the tyrannical, yet empathic antagonist.
Michael B. Jordan Went A Little Too Method On The Set Of Black Panther
If you were ever seeking another reason to empathize with Michael B. Jordan's role in Black Panther, just consider the emotional toll portraying Erik Killmonger ended up having on him. In a conversation with Oprah Winfrey, the actor revealed that to stay in the mindset of the Wakandan descendent and victim of a tragic, lonely childhood, he choose to keep his distance on set. It was an emotionally draining routine that seemed to funnel into his personal life. Jordan eventually sough therapy to disconnect himself from his otherwise winning performance in the Marvel movie, so here's hoping that he has an easier time if Killmonger is to be resurrected in a sequel.
Martin Freeman's Black Panther Character Was Inspired By Sitcom Stars
In Black Panther, Everett Ross (who, like T'Challa, first appeared in Captain America: Civil War) is actually a vast departure from his comic book iteration, particularly for how the film portrays him as more of an ally than a nosy antagonist. However, even in British actor Martin Freeman's performance, it is easy to see what unlikely characters Marvel writer Christopher Priest took inspiration from to create the CIA agent. In an interview with Elite Daily, Priest referred to Ross as combination of Friends' Chandler Bing (played by Matthew Perry) and Alex P. Keaton (Michael J. Fox's breakout role from Family Ties).
Black Panther Stars Filmed A No-Phones PSA For Alamo Drafthouse
It seems that Chadwick Boseman loves playing T'Challa enough to prolong the character's persona outside of the MCU, and even with just an appearance as himself. This is evident from a PSA that he and co-star Letitia Wright filmed for the Alamo Drafthouse movie theater chain to play at screenings of Black Panther. The first part of the spot sees Boseman boasting an intimidating look to keep the audience off their phones as the movie plays, prompting Wright to explain that he cannot watch them for the entirety of the film, only to prove her wrong in the second part of the PSA, appearing after the film, in which the T'Challa actor exclaims that he is "still watching!"
Be sure to check back for more information and updates on Black Panther and other future MCU endeavors, as well as more behind-the-scenes trivia about your favorite movies and TV shows, here on CinemaBlend.