12 Great Movies Coming To Netflix In July 2020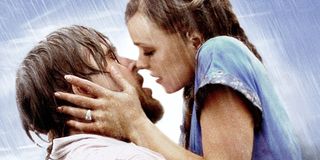 Netflix's July lineup of both original and acquired films is quite spectacular, considering quite a few old favorites are returning to the platform. However, there are also some underseen gems that have built a bit of a following on their own that are coming online in the month ahead.
If you haven't seen the total rundown for July 2020, you can head there in the link provided below. Otherwise, it's time to go through the list of 12 movies that you should definitely be making room for in this next month of Netflix programming. Please note, every film below will be available on July 1, unless specified in their specific write-up.
A Walk To Remember
Quarantine has led to a lot of feelings in the world, and not all of them have been pleasant. That said, we could all use a good cry now and then to purge the soul and make the sweeter parts of life all the better. If you're looking for a good way to milk some tears of your own, then the Mandy Moore/Shane West-starring adaptation of A Walk to Remember is here to help. Based on the memorable Nicholas Sparks novel of the same name, you can kind of see where things are going early on; but that doesn't ruin the magic one bit.
Airplane!
If you're not looking for a movie that'll make you cry your eyes out, then maybe you should take a short vacation with the comedy classic Airplane! The movie that made Leslie Nielsen a comedic treasure, and launched a thousand memorable lines into the pop consciousness, you'll be able to celebrate the 40th anniversary of the Zucker Brothers' mythic laugh riot properly. With July 2nd marking the exact day this flight of fancy first took off in 1980, there's still plenty of time to avoid the fish for dinner, as well as decide whether or not it's the right week to quit drinking.
Batman: Mask of the Phantasm
It's time for a hot take, ladies and gentlemen: Batman: Mask of the Phantasm is, quite frankly, the best Batman movie ever committed to film. A story set in the world of the animated world of Batman The Animated Series, the film focuses on Kevin Conroy's Bruce Wayne, as he investigates the shadowy Phantasm. Part origin story and part romantic drama, this film never really got the audience it deserved in theaters. Time has been kind to this film, exposing a greater fandom over the decades it's existed; and this title is highly recommended to anyone who enjoys a layered, character-driven comic hero story.
Cloud Atlas
While Cloud Atlas has surely racked up its share of controversy and debate surrounding the way it handles the racial casting of some characters, the way that The Wachowskis and Tom Tykwer adapt David Mitchell's supposedly unadaptable novel to the screen is something to behold. Six stories intertwine, with wildly disparate genres and historical periods coming together to tell one gigantic story. Tom Hanks, Halle Berry and Hugh Grant are only some of the familiar faces you'll be seeing, as this movie dives deep into a story that could only be told with the help of the team behind The Matrix.
Schindler's List
There are a couple of movies on the July 2020 docket of incoming Netflix titles that will be hard to watch for most viewers. However, that doesn't mean a film like the Steven Spielberg drama Schindler's List isn't worth watching. A triumph of humane cinema, the story of how German industrialist Oskar Schindler (Liam Neeson) helped save countless lives during the Holocaust is also artistically important. But again, you may not feel up to watching a film that shines a light on this particularly tragic point in history. That being said, the captivating all-star cast, which also includes Sir Ben Kingsley and Ralph Fiennes, help bring history to life in this devastating, yet hopeful film.
Spaceballs
Conversely, there's never a wrong time to watch writer/director Mel Brooks' huge Star Wars spoof, Spaceballs. This cast roster that includes Bill Pullman, Daphne Zuniga and Rick Moranis, on top of late greats John Candy and Joan Rivers, is one that never fails to hit the punchlines with the right amount of oomph; especially when Brooks himself is along for the ride in dual roles. If you've been overloaded by Star Wars everything over on Disney+ as of late, use this as a welcomed palette cleanser for your heart and mind.
Splice
Just as it would be hard for some audiences to watch Schindler's List, there are a couple of reasons why Vincenzo Natali's sci-fi thriller Splice is a cautious recommendation. A twisted tale of two scientists (Sarah Polley & Adrian Brody) and their illegal experiments in genetic manipulation, the Frankenstein myth is alive and well in this dark parable on why one shouldn't play God. Fair warning, you may want to [read up on this one](https://en.wikipedia.org/wiki/Splice_(film) a little more before potentially partaking.
The Witches
If you were a kid who grew up with an HBO subscription, the film adaptation of Roald Dahl's The Witches was a staple in your film education growing up. Anjelica Houston's Grand High Witch and her quest to turn all of the children the world into easy-to-eat mice is one of those stories that, if you've seen it, you know the moment you see a screenshot. But if you want a refresher before getting too excited about that remake we're supposed to be seeing in the near future, or if you haven't had a chance to marvel at the magic that the Jim Henson Company wizards wove upon this particular beauty, The Witches will be coming for you soon!
The Naked Gun: From The Files Of Police Squad
TV series don't always translate properly to the big screen; just ask anyone who saw Lost In Space back in 1998. And yet, when a movie like The Naked Gun: From the Files of Police Squad comes along, it almost feels like a sort of alchemy when it sticks the landing. The start of Leslie Nielsen's landmark trilogy of police work and shenanigans, it's a flick that sets the tone from the first comedic set piece, and never lets up. Fingers crossed that the two following sequels don't take too long to join the Netflix family.
Total Recall
Another milestone being celebrated this year is the 30th anniversary of the Paul Verhoeven sci-fi classic Total Recall. You probably know the story of Arnold Schwarzenegger's Douglas Quaid and his journey to get his ass to Mars backwards and forwards; it's that popular of a movie. However, you probably didn't know that Schwarzenegger almost never got to star in this film's lead role. Try imagining this film with that crucial change next time you watch it.
The Notebook
We're back to crying again as The Notebook has yet again found its way onto Netflix. A periodic favorite of the streaming platform, we saw this movie come and go earlier this year, leaving fans of the Rachel McAdams/Ryan Gosling tearjerker a bit disappointed. Fear not, Nicholas Sparks fans, for if you really want to have a good double feature of bittersweet drama, this and A Walk To Remember will be available for you to partake in. The Notebook will be available on July 18.
Spotlight
We close this month's lineup of notables with another Best Picture winner that tackles a very tender subject. Spotlight is the story of how an intrepid team of reporters and editors slowly uncovered, investigated and ultimately reported on a sexual abuse scandal involving members of the Catholic church in Boston. Telling the heart-wrenching story of how far this particular happening had gone, and the damage it had done over time, this movie is a prime case of why investigative journalism had, and always will be, a hallmark of a truly just society. Spotlight will be available on July 22.
As you can see, the Netflix notables for this month run a pretty emotional gamut. So be sure to do your research before watching, and don't forget to check for availability as these titles are subject to change. Until next time, safe streaming to all, and to all a good July!
CinemaBlend's James Bond (expert). Also versed in Large Scale Aggressors, time travel, and Guillermo del Toro. He fights for The User.
Your Daily Blend of Entertainment News
Thank you for signing up to CinemaBlend. You will receive a verification email shortly.
There was a problem. Please refresh the page and try again.