What To Watch On Streaming If You Like John Wick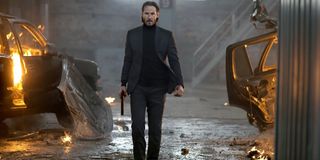 CinemaBlend participates in affiliate programs with various companies. We may earn a commission when you click on or make purchases via links.
What do you do if you have watched John Wick and its two sequels so many times your roommate, spouse, children, or parents say enough is enough and make you stop watching Keanu Reeves kick everyone's ass? You could go to your room, put on some headphones, and watch John Wick: Chapter 2 or John Wick: Chapter 3 - Parabellum on your own. Or you could find something else that's just as badass.
Lucky for you, I have put together a list of 11 (or 13 depending on how you look at things) movies streaming for people who like the John Wick movies. From tales of revenge to stories of lethal assassins, there is a little bit of something for everyone, or at least everyone who loves insane action movies with more fights than you know what do with.
The Old Guard (2020)
The most recent movie on this list, The Old Guard, is about a group of mercenaries with the gift (or curse depending on how you look at it) of immortality and the ability to quickly heal their wounds, making them a formidable force. Their fortune begins to change, however, when they are hired for a job that will forever change the team, especially their leader, Andy, played by Charlize Theron.
Why It's A Good Option For John Wick Fans: Besides the explosive action sequences, expertly choreographed fights, and plenty of twists and turns, what fans of John Wick will probably enjoy the most out of the Netflix original movie is the central characters' obsession with completing the job even when there's a lot at stake. But if you're looking for great action then this a great place to start because it is chock-full of insane and creative set pieces.
Stream it on Netflix here.
Unforgiven (1992)
There are slow-burn revenge movies and then there is Clint Eastwood's masterpiece, Unforgiven. With Eastwood pulling double duty as both star and director in this 1992 hard-boiled western, the film centers around Will Munny, a mild-mannered former bounty hunter, who takes on a job that leads to a whole lot of trouble with the local sheriff. What follows is one of the best revenge stories you'll ever see.
Why It's A Good Option For John Wick Fans: Much like John Wick, Unforgiven is about a man who thinks he can escape his past only to find himself face to face with old ghosts. It's a slow burn, but the final and bloody act of the movie make it more than worth it. Trust me when I say that there are few revenge narratives more fulfilling and bloody than this.
Stream it on HBO Max here.
The Night Comes For Us (2018)
Released by Netflix domestically, Timo Tjahjanto's Indonesian crime thriller The Night Comes for Us follows in the life of Ito (Joe Taslim), a member of an elite squad of enforcers for the South East Asian Triad who attempts to turn away from a life of crime and save a young girl marked for execution. What follows is a path to the center of the criminal underbelly of South East Asia.
Why It's A Good Option For John Wick Fans: If you are a fan of the marathon of well-timed and executed fight sequences in the John Wick trilogy, then The Night Comes for Us is right up your alley. In addition to some bone-crushing combat in darkened corners and gang hideouts, the movie also features a great story centered around a reluctant hero who doesn't know when to stop.
Stream it on Netflix here.
Leon: The Professional (1994)
Luc Besson's 1994 crime thriller Léon: The Professional follows a 12-year-old girl named Mathilda (Natalie Portman) as she falls under the care of the lethal yet empathetic Léon (Jean Reno) after her family is brutally murdered by the corrupt and maniacal DEA agent Norman Stansfield (Gary Oldman). When hiding won't solve their problems, the innocent girl and cerebral hitman take care of their problems in one swoop.
Why It's A Good Option For John Wick Fans: Fans of the assassin aspect of John Wick will more than enjoy Léon: The Professional, if they haven't already. In addition to exploring the criminal underbelly of New York City, Luc Besson examines what makes up Léon's person and his motivations as they are changed after meeting the lonely and broken Mathilda. And if that's not enough to sell you on the movie, then look no further than Gary Oldman's depiction of a man who lacks morals, decency, and above all, humanity.
Stream it on Showtime here.
Death Wish (1974)
Not to be confused with the 2018 remake of the same name, Death Wish is one of the premiere stories about a mild-mannered man who is pushed to his breaking point when armed intruders take all of the decency and normalcy from his wife. After his wife is murdered and daughter is raped, Paul Kersey (Charles Bronson) becomes a one-man army hellbent on eliminating evil from the streets and subways of New York City.
Why It's A Good Option For John Wick Fans: If you are a big fan of John Wick getting revenge on anyone and everyone involved with killing the dog his wife gave him as a gift the day of her funeral then wait until you see how Paul Kersey handles his business. There are few things more badass than Charles Bronson walking around with a massive revolver looking for justice and revenge.
Stream it on Amazon here.
Kill Bill: Volume 1 / Kill Bill: Volume 2 (2003/2004)
Even though Quentin Tarantino admitted that Kill Bill: Volume 1 and Kill Bill: Volume 2 are technically two movies, we can still have fun and count them as one story for the sake of brevity here. When The Bride (Uma Thurman) awakes from a coma four years after he former team of assassins and their vicious leader Bill (David Carradine) attempted to murder her on her wedding day, the scorned woman paints the floor red with the blood of her enemies.
Why It's A Good Option For John Wick Fans: If you are a fan of any of the excellent fight scenes from John Wick and its two sequels, then you are in for a treat with Kill Bill, if you haven't already. With too many great sequences to name them all, just look to the Crazy 88's fight and everything that follows in the final act of Volume 1.
Stream it on HBO Max here and here.
Drive (2011)
Nicolas Winding Refn's atmospheric drama Drive isn't your typical crime thriller, but it does have plenty of thrills and chills (a lot of chill when you consider the film's score). Set in the Hollywood Hills and crime-ridden streets of Los Angeles, the movie stars Ryan Gosling as an unnamed stuntman by day and getaway driver by night as he finds himself getting in too deep with his neighbor Irene (Carey Mulligan).
Why It's A Good Option For John Wick Fans: Drive isn't the most violent movie you are going to see on this list, but it does have an amazing sense of place like seen in John Wick. Even though both films take place across the country from one another (John Wick is set in New York City, Drive is set in Los Angeles), both films use their locations like extra characters that help propel the narrative forward.
Stream it on Netflix here.
North By Northwest (1959)
Alfred Hitchcock's masterpiece of mistaken identity, North by Northwest is one of the most engaging white-knuckle thrillers you'll see anywhere right now, and that's saying something because the film is more than 60 years old at this point. When Roger Thornhill (Cary Grant) is mistaken for an American spy, he is forced to chase bullets, planes, and planes with bullets as he tries to get to the bottom of the mystery.
Why It's A Good Option For John Wick Fans: If you are a fan of John Wick trying to get to the bottom of the mysteries in each of his three films, then watching North by Northwest is something you need to do right away. You aren't going to see Cary Grant ride a horse through New York City in this 1959 classic, but you will see plenty of shady parties and mysteries that need to be unraveled before the credits roll.
Stream it on HBO Max here.
Seven Samurai (1954)
The Japanese classic Seven Samurai will forever go down as one of cinema's most beloved and influential movies of any genre. Centered around a group of seven warriors led by Kambei Shimada (Takashi Shimura) after they are tasked with protecting a village from an approaching army of bandits, the movie examines what it means to be hero.
Why It's A Good Option For John Wick Fans: You won't see a lot of the bone-crushing violence that makes up the John Wick trilogy, but Seven Samurai does examine what it means to be a hero on a path of redemption. In addition to that there are some great set pieces that are still influencing movies around the world more than 60 years later.
Stream it on HBO Max here.
Taken (2009)
The 2009 revenge thriller Taken follows former government agent Bryan Mills (Liam Neeson) as he travels to Europe to find and rescue his college-aged daughter who was kidnapped on a trip with her friends. What follows is one of the most absurd movies with plenty of action-packed goodness to make any dad get worried when their daughter gets ready to leave the country.
Why It's A Good Option For John Wick Fans: Like John Wick, Bryan Mills is someone you don't want to piss off simply due to the fact that he doesn't know when to stop. Throughout Taken and its two sequels, the former government operative is more like a beast than a human who can take on any and all challengers. Also like John Wick, he has a very particular set of skills.
Stream it on Starz here.
The Matrix Reloaded / The Matrix Revolutions (2003)
A lot of people will deride the two Matrix sequels The Matrix Reloaded and The Matrix Revolutions but they're not as bad as they're made out to be. Over the course of the two movies (released several months apart from one another) Neo (Keanu Reeves), Morpheus (Laurence Fishburne), Trinity (Carrie-Anne Moss), and the rest of what's left of humanity make one final push to end the Machine Army once and for all.
Why It's A Good Option For John Wick Fans: If you are a big fan of the martial arts and stunts featured throughout the John Wick trilogy, then why not go back to where it all began for director Chad Stahelski, who served as a stunt coordinator for the two Matrix sequels. Seventeen years later, the Stahelski and Keanu Reeves team seems to be going strong.
Stream it on Peacock here and here.
Those are just a few of the great movies to stream if you are a fan of the John Wick movies. We still have quite some time before we see how Chapter 4 plays out, but keep checking back on CinemaBlend for all the latest on everyone's favorite dog-loving, horse-riding, gun-shooting, suit-wearing assassin.
Philip grew up in Louisiana (not New Orleans) before moving to St. Louis after graduating from Louisiana State University-Shreveport. When he's not writing about movies or television, Philip can be found being chased by his three kids, telling his dogs to stop yelling at the mailman, or yelling about professional wrestling to his wife. If the stars properly align, he will talk about For Love Of The Game being the best baseball movie of all time.
Your Daily Blend of Entertainment News
Thank you for signing up to CinemaBlend. You will receive a verification email shortly.
There was a problem. Please refresh the page and try again.