What To Watch On Netflix If You Love Violence In Your Movies And TV Shows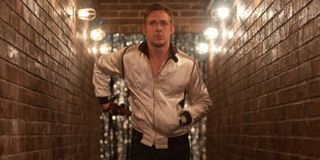 Why do violent movies often become the subject of controversy? Last time I checked, putting a "healthy" dose of action on the screen is just what you need to give an audience the thrill they paid for. At least Netflix understands, for even a good chunk of its exclusive content is known for pushing boundaries.
However, what exactly is there to understand about the appeal of violence in fictional media? Well, some theorize that the second hand experience of watching good guys take out bad guys has a cathartic quality, satisfying our own inner aggressions or more perverse curiosities. Others may simply applaud a filmmaker for a courageous depiction of brutality and harsh truths we do not like to talk about in real life with a bold authenticity.
Furthermore, no one is forcing anyone to watch these kinds of programs anyway, which means, to keep things fair, one should be able to force another person not to watch them either. So, go ahead and indulge in all the blood, gore, and bullets you want without shame, just as it should be. In fact, allow me to assist you in your binge by recommending these 12 movies and TV shows now available on Netflix that really go for it.
Green Room (2016)
An indie punk band's (featuring the late Anton Yelchin on bass) final tour destination could be their final destination after they witness a murder from backstage of a bar crawling with neo-Nazis.
Why It's A Good Option for Fans Of Violence: A strong stomach is required when watching any film written and directed by Jeremy Saulnier, also know for the cartoonishly grotesque Murder Party and harrowingly bleak Blue Ruin, but this 95-minute fight for survival, which villain Patrick Stewart needed whiskey to get through reading, may be his magnum opus of trauma translated to celluloid.
Stream it on Netflix here (opens in new tab)
Goodfellas (1990)
An Irish-Italian American (Ray Liotta) recalls the greatest successes and hardships of his life as part of the New York mafia.
Why It's A Good Option for Fans Of Violence: This intensely realistic cautionary tale based on the experiences of mobster turned FBI informant Henry Hill, and also stars Robert DeNiro and Joe Pesci in an Oscar-winning performance, is, arguably, director Martin Scorsese's crowning achievement and, according to Roger Ebert, the greatest gangster movie ever made (yes, he has seen The Godfather).
Stream it on Netflix here (opens in new tab)
Ash vs. Evil Dead (2015-2018)
After accidentally awakening an ancient evil after a 30-year slumber, aging veteran demon killer Ash Williams (Bruce Campbell) must come out of retirement to defend the world once again, this time aided by his supermarket co-workers Pablo (Ray Santiago) and Kelly (Dana DeLorenzo).
Why It's A Good Option for Fans Of Violence: While Sam Raimi treated gorehounds to three films of wall-to-wall "grueling terror" with his Evil Dead trilogy, this sequel series has three seasons worth of its chainsaw-handed, absent-minded hero slaughtering "deadites" to bloody bits in, what I would say is, the finest combination of slapstick comedy with blood splattered horror in the franchise yet.
Stream it on Netflix *here * (opens in new tab)
Sin City (2005)
A brutish criminal (Mickey Rourke) out to avenge the prostitute he falls for, a loner (Clive Owen) waging war on corruption within the law, and a disgraced cop (Bruce Willis) risking it all to protect an innocent girl are the loosely connected stories from this anthology set in the bleak town of Basin City.
Why It's A Good Option for Fans Of Violence: "Adaptation" would not be a suitable word to describe this film based on the relentlessly grim series of noir graphic novels by Frank Miller, who co-directs with Robert Rodriguez and guest director Quentin Tarantino for a scene, because this visually unmatched, stylishly brutal stunner is more like a comic book brought into, not the real world, but a new world of its own.
Stream it on Netflix here (opens in new tab)
Final Destination 3 (2006)
A high school senior's (Mary Elizabeth Winstead) premonition saves her and a few others from a tragic roller coaster accident, unwittingly making them the next set of targets for the unruly wrath of death itself.
Why It's A Good Option for Fans Of Violence: In a franchise known for challenging itself to up the ante in macabre and improbably fatal situations in each of its five installments (and counting), I believe this one bears the most comparatively gleeful, and somehow even tasteful, indulgence in what is, otherwise, an amusement park of senseless depravity.
Stream it on Netflix here (opens in new tab)
Daredevil (2015-2018)
Blinded by a chemical accident that also enhanced his remaining sense, attorney Matt Murdoch (Charlie Cox) takes on a devilish alter ego to viciously lay waste of crime and in corruption Hell's Kitchen on a nightly basis.
Why It's A Good Option for Fans Of Violence: Before its unfair and premature cancelled after just three seasons, the premiere installment of the "Netflix Marvel Universe" works as courtroom drama, a kung fu exploitation thriller, and a thoroughly bleak, yet thrilling, and viscerally shocking comic book adaptation that gives new, refreshing meaning to the term "graphic novel."
Stream it on Netflix here (opens in new tab).
Drive (2011)
A stoic, nameless Hollywood stuntman by day and criminal getaway driver by night (Ryan Gosling) hopes to protect the woman he loves (Carey Mulligan) by offering his help in a robbery that instead goes horribly wrong.
Why It's A Good Option for Fans Of Violence: It is rare to find a film by innovative Danish filmmaker Nicolas Winding Refn that is not about violent men, but it is even rarer to find a crime thriller such as this that, amid its gruesome, unflinching brutality, envelopes into an operatic, mythical morality tale that will prevent you from ever looking at a hammer the same way again.
Stream it on Netflix here (opens in new tab)
Inglourious Basterds (2009)
As a hick-accented, neck-scarred military lieutenant (Brad Pitt) puts together a special unit of Jewish-American Nazi hunters, a young refugee (Melanie Laurent) managing a cinema in Nazi-occupied France has her own history-shattering plans against the Third Reich, while a giddy S.S. Colonel (Academy Award-winner Christoph Waltz) has set his sights on both of them.
Why It's A Good Option for Fans Of Violence: I believe it might actually be safe to say that Quentin Tarantino's World War II-era revenge fantasy could be one of the few grindhouse-level thrillers in which its exploitative nature is not only justified but also oddly, yet joyously, satisfying from the first sight a scalped Nazi's head all the way to its chaotic, literally explosive conclusion.
Stream it on Netflix here (opens in new tab)
The Green Inferno (2013)
I cannot say the same, however, about this film, in which a college student (Lorenza Izzo) follows a group of activists to Peru to protest the deforestation of the Amazon, only to become the next items on the menu for a native tribe of nefarious cannibals.
Why It's A Good Option for Fans Of Violence: I must say, I find it amazing that writer-director Eli Roth (whose name is all you really need to hear to know what you're getting into) and star Izzo's meeting on the set of this film resulted in four years of marriage until their 2018 split after the torturous experience he must have put her through to make this agonizing, excessively disgusting goriest.
Stream it on Netflix here (opens in new tab)
Happy! (2017-2019)
An ex-cop turned hard drinking hired gun (Law & Order: Special Victims Unit alum Christopher Meloni) becomes the only one who can save a kidnapped little girl after near-death experience makes him acquainted with her imaginary friend, a talking blue unicorn (voiced by Patton Oswalt).
Why It's A Good Option for Fans Of Violence: This series, which ran for two seasons on Syfy, may be named after a sprightly cartoon character, but this is also from the twisted mind of prolific comic book writer Grant Morrison, so prepare yourself for plenty of chaotic, blood-soaked, psychedelic insanity.
Stream it on Netflix here (opens in new tab)
Taxi Driver (1976)
A lonely, insomniac Vietnam veteran (Robert De Niro, in his second Oscar-nominated performance) gets a deeper look into his treacherous urban environment after taking a job as a New York City cabbie, only further informing his own dangerous instabilities.
Why It's A Good Option for Fans Of Violence: If not for stunning supporting cast (including Cybill Shepherd as an unlikely love interest and Jodie Foster as an underage prostitute) and the bleak commentary on toxic masculinity subtly portrayed in the screenplay (which Paul Schrader wrote with a loaded revolver at his side), this Martin Scorsese classic would be written off as a cynical exercise in mindless savagery.
Stream it on Netflix here (opens in new tab)
Terrifier (2016)
On one luckless Halloween night, two young partygoers (Jenna Kanell and Catherine Corcoran) learn that the tricks and treats are just beginning (just not for them) when they become stalked by silent, clownish creep (former mime David Howard Thornton).
Why It's A Good Option for Fans Of Violence: I assure that Pennywise will no longer have any effect on you after bearing witness to the blood-stained grin, playful sadism, and gut-wrenchingly merciless methods of mayhem from slasher icon in the making Art the Clown in writer and director Damien Leone's masterpiece of shock and ugh.
Stream it on Netflix here
So, what do you think? Are these films and TV shows just what spectators of the sinister are looking for, or are you more shocked by the Netflix-available films and/or TV shows that I left off? Let us know in the comments and be sure to check back for more rancid recommendations to stream here on CinemaBlend.
Your Daily Blend of Entertainment News
Jason has been writing since he was able to pick up a washable marker, with which he wrote his debut illustrated children's story, later transitioning to a short-lived comic book series and (very) amateur filmmaking before finally settling on pursuing a career in writing about movies in lieu of making them. Look for his name in just about any article related to Batman.
Your Daily Blend of Entertainment News
Thank you for signing up to CinemaBlend. You will receive a verification email shortly.
There was a problem. Please refresh the page and try again.