How Constantine's Trailblazing Post-Credits Scene Came Together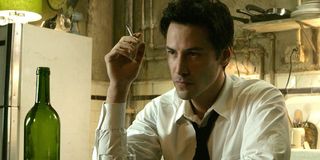 By now, it's pretty much common knowledge that a post-credits scenes will more than likely accompany an MCU film. However, before the Marvel Cinematic Universe was even a thing, DC's Constantine had already utilized the post-credits scene technique to its storytelling advantage. Now, director Francis Lawrence has shared a little about how that scene came together for the Keanu Reeves-led film.
During a Comic-Con@Home panel put on by Collider, producer Akiva Goldsman, director Francis Lawrence, and Keanu Reeves talked a bit about Constantine. When asked about how they developed the post-credits scene, Francis Lawrence revealed that it wasn't even in the plan until later. Here's what he said:
While it was a cool idea to tease the audience with the possibility of there being more to the story, it was likely unbearable for fans when those plans weren't followed through. Even though Francis Lawrence and Keanu Reeves are down for a sequel, Constantine (which released in 2005) has yet to get a follow-up.
The film's post-credits scene is one that still sticks out. If you recall, Shia LeBeouf's Constantine character -- Chas Kramer -- is the driver and student of John Constantine and helps him defeat the forces of darkness. After they attempt to exorcise Mammon, Chas Kramer is killed by the angel Gabriel. However, in the post-credits scene, John Constantine places a lighter on Chas' grave and shortly afterward, Chas rises from the dead with angel's wings and flies off into the sky.
So, theoretically, if a sequel were to happen, they would've likely included Chas Kramer's now angelic form. Perhaps he would partner up, once-again, with John Constantine in the fight against evil. Well, at least, that's the feeling you get from the post-credit scene.
Part of the reason we never got a sequel to Constantine was because Keanu Reeves, at the time, said he didn't want to do a sequel. On top of that, the R-rated comic book movie didn't do as well in the box office as hoped. Instead, the studio took the franchise to television, which also didn't pan out as hoped.
Warner Bros. hasn't entirely given up on the idea of the character, though. With the release of HBO Max, it was revealed that J.J. Abrams' production company Bad Robot would produce a Justice League Dark TV show. If you aren't aware, Justice League Dark is a team comprised of DC's darker heroes, like John Constantine, who fight the supernatural elements that heroes like Batman and Superman wouldn't normally handle.
We don't know much about that show just yet. And though it seems unlikely that Keanu Reeves would reprise the role for it, nothing is out of the question. Stay tuned to CinemaBlend for the latest news.
Your Daily Blend of Entertainment News
Thank you for signing up to CinemaBlend. You will receive a verification email shortly.
There was a problem. Please refresh the page and try again.