Godzilla Vs. Kong Merchandise Reveals New Terrifying Titan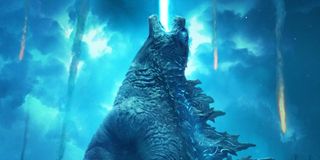 Godzilla vs. Kong is the next installment in Warner Bros. and Legendary Pictures' growing MonsterVerse, and fans are pumped to see the two iconic Titans finally come to blows. Of course, it's also looking more and more likely that the two kaiju beasts will be joined by other iconic creatures when they return to the big screen. Most of these characters have been teased through leaked merchandise up to this point. Now, it seems another Titan has been revealed, and it may just be the most terrifying one yet.
Several Godzilla vs. Kong action figures were recently shared on Instagram, with the user specifically highlighting the back covers of the packages. The bottom row of each cover features a lineup of fellow action figures and one of those figures is one named Warbat, and you have to see it to believe it. You can check it out down below:
Most would agree that this is definitely one of the more deadly Titans we've seen from the MonsterVerse. From what we can see, the creature appears to be a snake-like but has wings. Needless to say, no one would probably want to get in this thing's way.
The final act of Godzilla: King of the Monsters not only teased the upcoming battle between the giant lizard and enormous ape, but it also showed the rise of various other creatures. The film's post-credits scene -- which showed the villainous Alan Jonah purchasing King Ghidorah's severed head – also hinted that more Titans could be genetically engineered. So it's possible that Warbat could be an experimental Titan that gets unleashed to do battle with Godzila and Kong.
On the other hand, there is a chance Warbat may not actually appear in Godzilla vs. Kong and is only intended for the film's toy line. But with the way the prequel comic have introduced new monsters already, there's a good chance we will see this new creation in the finished film.
Aside from the obvious carnage and destruction that will likely be present in the movie, there will also be key human elements. Eiza González, one of the film's stars, knows the film will have plenty of action but has also stressed that there's a more grounded story that runs parallel to the Titans' story. More specifically, she even mentions that there are two young girls at the heart of the film.
It's still a mystery as to how Godzilla and Kong's fight will intersect with the human characters' stories, but it should be fun to see, especially if Warbat does show up. Time will tell what lies ahead for the mysterious kaiju, but his inclusion could definitely help to shake things up in the MonsterVerse.
Godzilla vs. Kong is currently scheduled to hit theaters on May 21, 2021.
Your Daily Blend of Entertainment News
Covering superheroes, sci-fi, comedy, and almost anything else in film and TV. I eat more pizza than the Teenage Mutant Ninja Turtles.
Your Daily Blend of Entertainment News
Thank you for signing up to CinemaBlend. You will receive a verification email shortly.
There was a problem. Please refresh the page and try again.