Was Jared Leto Serious When He Said David Fincher Did His Panic Room Cornrows?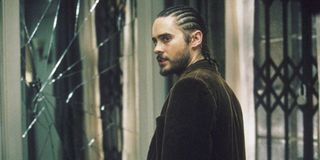 There are a lot of questions that keep me up at night. Like, is Deckard a replicant? Is Cobb from Inception still dreaming? How did Maz Kanata get Luke Skywalker's lightsaber? Now I guess I have one more to add to the list: did director David Fincher braid Jared Leto's cornrows in Panic Room? A recent post on social media just went viral claiming that yes, he did. Check it out:
If your mind just exploded, you might want to Humpty Dumpty yourself back together. Believe it or not, there's a bit of nuance to all this that makes it misguided and confusing. At first glance, you might buy into it from an interview Jared Leto did for the movie.
In a behind-the-scenes video delving into the making of Panic Room, Jared Leto said plain-faced with very little humor or sarcasm that David Fincher braided his hair. Here's what the actor said in the clip:
Again, if you watched Jared Leto talk about David Fincher braiding his hair, it's almost impressive how matter-of-fact he is about it. You could watch that video and easily walk away thinking David Fincher is a master braider. Of course, that isn't actually the case; Jared Leto was joking, like his DCEU character is prone to do.
Back in 2013, Jared Leto spoke with Interview Magazine about what he'd been up to at the time, like rocking out in his band 30 Seconds to Mars. When his cornrows in Panic Room were brought up, here's what Jared Leto had to say about them:
So there you have it, folks, Jared Leto's cornrows in Panic Room were braided by a woman named Candy, who also sounds like a total pro.
This isn't the first, or likely the last, time Jared Leto has been the subject of inaccurate rumors. His role as Suicide Squad's Joker has certainly stirred up plenty of those in the past. In one rumor, Jared Leto supposedly was cut from Suicide Squad because David Ayer didn't like his performance. This rumor was quickly shot down by the director.
Regardless, now you know David Fincher didn't actually braid Jared Leto's hair for Panic Room. Now, if only we could solve that Cobb question, I might get better sleep. For more movie news, be sure to tune in to CinemaBlend.
Your Daily Blend of Entertainment News
Your Daily Blend of Entertainment News
Thank you for signing up to CinemaBlend. You will receive a verification email shortly.
There was a problem. Please refresh the page and try again.