Morbius' Jared Leto Has Landed His Next Role And Its Perfect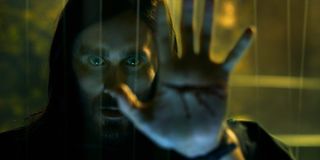 Jared Leto seems to have a knack for picking provocative roles. Now, he's lined up a buzz-worthy Morbius follow-up that will see him playing one of the art world's more legendary provocateurs. If you think about it, it's a pretty perfect choice for him.
Ever since Jared Leto came back from a retreat and was surprised to learn there was a pandemic going on (seriously), he's stayed pretty active on his Instagram account -- though mostly where his personal, rather than professional, life is concerned. He's reminded fans to follow social distancing best practices and shared updates from his participation in Black Lives Matter protests.
However, he just shared an update that's sure to excite fans -- a photo of Andy Warhol, with the news that he's signed on to play the artist in an upcoming film. Check out his announcement below:
The news came on what would have been Andy Warhol's 92nd birthday. The artist and filmmaker, who was a prominent figure in the counterculture movement of the 1960s, is most famous for helping to popularize pop art. His most famous pieces include the Campbell's Soup Cans and The Marilyn Diptych, which depicts Marilyn Monroe in technicolor panels. He died in 1987 at the age of 58.
Andy Warhol may not be a very familiar figure to a lot of younger film fans, though he was recently portrayed by Evan Peters on American Horror Story: Cult.
The details of the upcoming film haven't been released yet. It's not clear whether the movie will be focused on Andy Warhol's life or whether Jared Leto will simply be playing him. However, there has been a project in the works since 2016 about the artist, and Jared Leto's name was attached when that was first announced. It's safe to say that Jared Leto will be more than happy to immerse himself in the role. He's more or less made a name for himself for doing just that, with roles like the Joker in Suicide Squad and his Oscar-winning turn as Rayon, HIV-positive transgender woman in The Dallas Buyer's Club.
That means we can probably expect to see Jared sporting Andy Warhol's shocking white-blonde hair. It will be interesting to see which, if any, other figures from the artist's inner circle make an appearance in the film. He was famous for keeping extremely famous friends, like David Bowie and Madonna, who he rubbed elbows with at his Factory.
Before we get to see Jared Leto tackle Andy Warhol's decadent lifestyle, we'll see him in Morbius, in which he'll be playing the titular "Living Vampire" and anti-hero. Originally slated to hit theaters this summer, it should be coming our way in March 2021.
Do you think Jared Leto is the right actor to play Andy Warhol? What are you hoping to see in the upcoming movie? Let us know in the comments!
Your Daily Blend of Entertainment News
Thank you for signing up to CinemaBlend. You will receive a verification email shortly.
There was a problem. Please refresh the page and try again.