12 Awesome Black-Led Romantic Movies To Rent Or Stream Right Now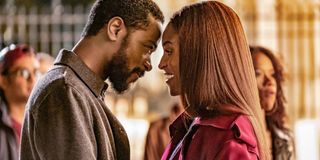 Some romantic movies may be silly, others may highlight the complicated nature of love, and a few demonstrate the strange and beautiful dance of it, but they all show that with love comes hope. There are plenty of wonderful romantic movies out there, and I enjoy a wide range of them, those featuring any sexuality, race, ethnicity, gender, etc. but for this list, I wanted to highlight movies featuring black-led love stories, like How Stella Got Her Groove Back and The Photograph.
This list will mainly focus on well-known black-led romance movies, but I hope a few of the films listed are ones you haven't seen and they inspire you to give them a watch.
The Photograph
Issa Rae and Lakeith Stanfield star in The Photograph, a movie made by rising director Stella Meghie. The film follows two love stories, one set in the present and one in the past. Rae and Stanfield portray the present day couple Mae and Michael, respectively. The one in the past features Mae (Issa Rae)'s mother, Christina (Chanté Adams), and her former boyfriend Issac (Y'lan Noel). The Photograph is a sexy, sleek, and generational-led love story.
It's about the baggage that we hold and past down from generations. Stanfield and Rae have a ton of chemistry and an interesting dating obstacle, one not discussed often in many major romance movies: what happens when you find someone you like, but they're pursuing a career that may take them far away from you? This dilemma also haunts Christina and Issac in a similar way.
Rent It here.
How Stella Got Her Groove Back
How Stella Got Her Groove Back is a 1998 romantic film about a 40-year old woman who falls for a 20-something man, and all the complications that come with their lives and the age gap. It starts out as a little vacation fun, but Stella (Angela Bassett) starts to develop real feelings for Winston (Taye Diggs).
How Stella Got Her Groove Back also stars Whoopi Goldberg and Regina King. Many consider this role one of Bassett's best performances because she makes viewers take the journey with Stella as she learns that living a vibrant life and finding love doesn't end at 40.
Stream it on HBO Max here.
Rent it here.
Love And Basketball
Love and Basketball is the romantic classic about two childhood friends who grew up with a healthy rivalry when it came to basketball. Sanaa Lathan and Omar Epps play the adult versions of Monica and Quincy. Over the years, their friendship grows to love, and all the complications that come with it. Love and Basketball deals with two passionate and stubborn people who learn how to love while dealing with the competitive nature of the basketball world.
For some romance fans, Monica and Quincy's love story ranks up there with some of the most beloved movie couples. Love and Basketball has all the sweetness of first love mixed with the difficulty of trying to grow up and make a name for yourself in the sports world.
Rent it here.
Queen And Slim
Emmy winner Lena Waithe wrote the screenplay for Queen and Slim, with Melina Matsoukas directing it. Queen and Slim is part outlaw drama and part love story, but it is mainly a movie about how a couple on a first date decides to run away together after they kill a police officer in self-defense. Jodie Turner-Smith and Daniel Kaluuya star in this film.
Queen and Slim is a dark story of falling in love, because viewers know that likely there is no happy ending for them. They can only run so long, and when they stop running, there is no sunset. Despite the somber nature of the film, Turner-Smith and Kaluuya have electric chemistry while creating a captivating story of two people who in a normal situation likely wouldn't work, but through this extraordinary circumstance, they are able to really understand and love each other.
Stream it on HBO Max here.
Rent it here.
Beyond The Lights
Beyond the Lights stars Nate Parker and Gugu Mbatha-Raw as Kaz and Noni. Noni is a hot new artist, but the pressure to perform and succeed has lead to her almost ending her life. A police officer named Kaz saves her, and then the two get to know each other and fall in love.
Beyond the Lights is a love story about finding someone who understands you and lets you be yourself, this time told through music and the music industry. The original song "Grateful" from the movie was nominated for a 2015 Academy Award for Best Original Song. Minnie Driver, Danny Glover, and Machine Gun Kelly also appear in Beyond the Lights.
Rent it here.
Think Like A Man
Based on Steve Harvey's best selling dating advice book, Act Like a Lady, Think Like a Man, the film features an ensemble cast that includes Michael Ealy, Regina Hall, Kevin Hart, and Taraji P. Henson. Think Like a Man follows four different love stories with Kevin Hart's character, a recently divorced man, offering dating advice to each of the men. Some of the issues the couples face are commitment, career ambition, vulnerability, and family drama.
Think Like a Man gets most of its comedy from Hart's character, who really shines in this film. It a movie full of talented actors, and even features some cameos, like Steve Harvey making an appearance. If you enjoyed movies like What To Expect When You're Expecting and He's Just Not That Into You, then you will love Think Like a Man.
Stream it on Starz here.
Rent it here.
Love Jones
Larenz Tate and Nia Long star as Darius and Nina, two artists who attempt to explore a relationship. Things aren't all sweet and gooey as they deal with complications right from the beginning. Nina has an ex-boyfriend that she's not sure that she's over, and Darius doesn't know if he should go all-in with Nina.
Love Jones is a complex love story that shows a less than fairytale approach to relationships and the complicated nature of true intimacy.
Rent it here.
The Best Man
The Best Man is a movie about a group of friends who reunite at the wedding weekend of an old college friend. Harper (Taye Diggs) is a rising author whose debut novel is about his group of friends. The novel reveals some secrets and causes the entire group to face some of their past secrets, along with current and past romantic entanglements.
The Best Man's cast includes Nia Long, Morris Chestnut, Terrence Howard, Sanaa Lathan, and Regina Hall. The Best Man is a cult classic that later inspired a 2013 sequel, The Best Man Holiday.
Stream it on Starz here.
Rent it here.
Poetic Justice
Tupac Shakur and Janet Jackson star in John Singleton-directed Poetic Justice, a movie about two people who have a combative first encounter but then are forced together on a road trip by their friends. The two start to get to know each other and fall in love. Poetic Justice works so well because of the chemistry between Tupac and Janet Jackson. The film was one of the few movies Tupac got to make, and it was one of the best to showcase his potential as an actor.
Poetic Justice showcases some lovely poetry by Maya Angelou. The film also highlights the healing process and how to love again after a tragedy.
Stream it on Starz here.
Rent it here.
If Beale Street Could Talk
Barry Jenkins directed If Beale Street Could Talk, a 2018 adaptation of James Baldwin's novel of the same name. The film is about a young woman and her family who set off to prove the innocence of her wrongfully accused boyfriend. She wants to clear him before the birth of their child.
If Beale Street Could Talk stars Kiki Layne, Stephan James, and Regina King. Jenkins does another powerful job capturing the intensity of young love mixed with the complication of a society that refuses to let them know peace. Regina King won a 2019 Academy Award for Best Supporting Actress for her role in this film.
Stream it on Hulu here.
Rent it here.
Something New
Sanaa Lathan and Simon Baker star in Something New, a romantic comedy about a black woman who has only dated black men and is now dating a white man for the first time. At first, she rejects the idea, not knowing how her friends and family will react to the relationship. However, she allows herself to let down her guard and finds herself truly falling for the man, and realizing that she shouldn't limit herself because of fear and how it could look.
Something New is a film that feels honest on its approach to interracial dating. It shows some of the things couples face because of others judging their relationship, but they find a way to deal with any barriers together and become a more honest, respectful couple.
Rent it here.
Moonlight
Moonlight is the 2017 Academy Award winning film that is a coming-of-age story about Chiron (Trevante Rhodes) who starts off as a shy little kid growing up in Liberty City during the crack epidemic but ends with him as a withdrawn man. Moonlight isn't a romance movie but one of the important pieces in Chiron's story is the feelings he has for Kevin (André Holland).
The two have a sexual encounter as teens but don't get another chance to really connect until adulthood. Moonlight is a film that shows the many difficulties faced by Chiron, but he's able to release some of it when he's with Kevin.
Stream it on Netflix here.
Rent it here.
These are only a few of the great black-led movies available to stream or rent, so feel free to share your favorites or other suggestions in the comment section.
Your Daily Blend of Entertainment News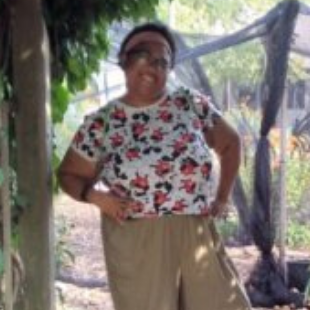 Spent most of my life in various parts of Illinois, including attending college in Evanston. I have been a life long lover of pop culture, especially television, turned that passion into writing about all things entertainment related. When I'm not writing about pop culture, I can be found channeling Gordon Ramsay by kicking people out the kitchen.