Marvel's Hawkeye TV Show Just Took A Major Step Forward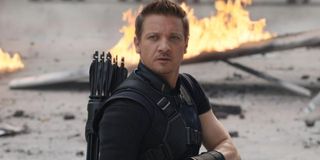 Some of Marvel's big-screen superheroes are making their way over to Disney+ with a plethora of new series, beginning with The Falcon and the Winter Soldier. Hawkeye was first reported to be in the works last April, with Jeremy Renner set to reprise his role as the titular archer. However, details about the show have been limited thus far. At long last, it looks like the Disney+ series just took a major step forward behind the scenes.
Amber Finlayson and Katie Ellwood — better known by their pen names Bert and Bertie, respectively — have reportedly been hired to direct a few episodes of Marvel's Hawkeye. Per The Hollywood Reporter, Rhys Thomas is also joining the series as a director. That said, the exact number of episodes the directors will helm is unclear at the moment. Either way, this is great news and means that things are moving along for the show.
Interestingly enough, Bert and Bertie and Rhys Thomas have a background in directing comedies. Bert and Bertie most recently directed the coming-of-age film Troop Zero, which was bought by Amazon following its 2019 Sundance Film Festival debut. In addition, the directing pair have helmed their debut feature Dance Camp, as well as two episodes of Hulu's buzzy new show The Great and Jim Carrey's Kidding.
Meanwhile, Rhys Thomas has directed episodes of Saturday Night Live, Netflix's Unbreakable Kimmy Schmidt, and the comedy special John Mulaney & the Sack Lunch Bunch. Marvel doesn't seem to shy away from comedic directors given that Anthony and Joe Russo, who directed MCU films like Avengers: Endgame and more, hailed from a comedic background as well.
Hawkeye will see the return of Clint Barton, but the twist is that he'll step down as Hawkeye and will train Kate Bishop to take on the role of master archer in his place. Hailee Steinfeld was previously in talks to join the Disney+ series as Kate, though the deal was never made official and there has been little information about her role since. All that said, the Dickinson star offered an update about the role last November, revealing that her playing Kate is not "necessarily happening."
It's hard to tell what else is going on with the Disney+ series but, despite the potential Kate Bishop casting hiccup, the hiring of three new directors to helm Hawkeye is a huge step forward. Does that mean the series will begin filming soon? It's possible, but nothing has been made official just yet.
Hollywood-wide production shutdowns in March affected the filming status of The Falcon and the Winter Soldier, WandaVision, and Loki. However, filming is slowly beginning to pick back up again, and at least one Disney+ show could be headed back to wrap production soon.
Stay tuned to CinemaBlend for updates on Hawkeye and the rest of Marvel's upcoming Disney+ line-up. In the meantime, be sure to check out our 2020 fall TV premiere guide for more options on what to watch.
Your Daily Blend of Entertainment News