After 5 Years Single, Charlize Theron Reveals What A Potential Suitor Would Need To Bring To The Table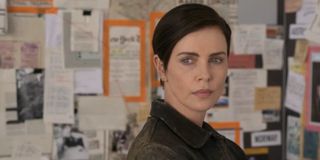 Charlize Theron is one of the hottest Hollywood actresses working right now. With her latest Netflix hit The Old Guard, plus some other big movies on the horizon, she has her career down pat. Though in her personal life, Theron recently admitted she hasn't dated anyone for over five years, but also said part of that is because she sets a high bar for any potential suitors coming her way.
Obviously anyone who wanted to date Charlize Theron would be lucky if she said yes. However, if you're that someone, you better sit down, as she's pretty happy where she is and you'd need to bring something to the table. Recently, she appeared on The Drew Barrymore Show and spelled out her dating life, as well as what it might take for her to start dating again:
The pressure is on for anyone out there considering asking out Charlize Theron. She seems content and at peace with her life; so you'd have to bring something good to the table to convince her to let you into it.
That said, it doesn't sound like Charlize Theron is against the idea of dating again, despite having put it aside for a long time. Last year, while promoting her rom-com Long Shot, she said she's "shockingly available" but that someone "needs to grow a pair and step up." So, if you have the courage and the game, who knows, maybe she'll say yes.
If you were curious how you might stack up to Charlize Theron's former suitors, buckle up. Previously, she has dated a few guys over the past two decades, including Third Eye Blind singer Stephan Jenkins and Irish actor Stuart Townsend. Seemingly, her last relationship was with famous actor Sean Penn, but that ended in 2015. So on top of Charlize Theron setting a high bar, you'd also have some big shoes to fill from past relationships.
Charlize Theron is also wildly busy. On top of taking care of her two children (Jackson and August), she has a few movie projects lined up. She'll appear as Cipher again in F9, as well as return for Atomic Blonde 2. Plus, while nothing has been confirmed just yet, there's always a good chance she'd come back to play Andy in a sequel to The Old Guard. For more movie news, be sure to stay tuned to CinemaBlend.
Your Daily Blend of Entertainment News