Apparently Colin Trevorrow And Steven Spielberg Both Love Children In Peril In The Jurassic World Franchise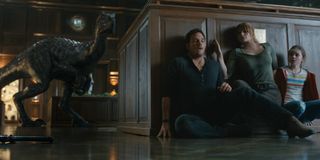 In entertainment, there's a fine line that is always drawn when telling any sort of story. That line pertains to characters that are depicted by animals or children, and it basically says that so long as you don't kill or harm kids too much in a story you're telling, the audience is still with you. Though if you happen to be a fan of the Jurassic Park franchise, and its more modern follow-up in the Jurassic World series, seeing that sort of peril is pretty much par for the course. Such is the nature of a world where dinosaurs once again roam the earth. Both Steven Spielberg and Colin Trevorrow understand this fact rather well, as they've kind of bonded over the fact that the both love generating tension involving children in peril in the Jurassic World franchise.
This offbeat friendship is something that Colin Trevorrow discussed during the press day for Netflix's new animated series Jurassic World: Camp Cretaceous, as that very subject was discussed in reference to the recent eight-episode adventure. As Colin Trevorrow and the series' showrunner, Scott Kreamer, discussed the fact that they knew the right balance of fear and frights with child protagonists in their series, the man who has co-written and directed several projects in the Jurassic World franchise was inspired to recall one particular moment his connection with Steven Spielberg exhibited the perfect shorthand between collaborators. Trevorrow's memory was, in his own words, the following:
A short film released to stoke the excitement of Jurassic World fans, Battle at Big Rock was an adventure that saw a family camping in the Northern California wilderness encountering a handful of dinosaurs in the wild. Set after the events of Jurassic World: Fallen Kingdom, several creatures that escaped from Lockwood Manor showed us just the initial consequences of that sequel's fateful actions. And part of the fallout was a suspenseful encounter where an Allosaurus came mighty close to eating a young human child. You can see how that child was hanging "like a spit roast chicken" in the full short, included below:
For sure, Battle at Big Rock cranks up the suspense a couple more degrees, because not only is this a scenario that saw the carnivorous Allosaurus bullying a family of cute Nasutoceratops, but three human children of varying ages eventually become part of the menu. While it was only a 10-minute short, co-writers Colin Trevorrow and Emily Carmichael certainly weren't afraid to put young lives, dinosaur or human, in danger for the sake of the audience. Looking back on Steven Spielberg's own filmography, it's no surprise that he and Trevorrow were so simpatico when it came to this fact.
You can look back at the responses to Jurassic Park in 1993 and see similar responses by fans and critics alike. A landmark film in the child endangerment oeuvre, the first film adapted from the canon of Michael Crichton's dinosaur theme park saga, at its heart, is the story of a grandfather who invited his grandkids to play with his prehistoric killing machines. With many of his films examining childhood through the lens of perilous adventure, Steven Spielberg already had some experience with putting kids into life or death scenarios, but Jurassic Park had to have been one the most dangerous in the lot.
That legacy is why films like the Jurassic World installments thus far, and by extension the animated series Jurassic World: Camp Cretaceous, always have to keep that balance of threat and wonder in mind. Even in the context of a Netflix series that's mostly marketed to children, the danger of the threat had to be believable, otherwise kids and adults familiar with the films wouldn't buy this product that's supposed to officially fit into the entire Jurassic canon. As both Steven Spielberg and Colin Trevorrow have been instrumental to shaping what Jurassic World: Camp Cretaceous has eventually become, this shared mindset was more than represented in the series' finished product.
Continually using children and young adults to help prove just how serious Jurassic World and its continuations tend to be is what this particular franchise has always been about. The consequences of the careless recreation and attempted containment of prehistoric creatures is something that, much like real life ecological disasters, would threaten all generations present on this earth. It's not a selective, pigeon-holed armageddon if dinosaurs start roaming suburban streets. Even at the end of Jurassic World: Fallen Kingdom, we see Blue the velociraptor approaching what looks like a housing development reminiscent of the one we saw in E.T. the Extra-Terrestrial. The big differences being that this special visitor is from the same planet, and if the kids in town aren't careful, they'll lose a lot more than their Reese's Pieces.
Keeping this mindset as a core tenet of Jurassic World's universe has kept the series consistent in its level of peril, and knowing that Jurassic World: Camp Cretaceous and even Jurassic World: Dominion will continue to keep Colin Trevorrow and Steven Spielberg on the same page is something that makes the journey ahead even more interesting. So if a couple more babies are dangled like rotisserie-cooked meats for the various dinosaurs roaming around the countryside, you'll know it was a decision made in the spirit of all things Jurassic.
That very spirit can also be found in Jurassic World: Camp Cretaceous, with all of its first season now available on Netflix. As for Jurassic World: Dominion, that movie is currently in production, with a June 11, 2021 release date on the books. If you want to see what other films are going to compete for dominance of the box office pack, you can head to our 2021 release schedule and see what other adventures await!
CinemaBlend's James Bond (expert). Also versed in Large Scale Aggressors, time travel, and Guillermo del Toro. He fights for The User.
Your Daily Blend of Entertainment News
Thank you for signing up to CinemaBlend. You will receive a verification email shortly.
There was a problem. Please refresh the page and try again.