Henry Cavill Shares Fun New Video Thanking Fans For Enola Holmes' Netflix Success Story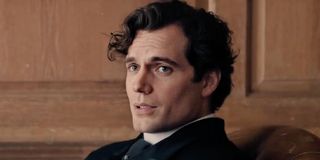 Netflix has been crushing it lately with its original films. From Extraction to The Old Guard to Project Power, there's been a slew of new releases that have become big hits. Now its latest release Enola Holmes is having a success story of its own. As such, Henry Cavill shared a fun new video thanking the fans.
After a big win, it's not uncommon for movie stars to take to social media and give a big thank you to the fans. Since the fans are a big reason for a movie's success, it only makes sense they'd get a little praise. In that light, Henry Cavill took to social media to highlight the new movie's big achievements. Take a look:
Enola Holmes has certainly made a big splash on Netflix. By ranking #1 on Netflix's Top Ten charts and getting mostly rave reviews from critics and fans alike, it's easily another big win for the streaming giant, which also means another win for fans of the mystery series. And as such, Netflix subscribers are a big part of the movie's success.
Henry Cavill is Best known as Superman from Man of Steel, Batman v Superman: Dawn of Justice, and Justice League, and played Sherlock Holmes in Enola Holmes. Enola Holmes is the main character, while Henry Cavill plays a supporting role as Sherlock, primarily acting as a background character that Enola Holmes looks up to during her adventures.
As seen in the video, Enola Holmes received high marks at Rotten Tomatoes. But what have critics been saying about it? By and large, many critics seem to think Millie Bobby Brown's performance anchors the movie even when the story leaves something to be desired. CinemaBlend's own Eric Eisenberg rated it 3 ½ stars in his review and said:
Enola Holmes is about Sherlock and Mycroft Holmes' little sister, Enola, who has been raised by her mother while Sherlock and Mycroft have left the estate. When her mother disappears, Enola ventures out to find her and stumbles upon another mystery involving a runaway lord. And plenty of fourth-wall breaking adventures ensue.
With so much success, it's easy to start dreaming of a potential sequel. Plus, that ending certainly leaves a possible sequel wide open. While there's no confirmed sequel as of yet, Enola Holmes' director Harry Bradbeer said he would love if a sequel would happen and that there's "a discussion." But, one issue that might complicate things is the current lawsuit that has been filed against the movie.
Whatever may come, one thing is for sure: Sherlock Holmes fans can stream Enola Holmes right now on Netflix. For more movie news, be sure to stay tuned to CinemaBlend.
Your Daily Blend of Entertainment News