Enola Holmes' Millie Bobby Brown Explains The Netflix Film's Last Line And Why It Makes Her Think Of Stranger Things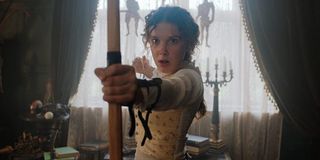 Millie Bobby Brown's latest adventure in Netflix's Enola Holmes has a unique sense of whimsy and optimism that couldn't be more different than her other show Stranger Things. Still, she seems to find common ground between these shows, especially with the film's inspiring last line. And she's made this connection known.
Since her breakout role in Stranger Things, Millie Bobby Brown has been part of a new wave of young, up-and-coming actors taking Hollywood by storm, including many of her Stranger Things co-stars. In Enola Holmes, her character says the hopeful last line, "The future is up to us," which she tells Cosmopolitan, speaks to her generation:
This is understandable. It seems wherever you turn there's some sort of role model, actor, or celebrity caught up in some kind of controversy. For Millie Bobby Brown and her generation, finding a role model may seem like a daunting, nigh-impossible task. And as a result, they might be more independent.
However, Millie Bobby Brown said later, that doesn't give her an excuse to sit and do nothing. She feels compelled to act as she said later,
At least in Enola Holmes' case, Millie Bobby Brown may already be changing things. Rather than focusing on Sherlock Holmes, the movie takes a different approach and follows his younger sister as she solves the mystery of her mother's disappearance and the threat on a young Lord's life. For Enola Holmes co-star Helena Bonham Carter, this was exactly the change we needed and loved the idea of focusing on Sherlock's sister, instead. She thought the original Sherlock Holmes was a misogynist, making Enola Holmes the perfect way to fight back.
The future looks bright for Enola Holmes, receiving mostly glowing reviews from critics. CinemaBlend's own Eric Eisenberg in his review gave it 3 ½ stars and said:
Millie Bobby Brown will continue to be a young star to watch. She'll be returning to the fourth season of Stranger Things and has a few other movies lined up, including Godzilla vs. Kong. For news on this and more, stay tuned to CinemaBlend.
Your Daily Blend of Entertainment News