Hear Me Out: No Time To Die May Be Doing Something Different With James Bond's Opening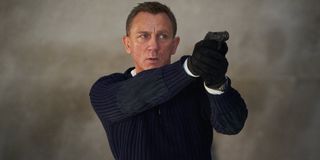 For nearly 60 years, one of the trademarks of the James Bond film series has been what's commonly called "the gun barrel." It begins with those chasing white dots, followed by a panning shot of the 007 walking into action and ending with a punctuated gun shot into the camera. The blood flows, the action of the pre-credits sequence begins and it's all to the tune of the theme that composer Monty Norman created for various composers, like John Barry, David Arnold and, most recently, Thomas Newman, to play around with. But with No Time To Die changing things up musically by bringing acclaimed composer Hans Zimmer into the fold, it looks like the 25th Bond film may be doing something different with that opening tune.
I say as much because as part of the recent promotional machine that was ramping up right until Daniel Craig's final 007 adventure found itself postponed to next April, a small piece of Zimmer's score was released to the public. Hans Zimmer's score to Wonder Woman 1984 received the same treatment, so why not give the folks at home a little more razzle dazzle to get amped up about, right? Thanks to this particular instance, you can literally hear me out on this point. Listen to "Gun Barrel," which comes straight from the No Time To Die soundtrack, below:
As a music aficionado, as well as someone who's been hearing the James Bond gun barrel music permutate through three separate incarnations of Bond so far, something stuck out to me when I heard Hans Zimmer's interpretation of the song that fans know and love. Sure, there's been some exciting change-ups in the past, like Marvin Hamlisch adding some disco flare to The Spy Who Loved Me, or Bill Conti throwing in more cowbell for his opening to For Your Eyes Only. Not to mention, Eric Serra's gun barrel for Goldeneye defies tradition so much, it may as well just be called, "Because '90s." Static, the gun barrel is not, even under the auspices of a singular composer like David Arnold.
With my ear somewhat trained to this particular subject as of late, I noticed a huge difference with Hans Zimmer's variant on the gun barrel for No Time To Die, and it ties into something he said about his approach to the score for the film overall. Once you get past the initial blast of horns and dig into the real meat of the tune that signals the all clear for 007 action, the tempo usually scales up to push things along, complete with a time-keeping tambourine and drum beat pushing things along. For comparison, listen to the most recent gun barrel track, courtesy of Thomas Newman's work on the Spectre soundtrack:
Notice what's missing? The tambourine and drum beat are absent once that middle section kicks in. Some might wonder what the point is of highlighting this absence, but that's where things get interesting. At the beginning of No Time To Die, James Bond is retired from active service, and in the midst of his romance with Dr. Madeleine Swann (Lea Seydoux). The potentially married couple, who ran away together at the end of Spectre, open their latest adventure very much in love; at least, until some mysterious secret starts to play havoc with their lives. That leads me to think that this big difference in the gun barrel is supposed to reflect perhaps the more relaxed state of life that James Bond is enjoying.
Though there's another practical reason as to why No Time To Die focuses on that sweet guitar action in its opening, as it sets the tone for the rest of the musical score to come! Reflecting on how/why he took the gig as the latest 007 composer in the first place, Hans Zimmer told Variety about the following motivations:
A previous collaborator with Hans Zimmer on the scores to Inception and The Amazing Spider-Man 2, Johnny Marr's guitar contributions are indeed highlights to the impressive scores on both of those films. So if you really want to get back into guitar-heavy Bond beats, Marr's someone you'd be lucky to get. With the promise of eclectic instrumentation, both traditional and electronic, and a lot of guitar mixed in for good luck, No Time To Die has made a good start in showing off just how different this James Bond adventure might be, right from the opening frames. No wonder that Billie Eilish theme turned out to be the hauntingly beautiful affair it did, as the mood is officially set for 007 to go through quite possibly his most dangerous, and most emotional, battle yet.
Alas, we'll have to wait until No Time To Die releases on April 2, 2021 to hear any more, as the soundtrack release has also been bumped to coincide with the theatrical launch. However, if you're a James Bond music lover, there are two additional products you should be aware of. First, there's going to be a 2 CD/3 Vinyl re-issue of The Best of Bond… James Bond collection heading to stores, which collects every Bond theme from Dr. No to No Time To Die. This is alongside an entire album of re-arranged versions of the entire Bond theme catalog, courtesy of the new album Bond 25.
Unfortunately, both of those albums are postponed for release until the theatrical debut of No Time To Die as well. The wait may be longer than folks may have wished, but we'll manage as always. Because when we most need him and the world he represents, James Bond will return to CinemaBlend.
Your Daily Blend of Entertainment News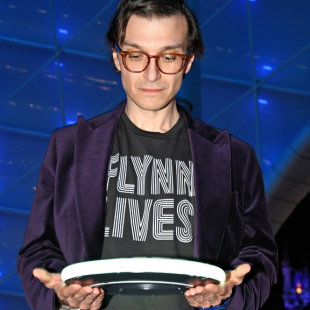 Senior Movies Contributor
CinemaBlend's James Bond (expert). Also versed in Large Scale Aggressors, time travel, and Guillermo del Toro. He fights for The User.