One Key Way George Lucas' Star Wars: Episode VIII Was The Same As The Last Jedi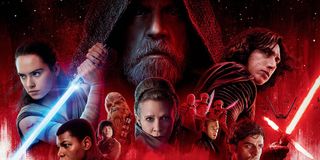 While a lot of professional critics may have enjoyed Star Wars: The Last Jedi (judging by its Rotten Tomatoes score), within the Star Wars fan community, it's definitely one of the most polarizing entries in the Skywalker Saga. One of the main sources of contention is the depiction of Mark Hamill's Luke Skywalker, including how he gave his life to save the remaining Resistance operatives from being obliterated by The First Order.
As it turns out though, the idea of killing off Luke Skywalker in the middle entry of the Star Wars Sequel Trilogy didn't originate from Disney. In fact, back when George Lucas was still in charge of the Star Wars franchise, he'd intended for Luke Skywalker to die in his version of Episode VIII too.
This revelation comes from the new book Star Wars: Fascinating Facts (via Twitter user @Oozer), which was written by Pablo Hidalgo, Lucasfilm's Creative Executive. Hidalgo didn't provide any details on how Luke Skywalker died in George Lucas' take on Episode VIII, but that plot twist was hashed out years before what we now know as The Last Jedi entered development. So even in an alternate reality where Lucas had been able to make his Star Wars Sequel Trilogy, Episode VIII still would have ended with Luke becoming one with the Force.
Back in early 2015, George Lucas revealed that when he sold Lucasfilm to Disney, he provided the Mouse House with his story ideas for the Sequel Trilogy he was planning. While Disney ultimately decided to chart its own path for continuing what is now known as the Skywalker Saga, evidently writer/director Rian Johnson, Lucasfilm Kathleen Kennedy and the rest of the creative minds decided to keep that plot element intact.
Rather than perishing in a lightsaber duel, Luke Skywalker died in The Last Jedi after Force projecting himself from Ahch-To all the way to Crait to distract Kylo Ren and The First Order while the Resistance survivors escaped. Mark Hamill reprised Luke one more time in The Rise of Skywalker, where his Force Ghost appeared to Rey and convinced her to travel to Exegol to defeat Emperor Palpatine.
Whether you're a fan of Luke Skywalker's character development in the Star Wars Sequel Trilogy or not, one thing is certain: his story is now over, and Mark Hamill has made peace with saying goodbye to the character. Still, it would be interesting to someday learn the specifics of the alternate series of events that would lead to Luke Skywalker's death had George Lucas overseen Episodes VII, VIII and IX.
While the Skywalker Saga is finished, Star Wars movies aren't going anywhere, with the next cinematic tale set in a galaxy far, far away slated to come out in December 2023. In the meantime, you can get your fix of on-screen Star Wars action when The Mandalorian Season 2 premieres on Disney+ October 30.
Don't forget to also keep track of what's supposed to hit theaters in the near future with our 2021 release schedule.
Your Daily Blend of Entertainment News
Connoisseur of Marvel, DC, Star Wars, John Wick, MonsterVerse and Doctor Who lore. He's aware he looks like Harry Potter and Clark Kent.
Your Daily Blend of Entertainment News
Thank you for signing up to CinemaBlend. You will receive a verification email shortly.
There was a problem. Please refresh the page and try again.