Sylvester Stallone Celebrated Halloween With A Cool Rocky-Inspired Pumpkin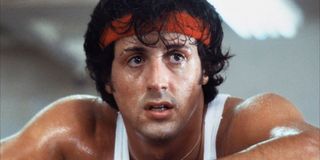 Halloween is the only time of year where you slice and dice a pumpkin and put it out on your doorstep. And if you're like me, you can carve a serviceable smiley face and call it a day. But Sylvester Stallone's celebrated Halloween by taking it one step further with a sweet Rocky-inspired pumpkin.
It's always impressive when you see a jack-o-lantern carved with skill and precision. Sylvester Stallone's Rocky obviously has those qualities in the ring, and it looks like Sylvester Stallone himself may have those same skills with a carving knife. He recently took to Instagram to show off his jack-o-lantern inspired by the Italian Stallion himself. It's not specified who carved the pumpkin, but it would, at least, appear to be Stallone's handiwork. Check it out:
Wow, that pumpkin carving must have taken him quite a bit of time, as you can tell that a lot of time and effort went into creating that design. Whether it was Stallone or a family member who carved it, they obviously know their way around a jack-o-lantern.
Recently, Sylvester Stallone has been busy carving out another Rocky project—a director's cut of Rocky IV. As a way to honor the 35th anniversary of Rocky IV, Sylvester Stallone has been hard at work editing and re-cutting footage from the film. Rocky IV pits Rocky Balboa against the six-foot-four Russian heavyweight Ivan Drago, played by Dolph Lundgren.
Sylvester Stallone announced the project this summer and has been frequently sharing behind-the-scenes video on his social media as he crafts the director's cut. It's hard to say how much Sylvester Stallone will be changing, but it's likely going to feel different from the theatrical release.
We do know Sylvester Stallone will be making one big change to Rocky IV that might have fans divided. Reportedly, he will be cutting the scene where he gives the robot SICO to his personal trainer, Paulie. In a blow to SICO fans, he said, "I don't like the robot anymore." Ouch.
Needless to say, Rocky IV getting a director's cut treatment for its anniversary has fans excited. While the movie never got a warm critical reception, fans have long venerated the film. One even went so far as to create their own Rocky IV director's cut poster.
Even though Sylvester Stallone is tackling Rocky IV, that doesn't mean it's his favorite Rocky film. He made it clear which Rocky movie he's most proud of on Instagram earlier this year. And in a surprising twist, it's not the first Rocky but Rocky Balboa, due to the fact that no one wanted to make it and he and his collaborators went through a lot to get it done.
Rocky IV is expected to land on November 27th, 2020. Perhaps after he's done with that project, he should think about making a Rocky Halloween movie next?
Your Daily Blend of Entertainment News
Thank you for signing up to CinemaBlend. You will receive a verification email shortly.
There was a problem. Please refresh the page and try again.