Upcoming Millie Bobby Brown Movies And TV: What's Ahead For The Stranger Things Star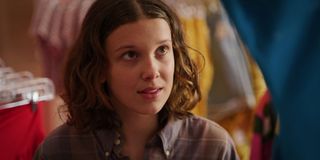 Millie Bobby Brown is one of those young actresses who is so talented and dedicated to her craft that we often forget that she's barely old enough to drive. Ever since appearing as Eleven in the first season of the Netflix science-fiction love letter to everything '80s Stranger Things, Brown has come a long way and become a bonafide star with acting skills that go beyond her age. With each subsequent performance, she has proven that she can adapt to pretty much anything thrown at her and constantly finds a way to be the most electric thing on screen (even when in the presence of one of the most iconic movie monsters of all time).
With big-budget action movies like Godzilla: King of the Monsters and quaint mysteries set within the world of Sherlock Holmes in the Netflix hit Enola Holmes under her belt, the future is extremely bright for Millie Bobby Brown, and there are some exciting roles for her along the way. In the very near future, Brown will find herself standing in between two oversized legendary monsters, returning to Hawkins, Indiana for some unfinished business, and so much more. Here is what's ahead for Millie Bobby Brown…
Godzilla Vs. Kong - May 21, 2021
The next time we will all see Millie Bobby Brown in another movie will be in Godzilla vs. Kong, which is tentatively scheduled to be released on May 21, 2021. Not only will the summer monster blockbuster be a direct sequel to 2019's Godzilla: King of the Monsters, it will also followup the events of Kong: Skull Island. In Adam Wingard's upcoming monster showdown, which boasts a cast featuring Alexander Skarsgård, Rebecca Hall, and Bryan Tyree Henry, to name a few, Brown will will be reprising her role as Madison Russell, the young daughter of Mark and Emma Russell from the previous Godzilla movie. Although there isn't a lot of information about Brown's character or where she will stand in the fight between King Kong and Godzilla, it should be great if it's anything like her first appearance.
Audiences were originally supposed to see both the origins of King Kong and Godzilla as well as their earth-shattering showdown at various points in 2020, but a series of delays during production, as well as the COVID-19 pandemic, forced Warner Bros. Pictures to routinely push back the project multiple times.
Before the latest postponement, Godzilla vs. Kong was supposed to drop in theaters on November 20, 2020, but Warner Bros. decided to play it safe and give the movie a pre-Memorial Day 2021 release in favor of what's become a ghost town of a holiday movie season. As the movie industry continues to grapple with the long-term effects of the ongoing pandemic, don't be surprised if this is moved once again. Let's just hope Godzilla and King Kong save enough strength for that new terrifying titan that was teased earlier this year.
Stranger Things Season 4 - TBD
Stranger Things fans have been anxiously (and impatiently) awaiting the show's fourth season (called Stranger Things 4) ever since the shocking final moments of the Season 3 finale back in the summer of 2019. Things were made even worse in early 2020 when the Duffer brothers and Netflix released a short teaser of a very much alive Jim Hopper (David Harbour) stuck in what appeared to be a Soviet prison camp in the frigid north behind the Iron Curtain. That combined with Eleven (Millie Bobby Brown) seeming to have lost her abilities at the end of Season 3 makes the intrigue surrounding the return of the hit science fiction horror series that more anticipated.
It remains to be seen how Eleven, and the rest of the gang, will deal with the fallout from those life-altering moments, but as the show has shown us so many times since its 2016 release, we will have to expect anything, especially the unexpected.
The only thing more mysterious about what will transpire in Stranger Things Season 4 is when exactly we will get to see the new crop of episodes show up on Netflix that will certainly send us all into the Upside Down for hours on end before we're begging for more. Production on the new season was well underway before the COVID-19 pandemic forced Netflix and the show's producers to halt filming for a number of months before production eventually resumed in late September 2020.
The writing team didn't waste any time during quarantine and were able to complete all of the scripts for the upcoming season. Even though the show is back in production, it still remains unclear as to when we will get to see Stranger Things Season 4 or if the shutdown had a major impact on its release. As always, we'll have to wait and see.
The Girls I've Been - TBD
Millie Bobby Brown will continue working with Netflix for the foreseeable future (for more than Stranger Things) as the Enola Holmes star is attached to the upcoming film adaptation of Tess Sharpe's soon-to-be released novel The Girls I've Been. In July 2020, Deadline reported that Brown would be bringing the book's main character, Nora O'Malley, to life on the streaming service at some point in the near future. In the book, which is set to be released in early 2021, Nora is portrayed as a successful con-artist (which appears to be the family business) who must use her experience and skills in persuasion and impersonation to find a way out of hostage situation alongside her girlfriend and ex-boyfriend.
There is no word on who will be appearing alongside Millie Bobby Brown in The Girls I've Been, but Jason Bateman, and his Aggregate Films production company, are set to produce the Netflix film. Brown, who served as a producer on Enola Holmes, will make the crime thriller her second production through her PCMA Productions. Outside of Brown's casting and announcement that she and Bateman will serve as producers, there's not a lot of other information about The Girls I've Been. However, with the two actors/producers being two of the hottest stars on Netflix right now, don't expect this one to slip between the cracks.
The Thing About Jellyfish - TBD
The Girls I've Been isn't the only book adaptation that's coming down the pike for Millie Bobby Brown, as the Stranger Things star is also set to appear in an upcoming movie based on the critically acclaimed 2015 young adult novel The Thing About Jellyfish by Ali Benjamin. The casting was revealed by The Hollywood Reporter back in March 2019 when it was also announced that Kenyan filmmaker Wanuri Kahiu would be sitting in the director's chair. According to that report, Brown will be playing the book's main character, Suzy, a young girl heartbroken by the drowning of her best friend who seeks out to prove that the death was caused by a rare jellyfish sting. By diving into a personal world built by her own imagination, Suzy explores life, death, hope, and friendship.
The adaptation of The Thing About Jellyfish has been in the works since around the time of the book's 2015 release, and is being produced by a group that includes Reese Witherspoon for a release through Universal Pictures. There hasn't been much in the way of updates about the production of the movie, but considering all of Millie Bobby Brown's other commitments, not to mention the COVID-19 pandemic, there has been a lot going on the past 18 months. Be on the lookout for more on The Thing About Jellyfish in the months to come.
Damsel - TBD
Millie Bobby Brown has become one of Netflix's biggest stars these past few years, and that looks to be the case for years to come. In addition to the upcoming season of Stranger Things and the adaptation of The Girls I've Been, the Enola Holmes star is also set to star in the upcoming fantasy thriller Damsel. The movie, which will also see Brown executive produce, centers around Princess Elodie (Brown), who thinks she's being sent off to get married when she's actually being sacrificed to a dragon, according to Entertainment Weekly.
There's not a lot of information about Damsel at this time, considering it was just announced in early November 2020, but Juan Carlos Fresnadillo, who's best known for 28 Weeks Later, is set to direct with the script being handled by Wrath of the Titans' Dan Mazeu. Expect more on this exciting project in the months to come.
Power Rangers? (Rumored) - TBD
Full disclosure: this final project has yet to be confirmed and should be treated like a rumor until something more concrete is brought to light, but there is talk that Millie Bobby Brown is being considered for yet another reboot of the Mighty Morphin Power Rangers franchise, after Paramount Pictures' previous attempt, 2017's Power Rangers, failed to appeal to critics and audiences alike, bringing in $142.3 million at the global box office during its theatrical run. In March 2020, We Got This Covered published a report that Brown (as well as another one of her Stranger Things co-stars) was reportedly being considered to take on the role of the Black Ranger in the new reboot that was first announced in 2019.
Again, there have been no confirmations about Millie Bobby Brown's involvement in the Mighty Morphin Power Rangers reboot, but having a big-name start playing one of the teenagers who morphs into ninja-like warriors could probably bring more people to the theater (if things calm down between now and then). And maybe if this actually happens, the producers will stick more with the original source material (and costumes) for an all out campy spectacle.
The future remains bright for Millie Bobby Brown as she looks to continue with her recent momentum and continue to churn out great movies and television shows. If you don't feel like waiting until those new episodes of Stranger Things drop at some point in the near future, here's everything you coming to Netflix in the next few months.
Your Daily Blend of Entertainment News
Philip grew up in Louisiana (not New Orleans) before moving to St. Louis after graduating from Louisiana State University-Shreveport. When he's not writing about movies or television, Philip can be found being chased by his three kids, telling his dogs to stop barking at the mailman, or yelling about professional wrestling to his wife. If the stars properly align, he will talk about For Love Of The Game being the best baseball movie of all time.