Ryan Reynolds Gets Ripped On By Shang-Chi's Simu Liu In Marvel Fantasy Football Diss Track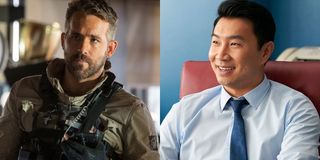 It's week nine of the AGBO Superhero Fantasy Football League and to continue the Avengers legacy of trash talk, Shang-Chi's Simu Liu unleashed a diss track on Ryan Reynolds. There's never been a better time to rip on Ryan Reynolds; in fact, the two Marvel actors are in a dead heat for the top spot and the stakes could not be higher with time running out.
Considering Ryan Reynolds is known for being a quip factory, playing the Merc with a Mouth, a.k.a Deadpool, it takes guts for Simu Liu to throw down against him in such a public fashion. Yet, he seems up for the challenge, considering that's exactly what he did with his latest video posted YouTube. Check it out:
Whoa, that was an epic smackdown on AGBO. Simu Liu really pulled out a Hail Mary play with this one, but it might just pay off. It's yet to be determined if he will win the fantasy football competition, but he's at least coming close to winning this trash talk competition -- a feat given Ryan Reynolds' penchant for quips.
Right now in the AGBO Superhero Fantasy Football League, Ryan Reynolds holds the #1 spot with Simu Liu in #2 and Captain America's Chris Evans at #3. Of course, in Week 9, Team Liu and Team Reynolds will face-off, hence the smack talk between them.
Up to this point, there's been a flurry of trash talk between the other MCU alums too. Chris Hemsworth kicked things off and since then Karen Gillan, Robert Downey Jr., Paul Rudd, and director Joe Russo have released their own videos.
In my opinion, of these trash talk videos, it might be Paul Rudd's hysterical video, taking the fight to Robert Downey Jr.'s Iron Man, which really goes above and beyond. In it, Paul Rudd parodies Black Sabbath's "Iron Man" with lyrics that mock the actor and his fantasy football team. It's truly a sight to behold.
I also have to hand it to director Joe Russo, though. His trash talk video doesn't just go after one Avenger, but multiple, systematically taking them all down one by one. Which, when you think about it, makes sense since he brought them all together to fight Thanos in Avengers: Endgame.
Thankfully, all this internal strife and bickering about football isn't just about entertainment. The league, set up by Joe and Anthon Russo, is notably a charity league, with the actors donating to the causes of their choice. But they also ramped it up a bit and have agreed to donate $250,000 to charities in Chadwick Boseman's name.
With such a great diss track dropped by Simu Liu, I can only hope Ryan Reynolds responds in some fashion, preferably with a trash talk video of his own. There are several weeks left in the season, so he's got time.
Your Daily Blend of Entertainment News
Thank you for signing up to CinemaBlend. You will receive a verification email shortly.
There was a problem. Please refresh the page and try again.