Meet Mamoudou Athie: 8 Movies And TV Shows To Get To Know The Up-And-Coming Actor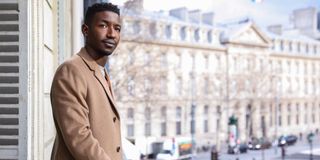 Mamoudou Athie is starting to build an impressive screen resume. He's been the lead and supporting character in many major films such as Underwater, Uncorked, and the upcoming Jurassic Park: Dominion. Athie may not have completely gained name recognition yet, but he will soon.
Mamoudou Athie's varied TV and film credits have allowed him to showcase his immense talent and made us excited to see what he does next. For those just discovering Athie, let's take a look at some of his major screen credits and discuss why he might be the next actor to watch.
Uncorked
Uncorked is a Netflix original movie about a young man named Elijah (Mamoudou Athie) who aspires to be a master sommelier. The film explores the difficult journey Elijah takes to follow his dreams, including some resistance from his father Louis (Courtney B. Vance) and his mother Sylvia (Niecy Nash)'s illness.
A film about a sommelier and wine may not seem like the most thrilling movie idea on paper, but Uncorked checks all the right boxes. It's captivating, funny, heartwarming, heartbreaking, and inspiring. Athie's natural earnest nature on film makes it easy to raise a glass to this character.
Stream Uncorked on Netflix here (opens in new tab).
Patti Cake$
Patti Cake$ is about Patricia Dombrowski (Danielle Macdonald), a young woman who tries to pursue a rapping career. Patti's dreams are met with a lot of opposition, especially as a white female rapper. She also must deal with her mother, Barb (Bridget Everett), who doesn't quite make Patti's life easy.
Athie plays Basterd a guy who likes hard rock and making beats. Patti and he form a bond as outcasts and music lovers, which eventually grows into romance. Patti Cake$ is a hopeful film that encourages people to follow their dreams, even when faced with haters. Patti Cake$ is available to rent or purchase on all major video-on-demand services.
Rent Patti Cakes on Amazon Video here (opens in new tab)
Black Box
In Black Box (opens in new tab), Mamoudou Athie plays Nolan, a man who survived a car accident but has amnesia. He seeks the help of Dr. Lilian Brooks (Phylicia Rashad) to restore his lost memories. Without going into spoiler territory, Athie gets to play around with varying personality traits in his quest for lost memories. This Blumhouse movie will appeal to fans of shows like Black Mirror and Electric Dreams in that it explores the horror that can come with the advancement of science.
It also highlights toxicity that can exist within a family, and how it's sometimes better to let people go. Athie is the star of Black Box and paired with screen legend Phylicia Rashad, he holds his own, being just as complex as her character. Black Box is available to stream on Amazon Prime.
Stream Black Box on Amazon Prime here (opens in new tab).
Underwater
Underwater follows a group of workers on a drilling facility at the bottom of the ocean. An earthquake destroys their facility and they're forced to try to survive. They encounter several obstacles while at the bottom, including hostile creatures. Underwater's cast includes Kristen Stewart, Jessica Henwick, Vincent Cassel, John Gallagher Jr., T.J Miller, and Mamoudou Athie.
Mamoudou played Rodrigo. He's a worker who Kristen Stewart's character Norah Price first encounters when the earthquake happens. Athie has a supporting role, so he has a small amount of time on the screen, but he establishes his character enough that you come to care about him. Underwater is available to buy on your favorite video-on-demand service.
Purchase Underwater on Amazon Video here (opens in new tab).
Cake
Cake is an FX original series that includes short-form comedy segments. Mamoudou Athie is the star of the recurring segment "Oh Jerome, No." It follows a sensitive man name Jerome as he deals with life's great misadventures, especially pertaining to love.
Jerome often finds himself going to extreme measures to get the girls of his dreams. Things definitely don't usually pan-out his way. The "Oh Jermone, No" segment of Cake is a sweet and funny story that's very relatable to many. Like all FX series, Cake is available to stream exclusively on Hulu.
Stream Cake on Hulu here (opens in new tab).
Unicorn Store
Brie Larson stars as Kit in Unicorn Store. Kit decides it's time to grow up after a failed attempt at being an artist. She tries to act mature and get a real job, but when The Salesman (Samuel L. Jackson) appears offering her a unicorn, she must tap into her sense of wonder and imagination.
Athie plays Virgil, a hardware store worker who helps Kit build her unicorn stable. Virgil is drawn to Kit's playful energy but grounded enough to balance her flights of fancy. Larson and Athie have great chemistry, which makes them feel like a realistic match, despite Virgil being more grounded in reality. Unicorn Store is a Netflix Original movie that was released on the service in April 2019.
Stream Unicorn Store on Netflix here (opens in new tab).
Sorry For Your Loss
Sorry for Your Loss is a Facebook Watch Original Series. It stars Elizabeth Olsen, Kelly Marie Tran, Jovan Adepo, Janet McTeer, and Mamoudou Athie. It was released on Facebook Watch from 2018 to 2019 and had two seasons. It follows Leigh (Olsen) as she deals with the unexpected death of her husband Matt (Athie).
Sorry for Your Loss takes a sympathetic and raw look at a woman who is consumed by grief, but slowly trying to readjust to her new life without the man that she loves. Athie's character is dead, but he often appears in flashbacks, so his presence is felt all through the series.
Stream Sorry For Your Loss on Facebook Watch here.
Jean Of The Joneses
Jean of the Joneses follows the Jones family as they deal with the unexpected death of the patriarch. The strong-willed women have had an estranged relationship with him, and Jean (Taylour Paige) never even knew him. The film, directed by Stella Meghie, showcases a family of brutally honest, tough women who may have a complicated relationship with men and each other, but underneath their hard shells is a tightknit group of women.
Mamoudou Athie plays Ray Malcolm, a paramedic who becomes Jean's main love interest. Despite her intense family, Ray continues to walk in the path of fire for her. Jean and her family are the stars of this movie, but Athie offers enough charm and charisma to make you root for Jean and him. Unfortunately, Jean of the Joneses is no longer available to stream, purchase or rent. It was available on Tubi, but isn't at the moment. If it returns to streaming platforms, it's definitely a comedy worth a watch.
If you want to check out more Mamoudou Athie projects, he appeared on a few episodes of Netflix's The Get Down, TBS' The Detour, and the movie The Front Runnerstarring Hugh Jackman. Catch Mamoudou Athie in Jurassic Park: Dominion on June 10, 2022.
Spent most of my life in various parts of Illinois, including attending college in Evanston. I have been a life long lover of pop culture, especially television, turned that passion into writing about all things entertainment related. When I'm not writing about pop culture, I can be found channeling Gordon Ramsay by kicking people out the kitchen.
Your Daily Blend of Entertainment News
Thank you for signing up to CinemaBlend. You will receive a verification email shortly.
There was a problem. Please refresh the page and try again.