Sylvester Stallone's Wife Interrupts Filming In Funny BTS Video From His Superhero Movie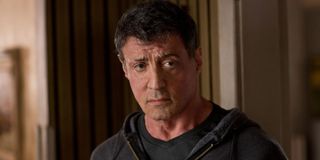 Sylvester Stallone has been a busy man as of late. The 74-year-old actor recently landed a role in The Suicide Squad, reuniting him with Guardians of the Galaxy Vol. 2 director James Gunn. He's also been working on a director's cut of Rocky IV and, based on what he's shared about it, it's shaping up to be something fans will enjoy. On top of all this, the actor is also a devoted family man with obligations, and this was definitely evident when his wife humorously interrupted filming on his superhero movie.
Sylvester Stallone has been sharing a number of updates about his new superhero movie, Samaritan, over the past few months, but this may be his best. In an Instagram post, he shared a behind-the-scenes clip, which showed him filming a scene and delivering lines. However, the scene was cut short due to an unexpected call from his wife, Jennifer Flavin Stallone. Check out the funny clip for yourself down below:
Many of us can relate to having familial duties, and they don't necessarily go away if you're a celebrity. Sylvester Stallone definitely seems to understand this and doesn't appear to have much of a problem with his wife cutting in while he's working. Plus, if she's willing to call while he's on the set, she probably has an important reason for doing so.
Stallone's wife has also impacted his career in other ways. Aside from calling in during a scene, she's also encouraged him to expand his range when it comes to his performances. This was the case when she helped convince him to star as an older (and ill) Rocky Balboa in Ryan Coogler's Creed.
Samaritan has been somewhat of a passion project for Sylvester Stallone. The film tells the story of a young boy who discovers that a superhero, who was thought to have disappeared after a massive battle decades ago, is actually still around. The film is being touted as a grittier tale that will stray from the norms of the superhero genre.
The movie originally began shooting earlier this year before production shut down in March due to COVID-19. Filming eventually restarted, and Stallone began posting more updates, saying that production was going well and expressing his excitement for the project. Filming recently wrapped, with Stallone marking the occasion with some sweet behind-the-scenes videos. There's still a lot we don't know about the project, but Stallone's consistent enthusiasm is infectious.
It's good to see that production went well and that the cast and crew were able to proceed safely. With the times we're living in, there are plenty of major things that could have impeded on the work of Stallone and his colleagues, so an unexpected call from his wife probably wasn't too much of an inconvenience in the grand scheme of things.
Samaritan is set to hit theaters on June 4, 2021.
Covering superheroes, sci-fi, comedy, and almost anything else in film and TV. I eat more pizza than the Teenage Mutant Ninja Turtles.
Your Daily Blend of Entertainment News
Thank you for signing up to CinemaBlend. You will receive a verification email shortly.
There was a problem. Please refresh the page and try again.