Looks Like Netflix Subscribers Are Already Getting Into The Christmas Spirit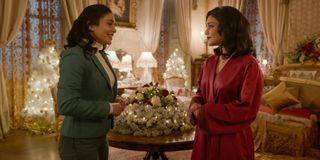 Typically when you're dealing with certain holidays, there's an unspoken decorum and order that some people try to hold to; decorating, listening to Christmas music, putting up Christmas lights and watching Christmas movies too early is strictly forbidden. But it looks like Netflix subscribers are throwing all that nonsense out the window, as they're already in full Christmas swing.
Who can really blame them? This year has been less than kind, and sometimes you need a little holiday cheer to lift your spirits. Netflix, of course, has plenty of that to go around with its movie selection. The streaming service has been putting out more and more Christmas movies every year. Now, according to Netflix's Top Ten chart, subscribers have been devouring many of these new Christmas offerings.
As of right now, The Princess Switch: Switched Again sits at #4 right behind The Queen's Gambit, Illumination's The Grinch is at #6, Dolly Parton's Christmas on the Square is at a comfortable #8 and Jingle Jangle: A Christmas Journey is hanging on at #10. That's a bunch of Christmas movies dominating the Netflix Top Ten. I bet as the season approaches, that will only increase.
It's not too surprising to see these films on Netflix's Top Ten. Many of them are heartfelt, warm and inspiring, three main ingredients in a lot of Christmas movies. For instance two of these Netflix Originals, Dolly Parton's Christmas on the Square and Jingle Jangle, have tried to hit that tone and have received generally positive reviews. Plus, it doesn't hurt that they both include musical numbers.
These are just a handful of Christmas movies Netflix has put out though. Since around the beginning of November, Netflix has unleashed a slew of Christmas movies for its holiday-loving subscribers to devour, many of which haven't hit the Top Ten yet.
Besides the ones already mentioned, one highly anticipated Christmas movie coming this Wednesday is The Christmas Chronicles 2, starring Kurt Russell and Goldie Hawn. Considering the reviews it's getting and how popular the last one was, it's a good bet that Netflix's Top Ten about to get a new holiday movie on its charts.
Of course, Netflix subscribers aren't the only ones who like to see holiday movies incredibly early. In fact, Hallmark channel viewers may have them beat there. Hallmark loves to put out tons of Christmas movies of its own and is renowned for its Countdown to Christmas event. Last year, though, Hallmark went a step further and released two Christmas movies super early in July.
Needless to say, if you're a Netflix subscriber and are in need some holiday cheer this year, there's plenty of options to choose from, and there are even more movies coming in December.
Your Daily Blend of Entertainment News