The Croods: A New Age Reviews Are In, Here's What Critics Are Saying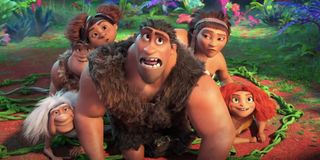 Seven years ago, Dreamworks Animation introduced the masses to The Croods, a family of cave-people who are forced to find a new home after an earthquake destroys their old one, and they run into an inventive 'modern' human boy along the way. The first Croods movie performed well enough both critically and commercially to warrant a sequel getting the green light, and this week, The Croods: A New Age is finally kicking off its theatrical run after being delayed numerous times. So how does A New Age compare to its predecessor on the critical front?
The reviews for The Croods: A New Age have started pouring in, and so far, it sounds like this sequel is a decent-enough follow-up, although it won't be everyone's cup of tea. Starting off, CinemaBlend's own Eric Eisenberg gave A New Age 3 out of 5 stars in his review, calling it a movie that serves as a fun distraction for kids and a welcome "babysitter" for adults. However, one of the movie's plot points involving a character wanting to go adventuring in the outside world by any means necessary is unfortunately timed with the real world's current health crisis and the recommendations to stay indoors as much as possible (though obviously there's no way the filmmakers could have predicted what a mess 2020 would be).
Charlie Ridgely from Comicbook.com was more positive towards The Croods: A New Age, awarding it a 4 out of 5 score. Ridgely stated that like the first Croods movie, the sequel starts off slow, but once the story starts to pick up the pace, the movie gets "downright weird," but in the "best way possible." In the tend, around 90% of the wackiness A New Age throws at its viewers ends up working.
Back to more mixed territory, Slashfilm's Josh Spiegel stamped The Croods: A New Age with a 5 out of 10 score. In Spiegel's mind, the sequel is just barely better than the various TV shows based on Dreamworks Animation movies, and is ultimately "intensely uninspired," with only the visuals and Nicolas Cage's performance being the standouts.
The AV Club's Jesse Hassenger bestowed The Croods: A New Age with a B-, saying how on a design level, the movie is " might be even weirder" than its predecessor, and it unquestionably much sillier, which benefits the vocal performances. That said, A New Age can also come off as derivative of past Dreamworks animated movies at times, and as indicated earlier, adults probably won't get much out of the story.
Finally, Collider's Drew Taylor awarded The Croods: A New Age with an A- grade, describing the sequel as a "nonstop delight" that boasts great visuals, talented new actors joining the main cast from the first movie and a story that's not afraid to occasionally set the main narrative aside in favor of showing a series of "big, disconnected, extremely hilarious gags." So some of you may end like A New Age more than the original Croods.
The Croods: A New Age sees the eponymous family meeting another family called the Bettermans, who, as their name not-so-subtly hints, believe they are better and more evolved than the clan of cave-people. Along with Nicolas Cage, Emma Stone, Ryan Reynolds, Catherine Keener, Clark Duke, Cloris Leachman, Randy Thom and Chris Sanders all reprising their respective roles, the new voices include Peter Dinklage, Leslie Mann, Kelly Marie Tran and Tara Strong.
You can judge The Croods: A New Age when it hits theaters on Wednesday, November 25, and it'll be available to rent on VOD when Christmas rolls around. For those of you already looking forward to movies coming out next year, find out what's on the way in our 2021 release schedule.
Your Daily Blend of Entertainment News
Connoisseur of Marvel, DC, Star Wars, John Wick, MonsterVerse and Doctor Who lore. He's aware he looks like Harry Potter and Clark Kent.