Taylor Swift's Disney+ Concert Film: 9 Things We Learned About Folklore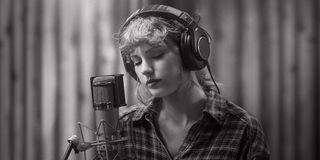 (Image credit: (Disney))
CinemaBlend participates in affiliate programs with various companies. We may earn a commission when you click on or make purchases via links.
A few days after Taylor Swift posted a suspicious "not a lot going on at the moment" update on social media, the multi-platinum artist and 10-time Grammy winner announced she was dropping a concert movie on Disney+ called folklore: the long pond studio sessions. It comes just in time for astonished fans to give thanks for the album yet again over the autumn holiday. Along with a cozy cabin re-recording of folklore filling the hole in our concert-empty hearts, Swift also broke down every single song on the 16-track album with her producers Jack Antonoff and The National's Aaron Dessner in New York's Long Pond Studio too. Swifties, we are blessed!
Since folklore dropped over the summer, we've known Taylor's eighth studio album is unlike anything the artist had ever put out before. Instead of directing the narrative toward her high-profile relationships and life in the spotlight, Swift's inadvertent quarantine album is a deep trudge through the woods of her inner creative mind that melds her own experiences with made up tales and characters crafted just for the folklore songs. While speaking candidly about the making of the album, we learned a lot. Let's get to it:
Taylor Didn't Call Her Label About Folklore Until A Week Before Its Release
Taylor Swift opens the movie by explaining how folklore began just as quarantine began in early 2020 at first as a creative exercise amidst some boredom associated with the state of things. But "really, really quickly" became an album for her quite unexpectedly. In order to get the project ready under COVID-19 restrictions, Swift opted to build a studio in her home, with the other parts of the album recorded separately in their own locations. As fans will remember, when folklore came out there wasn't really any lead up that a typical Taylor Swift album would receive.
No singles, or big music video release ahead of the album, just folklore in its entirety back in July. And according to Swift, even her label, now Republic Records after some high-profile controversy, was not given notice about folklore's existence until a week before its release. This is pretty much unheard of but goes to show that the album was made completely on her own terms.
The Last Great American Dynasty Pays Tribute To Taylor Swift's Country Roots
An early detail in the long pond studio sessions that we learned about folklore is how it brings Taylor Swift back to her country roots in an unexpected way. The way Taylor Swift was introduced to the world with her debut album back in 2006 was by way of country-pop, but over the years she has evolved into more of a pop artist, especially with her 1989 turn a few years ago. During the long pond studio sessions, Taylor Swift discusses how the album is in large part using elements that have long been part of country music. Sound wise folklore is not a country album, but some of her songs actually telling stories of people fictional or real is very much tied to the genre. In her words:
Rebecca Harkness is the woman who once owned Taylor Swift's Rhode Island home and a bit of her story is told in "The Last Great American Dynasty." After telling her story, she switches it up to tell the listeners that the Holiday House was "bought by me," before switching up the chorus by describing herself. It's quite beautiful to see how Taylor is still influenced by country, but uses it in a completely new context here.
Taylor Swift's Boyfriend Wrote Two Songs With Her On Folklore
Among the writing credits on folklore is the name "William Bowery," that as fans believed was a pseudonym for Joe Alwyn, Taylor Swift's actor boyfriend for the past three years. Now we know for sure, Joe Alwyn is in fact "William Bowery." Swift reveals this in the concert film while speaking about her song "Exile." The Favourite and Harriet actor apparently wrote the piano part for the start of that song and would sing the duet with her before they called Bon Iver to do vocals on the song.
"William Bowery" also has a writing credit in the song "betty," which had the couple writing a song for the first time together. In the song that is part of the album's fictional love triangle between the songs "Cardigan," "August" and "Betty," Taylor for the first time wrote an apology song from the male perspective.
Choosing A Track 5 Is Always An Important Decision For Taylor Swift
Close Taylor Swift fans may know about the importance of Track 5 for the recording artists. From album one, the fifth song in her albums have been the most emotional songs for the singer that have her digging so deep, that we're often left with teardrops or goosebumps. In the past this has been the famed "White Horse" during her short time dating Joe Jonas, or "Dear John" believed to be about John Mayer or my personal favorite "All Too Well", a knife-cutting track also about a love lost. Taylor Swift spoke about this in the folklore movie with these words:
Swift said it was the first song she wrote for folklore and possibly the saddest of them all. Her producer Jack Antonoff compliments her, saying it's one of her best songs yet. Swift talks about her inspiration being this idea of a best friend becoming an enemy, drawing from superhero movies as her inspiration. Given her past with Track 5, 'My Tears Ricochet' must hold a deeper meaning to her personally as well somehow.
The Song Taylor Swift Wrote Right After She Found Her Tours Were Cancelled
One of the chilling yet beautiful takeaways from the folklore movie is Taylor Swift's explanation of "Mirrorball." As she explains, a mirrorball has many meanings to her within the song. In a lot of ways, it's a metaphor for celebrity because it's often hung in a high place (therefore being placed on a pedestal) for people to look at despite it being broken in pieces. She also talks about how a mirrorball also reflects its surroundings, which can also symbolize our ability as people to morph into different versions of ourselves to please other people. As Taylor says about "Mirrorball":
As she reveals, that song is the first time she mentions on the album the fact that it's a quarantine album through a couple of its lines. And although as she said, she could have certainly taken the time to take a break from work, she felt like she needed to create anyway.
The Disney+ Movie Connects All The Dots Of Folklore's Love Triangle
Soon after folklore was released, Taylor Swift fans learned from her that three of the songs referred to a "teenage love triangle" that are told from three perspectives again. Fans were left to figure out what that was and they did by pinpointing "Cardigan," "August" and "Betty." In the long pond studio session, Taylor confirms that those were the songs that she was referring to, except the woman from "August" is literally called "August" or in her head Augustine or Augusta.
As she explains, "Cardigan" is from Betty's perspective about James 20 to 30 years after they fell in love as teenagers. And "August" is a heartbreaking song told from the perspective of the so-called other woman August/Augustine. Swift said she wrote the song specifically to show that the connotation of being the "other" not to pit her as the villain or bad girl of the story, because she was in love just as much. And then, "Betty" is from James' perspective to Betty after he's messed around with August with the "summer thing" mentioned in the song. Dots have been officially connected and confirmed!
Taylor Swift Wrote Invisible String Right After Sending An Ex A Baby Gift
One of the more joyful songs on folklore is "invisible string," which fans theorized was one of the few tracks about Taylor Swift's own love life. The beautiful song has the singer talking about how her past life experiences were bound by this string that would later lead her to Joe Alwyn. In the song, there is a line where Taylor says "cold was the steel of my axe to grind for the boys who broke my heart, now I send their babies presents." And in the long pond studio sessions, Swift talks about how that line was her direct inspiration for the song.
In another explanation, she says that she wrote the song right after she sent a baby gift to one of her exes, and she thought to herself how great life is. It's a great full circle moment for the singer to be at peace with her past enough to do a gesture such as this. Although she doesn't name which ex it is, fans believe she is referring to Joe Jonas and Sophie Turner, who welcomed their first child over the summer.
Epiphany References The COVID-19 Pandemic's First Responders
Another key mention of the times in folklore, comes with "Epiphany" as Taylor Swift discusses in the movie. As she explains, the song begins with mention of her late grandfather who fought in the Battle of Guadalcanal during World War II. During the writing of her song, she had been doing research about him. He had never spoken about his experiences, but they found it to be one of the most extremely bloody battles. In the second half of the song, she decided to draw from the current health crisis with these words:
The song "epiphany" is another example of Taylor Swift taking inspiration from outside herself and it has emotional roots in her lineage and what was and is still going on in the world.
Taylor Swift Has Been Writing Music About Moving To A Cottage For Years
For our last talking point here, comes at the end of the movie during the explanation for the bonus song on the album, "the lakes." As Taylor Swift talks about in the last few minutes of the movie, she discusses her inspiration coming from the Lake District in the UK, considered the most romantic place there.
It's a place where famous poets moved back in the 19th century, who were "heckled" as Taylor says for getting away and moving to cottages. When she visited the Lake District she really felt like she understood why they did this, and talked with Jack Antonoff about how she's dreamt of moving to a cottage since she was about 20 as this "backup plan." The writers go on to explain that the album as a whole plays on this idea because she's escaping from how she normally does things in a sense, but without leaving behind her voice and the other things she holds dear.
There's a lot more takeaways from folklore: the long pond studio sessions than the ones mentioned above, and the movie is available to stream now on Disney+. You can subscribe to the service using this link.
Thanks for the cozy cabin concert, Taylor Swift and Disney+! Stay tuned here on CinemaBlend for more break downs on your favorite streaming titles.
Your Daily Blend of Entertainment News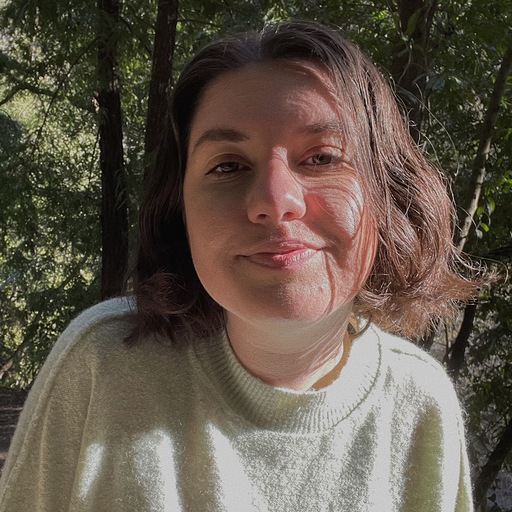 YA genre tribute. Horror May Queen. Word webslinger. All her writing should be read in Sarah Connor's Terminator 2 voice over.