6 More Spider-Man Villains We Want To See Back For Spider-Man 3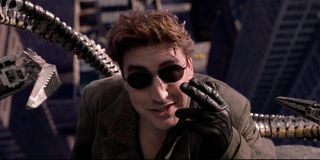 Spider-Man fans were stunned this past fall when it was announced that Jamie Foxx would be reprising his role as Max Dillon a.k.a. Electro in the upcoming, untitled Spider-Man: Far From Home sequel – but today we learned that he won't be the only villain from the web-slinger's big screen history who will be making a comeback. It's been confirmed that Alfred Molina will also be featured in the blockbuster, playing Dr. Otto Octavius for the first time since Spider-Man 2, and, as expected, it's stirred up a whole lot of excitement. Unfortunately, that anticipation comes paired with the fact that we don't know a whole lot about the film, but it still has us wondering: what other villains from past wall-crawler blockbusters could we see back in Spider-Man 3?
Keeping in mind the shocking cliffhanger ending of Spider-Man: Far From Home (which saw the hero become public enemy number one and his secret identity exposed), and the multiverse twist that seems to be at play, we've collected this list of six more Spider-Man antagonists from the past who we want to see join Jamie Foxx's Electro and Alfred Molina's Doc Ock in the adventure. We could see all of them, a mix of them, or maybe just one of them, but these are all familiar faces we would dig seeing in the ensemble:
Paul Giamatti As Rhino
We're excited by the prospect of Jamie Foxx getting a second chance of playing a proper live-action version of Electro, but if we had our druthers it would be a different Amazing Spider-Man 2 villain who got a second go at their part. Paul Giamatti playing The Rhino in that film was actually a strange bit of wish fulfillment for the actor, as he had expressed his desire to one day play the character two years before it became a reality, and we'd love to see him get a shot at playing a modified and better incarnation in the Marvel Cinematic Universe. As the hunt for Spider-Man rages on, he could be a great "heavy" in the villain rotation and provide the biggest threat from a brute strength perspective.
Dylan Baker As The Lizard
If there's one actor who really got the short end of the stick in Sam Raimi's Spider-Man trilogy, it was Dylan Baker. The actor appeared as Dr. Curt Connors in both Spider-Man 2 and Spider-Man 3, with the expectation being that he would one day make his monstrous transformation into The Lizard, but that never happened. It's true we have seen the character go through a big screen arc since then, played by Rhys Ifans in The Amazing Spider-Man, but the Spider-Man: Far From Home sequel could finally provide Baker with his shot at playing the regenerating beast, and with his heightened senses he would be a scary adversary for the on-the-run hero.
B.J. Novak As Alistair Smythe
In hopes of laying the foundation for a full Spider-Man-centric universe, The Amazing Spider-Man 2 did a lot of groundwork establishing particular characters, but also didn't do very much in the way of really developing them. Paul Giamatti's Rhino was a victim of this, but so was B.J. Novak's Alistair Smythe, and to a much larger degree. In the comics, Alistair Smythe is a serious threat thanks to his incredible intelligence and propensity for designing Spider-Slayer robots, and that threat could be perfectly applied to the hunt in Spider-Man 3. Novak is a talented actor who could potentially do great work with the proper material, and this could be an opportunity to do way more with what was previously an underutilized antagonist.
Michael Mando As Scorpion
Okay, so this one is far less of a stretch than most of the entries on this list, as Michael Mando's Mac Gargan a.k.a. Scorpion already exists in the Marvel Cinematic Universe via Spider-Man: Homecoming and doesn't need to do a multiverse hop – but that no less makes him a villain that we want to see join the action in the untitled Spider-Man 3 (it's cooler if there is a mix of in-universe and out-of-universe characters anyway). Gargan already has a chip on his shoulder when it comes to Spidey, having been sent to prison after the whole Staten Island Ferry incident, and there exists the possibility of adapting his transformation into Scorpion straight from the comics, as the Spider-Man: Far From Home post-credits scene established the return of J.K. Simmons' J. Jonah Jameson – who in the source material funds the experiment that turns Gargan into a weapon to kill the friendly neighborhood superhero.
Willem Dafoe As Norman Osborn
Norman Osborn is an iconic character in Spider-Man lore, and Marvel Studios has thus far been hesitant to feature him in the Marvel Cinematic Universe because of his prominent usage in previous films. Solution? Bring Willem Dafoe back! It's true that the original Green Goblin costume from 2002's Spider-Man has not aged particularly well, but Dafoe's sinister turn absolutely has, and it would be wonderful to see him back in action as Spidey's number one foe. There is one minor conflict to be found in the fact that Dafoe is currently playing an active character in the DC Extended Universe (Vulko in the Aquaman movies), but it's hard to imagine any comic book fans complaining if he pulls double duty.
Vincent D'Onofrio As Kingpin
Vincent D'Onofrio blew audiences away with his performance as Wilson Fisk a.k.a. Kingpin in the Netflix series Daredevil, but his role in the larger universe has long been a source of frustration due to the fact that he's never had the opportunity to crossover into the features side of things (primarily due to the division that formerly existed between the film and television departments). The good news now is that it's been two years since the cancellation of the series, which means that the character is usable again, and while he's different from every other entry on this list in that we've never seen him cross paths with Spidey on the big screen before, we'd love to see the movies take full advantage by roping him into the action of Spider-Man 3. It might be a longshot, but D'Onofrio hasn't been shy about his desire to play the part again, and it's hard to imagine there are many Marvel fans who wouldn't want to see it happen.
Do you agree with us and would like to see one or more of these villains in Spider-Man 3? Are there other characters that you think should get another shot? Hit the comments section with all of your thoughts, feelings, and opinions, and stay tuned here on CinemaBlend for news and updates about the on-going production!
Your Daily Blend of Entertainment News
Assistant Managing Editor
NJ native who calls LA home and lives in a Dreamatorium. A decade-plus CinemaBlend veteran who is endlessly enthusiastic about the career he's dreamt of since seventh grade.
Your Daily Blend of Entertainment News
Thank you for signing up to CinemaBlend. You will receive a verification email shortly.
There was a problem. Please refresh the page and try again.